E-commerce, also known as electronic commerce, refers to the buying and selling of goods or services online. It involves the transfer of information, funds, and goods between businesses, consumers, and governments over the Internet.
E-commerce has become increasingly popular in recent years, with the growth of online marketplaces such as Amazon and eBay, as well as the rise of mobile commerce (m-commerce) and social commerce.
DocShipper– Your Logistics Partner on your E-Commerce in Thailand
The logistics of e-commerce is specific in Thailand, and must be managed by a recognized professional. Siam-shipping -by Docshipper group- has established a partnership with the famous e-commerce site: Foot Addict, specializing in customized Thailand jerseys.
Foot-addict has enjoyed great success with unique products, Thai football shirts that customers could customize to their coats, adding sponsors, logos, their name, and the number of their choice.
"In view of the numerous orders, we needed a freight forwarder who could deliver all our orders on time, with a concern for efficiency, speed, and commercial follow-up. DocShipper, a French freight forwarder settled in Bangkok and very well reputed, responded to our call for tender, and we began to work with them, it's a key to our success," CEO of Foot-Addict.
We were relieved of the quality of the work provided, and very important commercial follow-up. Indeed, the tracking numbers are sent after the delivery and the package is traceable until the final delivery and the signature of the customer "
Docshipper allows you to manage your Online Shop from wherever you want!
Here are the different steps to order at Foot-addict:
Customer order via the website
Production of the jersey in 3 days
Folding
shipment by airmail service, cooperation between the Thai Post Office and the various posts in the destination countries
sending the tracking number to the customer
follow-up of delivery to final delivery
All the packages are taken in photos before departure and those to ensure traceability without fault.
**In order to optimize our services, Siam Shipping and Siam Relocation are now part of the DocShipper group. Our customers can now benefit from total supply chain coverage**
For all E-commerce companies present in Thailand, we strongly recommend the services of DocShipper.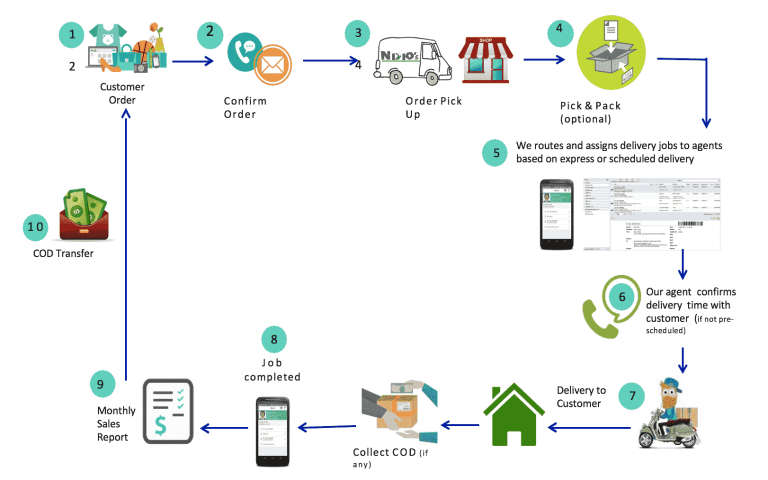 How to compose with shipping and fulfillment in e-commerce?
1) Introduction to e-commerce
In e-commerce, shipping is not only bringing your product from point A to B. A large part of your business profitability and your brand comes from your shipping and fulfillment strategy. With a strong shipping strategy and package, you will be able to foster repeat business, and it will even facilitate your relationship with new customers thanks to strong spoken marketing. On the other hand, if you neglect your shipping and fulfillment strategy, the consequences can be disastrous with increased costs, unhappy customers, and potentially an unprofitable business.
DocShipper
Memo: We commonly think that shipping is easy and that it is an insignificant part of the e-commerce business, but it is not. Anticipating your shipping strategy can represent a huge asset to your business, however, your strategy is also essential concerning the operation, which is why you have to revisit your strategy continually.
In the following guide, you will understand all aspects of shipping and fulfillment.
DocShipper Advice: It concerns your customers' load, package, brand options, choice of the best carrier, and decision about options like insurance and tracking, as well as outsourcing and fulfillment options.
This guide is the most thorough and complete. Thanks to the guide, you learn how to get your products from you to your customers so that customers experience great service and your business maintains profitability.
2) Shipping Basis
When you build an e-commerce business, you can be hard challenged by shipping and fulfillment. Many variables are interacting which makes this complicated and shipping and fulfillment are seen in many different ways.
A combination of a multitude of factors will impact your strategy and fulfillment strategy. Among the factors, there are:
Your brand
The departure of your shipping
The arrival of your shipping
Your average order value (AOV)
Your product margins
Your product's weight
Preferences for tracking and insurance
Carrier preferences
Customer shipping preferences
Product costs
Product restrictions and regulations
Customs and Duties
DocShipper Remark: However, thanks to this guide that will help you to face each challenge, there is no need to worry. It will bring you to the best decision for your business and your customers.
Shipping Strategies
*At the beginning of your online business, many options will come to you.
When you choose your shipping model, ask yourself if you want:
Your own ship (Starter) – You ship from home, write a label and walk to the post office.
Your own ship (Intermediate) – You ship from home, you have automated label printing, and you pick packages from your courier.
A fulfillment Warehouse – You have a fulfillment warehouse to receive and ship orders.
Dropship – Orders are shipped directly from a dropship partner on behalf of your brand. You never purchase inventory upfront or hold inventory yourself.
In the beginning, shipping your initial orders yourself is often the better option. It allows you to have an overview of the several steps and to understand how it works. After that, it will be easier to redefine your operations and better control your brand when your business will grow.
Different steps of shipping growth
For most online businesses, except those that involve major external factors, several steps of shipping and logistics growth have to be done.
Launch – In this stage, it is likely that just the occasional orders are sporadic with no real consistency received.
Consistency – You begin to receive consistent orders, but it is still limited. We talk about a few orders per day, 20 orders per week on average. However, the orders are consistent and predictable.
Growth – During this stage, you now have many orders, and shipping and fulfillment are now a large part of your time. Considering the growing number of orders, operations now need to be streamlined by services and shipping can be uncoordinated.
Scaling/Infrastructure – Now to meet the large quantities of orders, you will need new infrastructures or to manage shipping you will require to work with a 3rd party fulfillment.
Shipping Fundamentals Conclusion
You now have all the information to face the challenges of shipping and fulfillment: you have 3 strategies to ship your products and 4 steps to face shipping growth. Your shipping mix should now be built. Let's see how you can charge customers for shipping.
3) Charging customers
What are the options?
We all know that when a customer gets online, they get the product they want when they find a good price in one click. But then, when they see the costs add by the shipping and handling, they began to wonder if it is really a good price and reconsider their choice.
Finally, the product appears a little expensive. There are two possibilities after that. Some customers buy the product anyway, even if the price has increased. The rest of the customers cancel their purchase and leave your business. In fact, most of them abandon the purchase and statistics shows that it is mostly because of unexpected shipping costs.
DocShipper Note: The success (or failure) of your online business depends on your shipping strategy and how you charge customers.
We will now detail some of the most popular strategies for charging your customers shipping:
Offer Free Shipping – For example, no shipping costs for orders over $100
Charge Exact Costs – For example, the costs depend on the rates in the real-time
Flat Rate Shipping – For example $20 flat rate all over the world
Option 1: Offer Free Shipping
Statistics show that "Free Shipping" is a good way to catch your customer's attention and conversion rates increase. Nevertheless, if it is free for your customer, it is now a cost for you that you have to take into account. Look at your margins to be sure that offering free shipping really makes sense.
Consumers now expect free shipping since large companies like Amazon offer this service. "Free Shipping" can have a real positive impact on the marketing of your website, and you can take a significant advantage over your rivals.
DocShipper Note: When you offer free shipping, think about how you can meet the costs: absorbing the cost can be an option, and you can also have a slight increase in your product prices to not affect your margins.
Free Shipping Over a certain amount is another option. Customer is prompted to consume with free shipping and at the same time average order value (AOV) increase.
How to choose a certain amount? You can get some sales under your belt first and from that, your average order value can be determined, then, for all orders X% greater than the average order amount you can offer free shipping.
Let's take an example. Some customers have already ordered products that cost:
$88, $114, $73, $62, $120
The average order value is $91.40. In this case, free shipping on all orders over $100 appears as a good option. Indeed, your average order size will increase and so will your profit too, which will partially cover the cost of the free shipping.
Most of the time, it depends on your margins, your competitors, and the niche you operate if you have to offer free shipping on all orders or above a certain amount.
Consumers will probably not notice the increased product cost if they work in the luxury or handmade sector. In these cases, you can increase your price to offer free shipping. On the other hand, in a highly competitive market where the norm is both free shipping and the lowest prices, you cannot increase your price to offset free shipping because consumers will immediately compare to competitors and notice the price is higher. At this point, you can choose to take a different option, but you can also try to absorb the cost of shipping on most of your items.
Like always, don't forget the exceptions. A "free shipping" promotion on large or particularly heavy products can be a terrible option because of the cost of the shipping. Your margins will be cut significantly. Before choosing this option, look at the costs of shipping for all of your products, compare them with your competitors, and look at how they ship, your average order size, and your profit margin. The best decision is now in your hand.
Option 2: Use real-time rate to Charge Exact Costs
In online business, setup real-time shipping quotes is possible. Your shipping partner (UPS, FedEx, USPS, etc.) is linked up to your checkout, and the real shipping quote based on the number of products, size, and weight of all items will determine the shipping cost for customers. The price will correspond to the price your shipping partners will charge you when customers order.
Sometimes it doesn't happen the way you expected, but most of the time you can compensate the cost you have to pay for shipping with the charges the customer paid.
DocShipper Remark: This option is a good way to have a trusty relationship with your customers because thanks to the calculator, customers are sure you are not making money on shipping charges and neither raising your item prices.
And as we saw before, free shipping promotion for heavy or oversized shipments is complicated and often too costly, this option based on real-time rate appears therefore as a very good option.
Option 3: Offer Flat Rates
Offering a flat rate for every package or a certain flat rate depending on weight ranges and order totals is the third option.
Good preparation is necessary with this method. Indeed, your average cost of a shipping package has to be calculated. This is the best option if you want to be sure that your customers are not drastically undercharged or overcharged.
DocShipper Advice: When you will charge your customer, it probably won't be the exact shipping cost, but orders will compensate, sometimes you will lose a little, sometimes you will earn.
Finally, how to charge customers?
You have to think over it very carefully because your conversion rates and your overall profitability will be significantly impacted by how you choose to charge customers.
DocShipper Advice: What is best for your brand, business, and customers has to be taken into consideration, and you will certainly have to try the 3 methods before choosing the best one.
Now let's see how to create a great impression with your customers with rightly selected packaging. You need also to choose with regard to the cost and how the merchandise is protected.
4) Packaging
In your shipping and fulfillment process, you have to take the packaging very seriously. Your products are protected from bumps and bruises and give your customer a first opinion as it is the first thing they see.
The first opinion of your brand is based on the packaging, and it is really important.
We will now give you all the information about product packaging, what kind of packaging you can have, and much information to help you get started.
Utility Packaging Vs. Branded Packaging
You have all the options to charge your customers, you now need to know how you can package your products. First, your strategy used to charge customers can be strongly affected by your package choice, as it can increase or decrease your shipping costs significantly.
You have two opposite options for packaging and other in-between options.
The two opposite options are:
Packaging based on utility– Very simple. Your product is in a plain envelope or brown cardboard box and protected by any necessary filler.
Packaging based on brand– You want to offer your customer a fancy and memorable experience just with the packaging. It can have a strong marketing effect.
In fact, these two options are really opposite and extreme but in reality, you mostly choose a solution that is between those two options.
Standard Packaging Options
To protect your product before transport, you need to package them before shipping. For utility-focused packaging, your options are commonly padded or unpadded boxes and envelopes.
DocShipper Remark: Some type and size of box to protect the order, and padding are mostly required to protect product. However, very little product or durable protection doesn't often need that.
On the internet, you can over 1,300 sizes of boxes, bubble mailers, and package cushioning, and therefore it is often a good option to purchase packaging materials. But you will see that there are many other options.
Package Size is important
When you ship a product, you will most of the time be charged according to the size and weight of your product. That is why you don't want to lose your place because of the package. Both you and your customer are winning in reducing package space.
Docshipper Advice : Having selected sizes of packaging materials, like small, medium and large size boxes can be an option if it makes sense regarding your business and product line.
You have to find the good balance between the smallest packaging possible and a good protection for your product.
A Branded Packaging and Unboxing Experience
The most connected moment with your customer in ecommerce businesses is the shipped package. But it is very often not exploit by merchant.
We often only consider packaging important because it protect the product which is the most important thing in the transaction.  But the world has change, business has new practices and shipping can become a whole new experience.
What do we call a Branded Packaging Experience?
We can define a branded packaging experience as several selections of packaging and shipping materials with a chosen presentation of the products. Your customer will receive additional value and so does your business thanks to a memorable and sharable experience.
DocShipper Remark: Very different from physical retail, through e-commerce business it is more difficult to have contact with your customers which me less chance to impress them.
That's why it is important to seize the opportunity to seduce your customers whenever you can and to differentiate from your competitors, so your customers never forget you.
Why is a branded Packaging Experience So Important?
Keeping a strong relationship with your clients is a key asset to building a long-term, sustainable brand. Indeed, it's more profitable to keep faithful clients than to find new ones all the time.
If you keep that in mind, every time you will ship a package, what your customer will experience will be either:
Below expectations
Meet expectations
Exceed expectations
Your customer can have experienced below expectations with your brand for many reasons, sometimes you could not have anticipated them. Your customer's expectations are easily met if everything happens as it should have and if no shipping delayed. And to exceed expectations, you don't have to do that much, good packaging, a little marketing, and surprises.
DocShipper Note: the customer will advise their friends and families to work with you.
What to do for a Custom Branded Unboxing Experience
You have many things you can include to have a well-designed, branded packaging and unboxing experience. Let's see the elements that can add more value to your customer experience. We will see many elements; it is not necessary to include all of them but take time to look at each of them and then decide which one is the most interesting to add value to your customer's experience. Including some of the following elements in your business can be a strong winning strategy. Your customer will experience better and more memorable service.
So, your brand, unboxing experience may include:
Box – The main shipping box has to be considered the biggest element. The word is ruled by white or brown corrugated packaging options because they are cheap, sturdy, and get the job done. Just with the shipping box, you can seize the opportunity to improve the experience of your customer. However, it can be expensive. You can customize your box with colors and printed patterns, or you can have your boxes shaped.
Tissue Paper – When a customer will unpack the parcel, just tissue paper can create an extra level of mystery and excitement. For example, printed tissue paper or colored tissue paper can be customized. It is a good option to add excitement.
Protective Cushioning (Filler) – Styrofoam packing peanuts, foam inserts, air pillows, or bubble wrap are considered traditional protective cushioning. However, you have other options such as crinkle paper (colored), or Excelsior that you have to take into account.
Stickers – Stickers are polyvalence and a good option to valorize your package at a very low cost. You use it for a different purpose. Either you already wrapped your package with tissue paper and a branded sticker will just have the tissue paper sealed together, or you can use stickers directly to customize your paper, which is cheaper than tissue paper.
Receipt – Including a receipt in your package is a really common service. However, there is a lot to do to improve the presentation of the receipt to the customer. Think about how and where your customers will have the receipt presented. For example, using a custom envelope is an elegant way to present the receipt that higher-end brands often consider.
Tape – Clear packaging tape is commonly used. However, you can choose new options nowadays. To complement your custom packing and brand colors, different colored tape are new options to consider.
Internal Marketing Collateral & Package Inserts
DocShipper Advice: Adding marketing and package inserts has proved to be a good strategy to reinforce your relationship with your customers for an interesting cost.
What are the reasons why packaging inserts are so important?
Let's see some of them:
Packaging inserts are not important costs– we will later see some opportunity types of package inserts, and you could notice that none of them it's expensive and can however be an excellent investment.
You can adapt your inserts to your customer – Indeed, the inserts are for customers and not potential buyers, they already bought your product. You can adapt the inserts with the customer, depending on what he bought. This is a good way to make customers feel special and strengthen your relationship with them.
Customers have already paid the costs of delivering the message – You can make the most of it since the package is already being shipped.
Cross-selling thanks to package inserts – Package inserts are a good way to add highly targeted cross-sell opportunities. Indeed, with its purchase, the customer gives you an idea of what he likes.
Package inserts are a good way to clear stocks- If a product is hard to sell, you can use it as a marketing expense and therefore strengthen your relationship with your customer.
Loyalty can be acquired with the right inserts – With targeted inserts, the customer will feel special. This feeling of importance will give them reasons to share their experience.
Package inserts are easy – you mostly don't have to do that much. You can just add a flyer or a coupon to each order you ship. Of course, you can do more too, and you have many options to add value to your product and have a good impact on your brand and your customers' loyalty.
Now let's detail some of the most popular types of packaging insert options.
Discount Offers
Discounts offer on future purchase are a very well-known type of package inserts. Of course you can always use email to deliver discounts offer. However, the impact on your customers is different when the discounts or credits for future purchases are included right in the shipped box.
DocShipper Remark: The offer will be directly in front of them, and they will more easily associate the offer with your brand.
To deliver discount or deal offers in your packaging, one of the best ways is to have them printed at a business card size. Business cards are very good options because they are really practical and not expensive at all. Then, you can have several choices, you may include two cards whenever an order is shipped. Then the customer could keep one card and give the other one to a friend. The best thing to do is to test different options and then keep the one that has the best impact on your audience.
Product Samples
Great value to your package can be added by sample. Here are some reasons why. The first reason it is not expensive is that sometimes your vendors can offer you samples. Of course, it depends on what you sell. Then, to push your customers to buy others of your products, one good way is cross-selling, and samples are a good way to let your customer discover your other products and product lines they would probably never have tried on their own. 
Small Gifts
Small gifts are quite like samples. Your customers will be delighted and pleasantly surprised, and they won't feel you push them to make another purchase, but just see it as good attention. But you don't have to make the expensive costs to offer gifts. Since it is a surprise, your customer won't be expected it, that's why even a small one will change things and your relationship with your customers.
Thank-You Cards and Personal Notes
This option is the simplest, least expensive, and most personalized insert. Just adding a handwritten thank-you in the package can be really appreciated by your customer. Loyalty can be easily reinforced by a simple card, which is a thoughtful gesture. It is a good option at the beginning of your business because it is an advantage over your bigger competitors that most of the time cannot compete with anymore due to the size of their companies. Make it your advantage.
Product Review or Social Share Request
Most of the time, the shipped package is the last connection you will have with your customer. That is why it can be a good time to ask your customers if they are satisfied and to get on social media to have their experience shared.
Costs of Branded Packaging
As we saw, you have many options to offer your customers a beautiful unboxing experience. However, you have to be careful to control your operating expenses. You need a good balance between the benefits of creating an experience for your customers and the costs that go with it. These costs consist of the price you will pay for the inserts, gift, or samples and the time you will spend, which can also be an important cost. Depending on your average order size and profit margins, you will then decide what you can offer to your customers and what you can't. You need to take the option with the greatest value to your business, of course, but above all to your customers.
The most expensive costs are most of the time customs boxes and surprises when your customers unbox the package. For an average of 500 orders, you have to consider a cost between $5-$25 per box if you want your own custom-printed boxes.
DocShipper Example: However, you can call for your imagination to make less expenses for the same results. For example, Uline offers pre-designed colored boxes and for an order of only 50 boxes, you will pay $2.50 per box.
AliExpress is another interesting option as it sells very similar colored boxes, and it is only 0.39 cents (it changes depending on size) per box if you buy at least 50 units. Moreover, shipping is offered to most countries.
Then to add value to your boxes, printed stickers with your logo offers good return, and services like Stickers Giant or similar service have very interesting prices.
Protecting Your Product
DocShipper Warning: Some products need protective material to go through the whole transportation process without damage.
Once again, you have several options that come along. Bubble wrap, foam, tissue paper, air pillows, and packing peanuts are good ways to fill void spaces and cushioning to protect your products.
Package Protection Test
To be sure that your product is well protected, the common rule is to have any extra space in your packed boxes filled with some type of filler. However, it is not sufficient, transit can be rude little boxes are mixed with bigger boxes. The 4-foot drop test is the standard test to check if your package can support the journey.
Shipping Label Printing
So you have chosen your presentation and packaging. It is now time to consider how you want to label your packages. At the start of a business, the most commonly used option is to choose handwritten shipping and return address on the package. At first, it is an option to consider, but you will quickly realize that you lose a lot of time. It is also tedious, and you won't be able to do that when your business will grow. Moreover, in some sectors and some types of customers, handwritten addresses can be seen as unprofessional.
DocShipper Remark: Regarding labelling, you can check the warehouse of Foot-addict, the French expert of "maillot de la Thailande", we set up all the labelling process.
5) Shipping your package
Now, your package is ready to be shipped. You have to consider shipping couriers or couriers to work with. Keep well in mind that the package is the first direct contact you have with your customers. Choosing the right shipping carrier is therefore a critical decision, as it will have consequences on the representation of your brands near your customers.
You have several options whether you want a small, large, public, or private carrier.
DocShipper help: In this guide, in order to stay coherent, you will find information related to several of the biggest carriers.
As always, none of these carriers is perfect and is the only one that you should choose. You will always find strengths and weaknesses in each partner. You have to look at each carrier on your own because you are the one that knows at best what your business needs. Let's look at the factors you have to take into consideration to make the best choice for shipping carriers
Calculating Shipping Rates
Multiple factors will contribute to the shipping rates. It includes weight, size, departing and destination country, as well as insurance and tracking.
You can have a lot of factors, but those you will find in all shipping couriers' base shipping rates are:
Package Size
Package Weight
Departing Country/City
Destination Country/City
Tracking Options
Insurance Options
Volume of Orders
Negotiated Discounts
DocShipper Advice: You cannot completely compare the different services because each shipping carrier has its own unique variables.
Let's look at the most cost-effective option for your business you can have through a list of shipping calculators for some of the most popular shipping couriers.
Package Insurance
For some products, especially expensive ones, you can reduce risks with good shipping insurance, it is secure for you.
Thanks to shipping insurance, lost, stolen, or damaged parcels in transit will be reimbursed.
You can buy shipping insurance from postal services, courier companies, and 3rd party shipping-insurance companies. There are several types of insurance. And not all products can be insured. Your carrier of choice or a 3rd party insurer will tell you if your products are insured.
You can also insure some of your products, but not all of them. Some high-value items need insurance. It is a security for you if one of them is lost. Remember that some shipping services include insurance in their price, you have to take that into account when you compare prices.
Package Tracking
Another good asset is to be able to follow your package during transport. You can anticipate any issues, and it is first very valuable to customers who can see where the product is and know when it will be delivered.
Moreover, if a package is missing, and you ask for insurance compensation, tracking is often your only solution for some carriers, payment providers (PayPal), and 3rd party insurance providers.
However, if you have a short destination, locally or domestically, tracking will be expensive with no substantial good return and will prove to be unnecessary.
Once again, you can choose to track some orders, but not all. For the riskiest orders, it can be because postal loss is very likely, or it is probable that customers claim their missing package.
To conclude
As always, you have to try several options and look at the results and percentages to know what is the best option for your business. On the one hand, the more the value is low, the less is your loss rate important. In this case, you certainly don't need to choose to track every package.
On the other hand, if most of your orders are high-value, the transport is riskier, and it is certainly better to have a 3rd party insurance, and you will be able to provide a blanket rate on all your shipment.
Communicating Customs & Duties To Customers
To assure good communication with your customers and to be sure he doesn't feel swindled, you need to give them information at a good time. For instance, after his purchase, your customer will have to add customs charges to his final buying. You need to inform him about that as soon as possible, so he won't feel trapped.
Let's look at a company example that gave all the information to be sure its customers won't be surprised by the price at the end:
IMPORTANT: We cannot guarantee that you will or will not be charged any customs taxes or duties. Any customs or import duties are charged once the parcel reach its destination country. These charges must be paid by the recipient of the parcel. This applies only to international orders.
Customs & Duties Conclusion
Both you and your customers face difficulties with customs and duties. You have to find the right balance between the services you offer and the costs, and how you keep your customers informed. It is a key point to keep the relation of trust with your customers.
Let's now see how you can have outside support for lower costs but with a growing business.
6) scaling your shipping strategy
With a growing business and an increase in orders, you will have to look at other options, like a fulfillment warehouse.
Thanks to a fulfillment warehouse, you can have our shipping automated and handled for you. With a fulfillment warehouse, your inventory will be stored at one of their warehouses. If it is well integrated with your shopping cart, the order to pick, pack, and the ship will be directly forwarded by your fulfillment partner.
What are the advantages of using a fulfillment warehouse?
Let's see some of them:
Cheaper Shipping Rates – The shipping rates are reduced because they have several vendors and therefore more quantities of orders. Most of the time they are working with major shipping logistics companies, which gives you more opportunities to choose your shipping.
Shorter Shipping Times – with a fulfillment partner, you can have your inventory stored closer to the majority of your customers.
However, depending on your business, fulfillment warehouses can be the wrong option.
Here are some disadvantages you have to take into account:
Branding Experience – We studied before that a packaging presentation can be an asset for the promotion of your brand, but just a little fulfillment warehouse will propose you that kind of service.
Additional Costs – Indeed, a shipping rate will be lowered, but you will have other costs like what we commonly called pick and pack fees and warehouse storage fees.
Fulfillment Conclusion
When your e-commerce business grows and the orders are more predictable and regular, it makes sense to work with a fulfillment warehouse.
With a fulfillment warehouse, you can spare time for your business growth and seduce new customers and not wasting time with logistics operations.
**In order to optimize our services, Siam Shipping and Siam Relocation are now part of the DocShipper group. Our customers can now benefit from total supply chain coverage. Therefore, Siam Shipping team became DocShipper team**
SIAM Shipping | Procurement - Quality control - Logistics
Alibaba, Dhgate, made-in-china... Many know of websites to get supplies in Asia, but how many have come across a scam ?! It is very risky to pay an Asian supplier halfway around the world based only on promises! DocShipper offers you complete procurement services integrating logistics needs: purchasing, quality control, customization, licensing, transport...
Communication is important, which is why we strive to discuss in the most suitable way for you!