International transport from Thailand to USA
SHIPPING CONTAINERS TO USA
Siam Shipping is one of the leading container delivery companies in the UK. Indeed it has acquired a certain reputation in the field, thanks to a dedicated and dedicated team, with secure products and inexpensive prices.
With a strong expertise of 30 years of shipping containers to the United States. We can ship all types of products, from personal belongings to property in your home for a move.
**In order to optimize our services, Siam Shipping and Siam Relocation are now part of the Docshipper group. Our customers can now benefit from total supply chain coverage**
COST OF SHIPPING CONTAINERS TO USA
Container transport has evolved to become one of the most efficient means of transporting goods on very long journeys. With Docshipper the costs will be studied according to each individual need of the people.
Docshipper staff can advise you as much as possible about the different shipping methods and which is best for your needs. What size for the container etc …
Less Container Load: To reduce transportation costs and expenses, the best thing you can do is share your container with other people and businesses. Indeed by using LCL, you will only be billed on the space that your goods occupy. This is a very good way to save when you have few goods to carry, or you want to ship only a few items from your home to another place.
The full load of the container: if you have a lot of merchandise this solution will surely be the most suitable. The container will be reserved exclusively for you and all the goods contained inside will be in your possession. Container dimensions vary from 20 to 40 feet. This will depend on your loading volume. The shipping cost of the container will be calculated according to the size of the container and its destination.
DOOR TO DOOR SHIPPING CONTAINERS TO USA
We are trying to make the process as simple as possible when sending containers from the United Kingdom to the United States. We also offer an economic and reliable door-to-door service that will allow you to think of something else.
What is included in the delivery costs of containers in the United States:
A moving coordinator will be available to organize the shipment and answer your questions
A team of packers and movers, perfectly trained to secure your goods, will be present so that the transport of your goods will happen in the best way
Your products will be loaded onto the containers for shipment to the United States.
All your personal belongings, once arrived, will be installed in your new home
Delivery, terminal and customs fees are included
More information about US regulation, visit the official customs website of USA.
POPULAR DESTINATIONS FOR SHIPPING CONTAINERS TO USA
Our door-to-door service offers many destinations throughout the country. We usually process the following cities, so the estimates will be very fast.
Los Angeles, Philadelphia, New York City, Colorado Springs, Houston, Chicago, Dallas, San Francisco, Detroit, Las Vegas, Boston, Washington DC, Austin, Indianapolis, San Diego, Memphis, Philadelphia, Nashville, Atlanta.
Your delivery will be secured. Your goods will arrive safely on arrival because Docshipper never leaves anything to chance!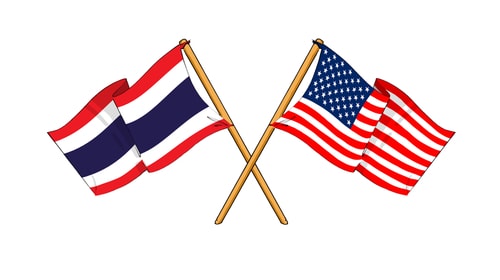 Shipping your personal effects from Thailand to USA
Do you dream of going to the USA? Spend an incredible vacation? A business visit? Or will you live there for good? Docshipper can help you in these situations so you can get started on your project. We have a worldwide filing network and also have several bases throughout the United States. This means that no matter your destination we will always be willing to provide you with door-to-door service!
Shipping Excess Baggage to the USA: Step-by-Step Video
With us, there are many advantages to choose from, but we will present the most important:
Low prices
We will allow you to avoid luggage charges at the airport
We have some experience of sending merchandise abroad
Our warehouses are present all over the world and in the United States
We cover all major cities in the country
International Shipping To The United States
When we take care of your goods, we treat them as if they were ours, the only difference is that we return them to you at the end of the transport. We handle all your merchandise safely and securely, regardless of the type of merchandise, suitcase or excess baggage or moving case, we can ship anything you want from A to Z with as little trouble as possible.
The Docshipper team is ready to follow you along the way whether by sea or by air. Over the last decade we have shipped the goods of many people to the United States. So do not hesitate to ask us for a totally free quote for shipping your goods in the United States, do not hesitate more Docshipper will make your life easier.
Things To Consider When Shipping To The USA
If you bring goods back to the United States, you have to be aware of the complexity of the rules and their strict enforcement by US Customs. They are very numerous. We will provide you with a short summary but if you would like more information do not hesitate to contact us by email.
First, here is a list of restricted articles:
Meat, dairy products, starches and wheat gluten
Pharmaceutical products
Plastics and rubber
Leather
Natural or cultured pearls and precious or semi-precious stones
Clocks
Weapons and ammunition
And here is a list of prohibited articles:
Tobacco and manufactured tobacco substitutes
Fertilizers
Fireworks
Live or dead animals
Wood and articles of wood
Animal furs
Overview of WCO
As the United States' leading agency with the World Customs Organization (WCO), US Customs and Border Protection (CBP) has the mission to get ready the US opinions on customs issues and present them at the World Customs Organization. Part of Customs and Border Protection's ongoing and scheduled activities related to the World Customs Organization includes active participation in drafting and approving best useful, guidelines and norms related to global customs questions. Furthermore, Customs Border and Protection provides unprecedented schooling and specialized aid to the World Customs Organization for the development and implementation of its global ability reinforcement programmes.
Since 1952, the WCO, officially known like the Customs Co-operation Council (CCC) through an international convention, has been a driving force in expanding the channels of global business and of security. The achievements of the World Customs Organization are both many and diversified. The organization's achievements incorporate: global standards development, simplified and harmonized customs procedures, security of the commercial supply chain, make global business easier, strengthening of customs and conformity activities, anti-corruption initiatives. Make copy and hacking, – private partnerships, promotion of integrity and sustainable activities to strengthen international customs ability. The World Customs Organization is the only global organism devoted exclusively to global customs and border inspection issues.
Following the above principles, the World Customs Organization has won many triumphs over all customs issues. For instance, the World Customs Organization has developed and manages a lot of global conventions that halp and secure global trade. The main global agreements developed or managed by the World Customs Organization include:
Harmonized System Agreement (basis of US importation and exportation programs)
WTO Customs Valuation Agreements and Rules of Origin
Customs Agreements on the ATA Carnet for the Temporary Admission of Merchandises (ATA Agreement)
The Global Agreements on the Simplification and Harmonization of Customs Procedures (Revised Kyoto Agreement).
Licence of exportation
The CBP has the mission to watch that every merchandise entering and leaving the USA, they agree with every applicable laws and rules of United State. Although Customs Border and protection applies these exportation rules to diverse other government offices, particular issues regarding product licensing demands should be conducted to this main office.
Office data, telephone numbers and commodities that may require licence of exportation may be got from the United States Department of Trade, the Office of Industry and Safety, Directorate of Controls Defence Trade, Office of Spirits, Tobacco, Weapons and Explosives, Drug Enforcement Administration, Nuclear Regulatory Committee, Foreign Assets Control Agency or Census Bureau Sites. These sites incorporate data from many other offices who have responsibilities over exportation inspection
Exportation can neee a Shipper Export Declaration (SED). The right means to complete the SED, the site gives step-by-step instructions on how to full in a Shipper Export Declaration and when an Shipper Export Declaration is required.
Additional instructions concerning licence of exportation should be sent to the export point of the CBP website employed to transport your merchandises.
The links on the right correspond to a series of issues and responses, which can be helpful in determining whether a permit is needed for the State Department or the Office of Trade. Additional issues and responses are given to provide answers to common questions about the SED.
New Exporter or Importer? Here is some advice
Concerning potential issues in the clearance related to your items and belongings, the Custom Border Protection, American Customs highly advice you to get used to administrative details and Custom Border Policies ls prior to the importation / exportation of your merchandise. Also, you should be warned of every entry specification particular to precise merchandise you are planning to import/export, including also other federal organization requirements. To help you as bust as possible, we give you access to the following advices for newest exporters and importers.
Importation to US: What license needed?
Custom Border Policies doesn't ask the import agent to get a special allowance. However, other custom organization might be asking for it (it will depend on the type of items you want to import). CBP operate just as a administrative interlocutor. Concerning the different government agencies, you can get the internet links at "USA.gov". You could possibly need a specific type of allowance from state or local authorities to deal and work. Custom Border Policies entry forms request your importer identification number. This concretely concern your social security number, (if and only if, your company isn't registered with IRS) or your IRS business registration number. As another option, you can, also ask for a Custom Border Policies assigned identification number. To get it, you need to complete a "Central Border Policies Form model 5106" and showing it to the Entry Branch at a Custom Border Policies port of arrival.
CBP Web page gather beneficial information for the experienced or novice importer
Custom and Border Protection agency information center keep updating a data base of answers related questions that can be searched by subject. You can find a data base of registered questions, already answered, on CBP INFO CENTER.
It is highly recommended for importers to have a look at the subject on the Custom and Border Protection Trade website. Particularly, we suggest you consult the information available in the part named "Basic Importing and Exporting". Many specific subjects links can be explored.
For other organization needs you may have to set up a meeting. Also, if, at the end, you start to importer usually, with more important prized shipments, we suggest you read the part called "Importing into the United States". This publication joins more details information and is seriously helpful to anyone really wishing to make a career into the items goods and merchandise business of importation. We highly recommend reading the Informed Compliance Publications. A huge amount of Informed Compliance Publications in the part named "What Every Member of the Trade Community Should Know About…" is present on the website too. Last but not least, if your professional activity leads you to travel several time to US, you could also read traveler information in "Know Before You Go".
Before importing, you shall enter in contact with the Customs and Border Policies office at the port of arrival where your goods will arrive to U.S.
Here, on the link you can find a full index of the different ports of arrival. If you have not yet chosen the port where your shipping will land, or if you are exploring the possibility to resort to several ports, you should call the specific department in charge of that at the port of entry near of your location. Ask to meet a Custom Border Policies import specialist allocate to the materials you want to import. To contact import specialists, permit, have a professional approach of the move. Indeed, he can answer your question, but he can also give you some tips from the process as specific requirements, advisory duty rates and classification advice. In a majority of ports, entry specialists answer questions with reference to entry filing. To file the obligatory paperwork, you will need the technical processing expertise delivered by entry specialists, who work jointly with importation experts.
As an importer, you will have to give the maximum of details about your shipment to the port you are contacting. To receive the best assistance from the import expert, you must be able to delineate the goods you want to import. If you need additional information on the ranking of merchandise, consult the Harmonized Tariff Schedule which contains tariff classification guidelines and the actual HTS number that explain how to properly classify merchandise. Moreover, you need to know how to respond to particular demand like:
1) the composition of the merchandise;
2) the country of origin of the merchandise and manufacturer;
3) pricing/payment information (in order to properly determine the value of the shipment), and finally
4) the intended use of the item.
Importer agent can ask for a manuscript ruling from Customs Border Policies for the exact HTSUS ranking and rate of duty for their items
Importers who are wishing of ruling ought to keep verifying on the procedures outlined in Part 177 of the Customs Regulations (19 C.F.R. 177). You have the choice to find the results of past ruling demand by using the "Customs Rulings Online Search System". Due to CBP experience and data information, you will be able to find comparable exchange as your which could help you. The CROSS-system work with key word. You will also find other information, applicability of trade preference programs, country of origin marking, or even the value.
The Customs Border Policies Web Page also contains valuable information in relation with exporting
Professionally, if you consider exporting goods from the U.S., you might review the information found in the Export section of this website.
Albeit Custom Border Policies deal with a lot of export regulation for different government bureau, if you have particular questions dealing with licensing requirements for specific goods, you may contact this leading company. By visiting the website of the U.S. Department of Commerce, Bureau of Industry and Security, you will find other agencies to get in touch with to discuss about items which may need export licenses. By calling the 1-800-USA Trade or just by visiting Export.gov, you will be in contact with the Department of Commerce's Trade Information Center, which could bring you further information. For export licenses questions, you can ask directly at the port you chose for your goods to leave the land to CBP officers.
Even if Some local importers and exporters may complete entries by their own, many novice importers and exporters use the help of licensed customs broker
For people importing items for their personal use often rely a customs broker, especially if they are not used to the importing procedures and find it difficult. Importers wanting to pay for professional services of a Customs broker might do so. Although Customs brokers are licensed by CBP, they are not considered as CBP employees. You can have access to a list of customs brokers licensed in looking at the Port you might use. Many service port pages have a list of customs brokers. Please remember that these lists are not all inclusive (you may find some other customs brokers by yourself)
Security deposit for importers (ISF / "10 + 2") mandatory for shipments of ocean vessels.
On January 26, 2009, the new rule entitled "Security Deposit for Importer" which is an additional requirement for the carrier (commonly known as "10 + 2") came into effect. This new rule applies to imported goods arriving from the United States by boat. Failure to comply with the new rule could result in monetary penalties, increased inspections and delayed loading.
Security deposit for an importer? what is it?
Under the new rule, before goods arriving by ship can be imported into the United States, "the importers' importer of security documents" or their agent (for example, licensed customs broker) must submit certain information electronically anticipated on the goods at CBP.
What form for the deposit ?
This requirement only applies to goods arriving from the United States by ocean vessel: it does not apply to goods arriving by other means of transport. Remember, even using a broker, that the importer of record is responsible for the accuracy of the entry documentation submitted to CBP and all applicable duties, taxes and fees.
Where do we find instructive and valuable information ?
For more information on the importer's security deposit requirements, please visit CBP's webpage on this topic.
You will find a link to frequently asked questions and recent ISF webinar recordings for small and medium-sized businesses.
Your licensed customs broker, forwarding agents, trade associations and local shopping centers can provide you with additional help.
Make sure you have all the information concerning quotas before importing to the U.S.
Import quotas control the quantity or volume of various products that may be imported into the United States during a given period.
United States import quotas can be divided into two main types: absolute and tariff. Absolute quotas generally apply to textiles and strictly limit the quantity of goods that may enter the United States market for a specified period.
Currently, there are no products subject to absolute quota restrictions.
Tariff quotas allow the registration of a fixed quantity of imported goods at a reduced tax rate during the given period.
Once a quota has been reached, the goods can still be seized, but at a higher duty rate. Quota information is available on the page with the same name.
This section contains links to information on possible restrictions on imported goods
An import guide provides additional information on quotas.
Filling levels for agricultural quotas and textiles eligible for trade preference programs are monitored in the Tariff Rate Status Report.
General information on quotas and specific quota instructions are available for CBP field offices and for trade as quota book transmissions.
if your shipment is reviewed by Custom Border Policies, you will probably receive an invoice
Pursuant to Title 19, Section 1467, of the United States Code (19 USC 1467), CBP has the right to examine any goods imported into the United States and it is important to know that you, as an importer, must bear the cost of the examination of the goods.
Under CBP regulations, it is the responsibility of the importer to make the goods available for review, to include:
"The importer must bear all expenses related to the preparation of the goods for the CBP examination and the closing of the packages" (19 C.F.R. 151.6).
Household effects are not exempted. No distinction is made between commercial and personal shipments.
In the normal course of operations, CBP does not charge for cargo reviews. However, there may be costs to the importer.
For example, if your submission is selected for an exam, it will usually be moved to a centralized review station (CES) for CBP review.
A CES is a private facility where merchandise is made available to CBP officers for physical examination.
The CES installation will unload the goods in front of your container and reload them after the examination.
The CES will charge you for their services. There are also costs associated with moving the cargo to and from the examination site as well as storage.
Rates vary across the country and a full container inspection can cost several hundred dollars.
The CES facility meets the needs of both the CBP and the importer by providing an effective way to conduct reviews in a timely manner.
CES facilities are dealt with in Part 118 of the Customs Regulation.
A major part of the information requested from Custom Border Policies can only be provided through the Freedom of Information Act administrative procedures
When members of the commercial community or individuals in the public request information from CBP, there are circumstances in which the information sought can be provided only
if the request is in accordance with the provisions of the Freedom of Information Act (FOIA).
The CBP website contains a full explanation of the FOIA program, including general information on the FOIA Act, FOIA regulations, and specific instructions regarding the FOIA request.
For general CBP inquiries, please contact the CBP INFO Center:
Monday to Friday between 8:30 AM and 5:00 PM.
General Inquiries:  (1-877) CBP-5511
International calls: (202) 325-8000
TDD: (1-866) 880-6582
We recommend that you first try to find the information you want by using the FAQ tool of the CBP INFO Center.
He has over 500 responses on CBP policies and procedures.
**In order to optimize our services, Siam Shipping and Siam Relocation are now part of the Docshipper group. Our customers can now benefit from total supply chain coverage. Therefore, Siam Shipping team became Docshipper team**
SIAM Shipping | Procurement - Quality control - Logistics
Alibaba, Dhgate, made-in-china... Many know of websites to get supplies in Asia, but how many have come across a scam ?! It is very risky to pay an Asian supplier halfway around the world based only on promises! DocShipper offers you complete procurement services integrating logistics needs: purchasing, quality control, customization, licensing, transport...
Communication is important, which is why we strive to discuss in the most suitable way for you!