Siam has a presence in the four corners of the world to assist you in all your international purchasing and logistics operations. Today we offer our services in more than 40 countries. Our supply chain process, recognized by our ISO certification, allows us to not only work with the best Asian suppliers but also to help you get the best deal.
We work with our customers to find and develop products with suppliers in Asia, according to their business requirements. With Siam, importing and exporting have never been so easy.
Siam services in France
Sea freight from/to France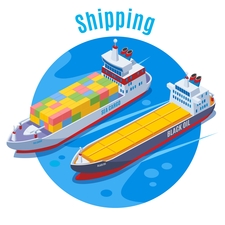 The best method of transport to send large volumes to the other side of the world at a competitive price is sea freight. 
You can send your goods under 2 formulas:
LCL (Less than Container Load): You group your goods with other shippers in one container.

Full Container Load (FCL): You reserve the entire container. This one is sealed from departure to arrival.
Airfreight from/to France
The fastest solution is air freight, it allows sending goods on long-distance, nevertheless, it is an expensive and polluting transport. A few days of transit and your parcel will have crossed the world. Here are the two possible formulas: 
Conventional air freight: You use the space available in the classic airlines like Air France, American Airlines, Qatar Airways...

Express airfreight: If you have a small parcel - generally less than 100 Kg -, we recommend sending your goods with an express company like DHL, FedEx, TNT, UPS...
Rail freight from/to France
Rail freight is a great method that has been developing for some years. Driven by the impulse of China, which invests billions in this method of
transport, trains between China and Europe, are becoming faster and more competitive. A solution halfway between sea and air freight: faster than the ship, cheaper than the plane.
Road freight from/to France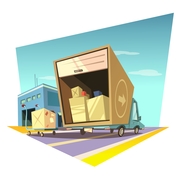 It is an indispensable method of transportation, generally used to link different terminals: your office, warehouse, or home and departure/arrival terminals such as ports, airports, and train stations.
Note: for short distances, the use of a truck for direct door-to-door deliveries. This is for example the case for cross-border transports.
Post-transport services in France
 We offer a multitude of post-transport logistics solutions in France. A space in our warehouses can even be rented if you ever need to store your goods for a short or long period.
Our post transport services contain features that shouldn't be overlooked. Otherwise, it could lead into bad surprises. The packing service condition the rest of the operation, this is why it has to be handled by pros. Don't hesitate to ask your SIAM consultant for advice if you have any doubts, then everything will go as planned. 
Customs clearance services in France
When you arrive at the destination market, your goods must be approved by the customs authorities. This is a mandatory step in international logistics. You will have to prepare the whole documentary package to certify the conformity of the products. Be careful, the slightest oversight and your cargo may be blocked in customs!
Procurement services in France
Procurement services are tailor-made support for your procurement operations. No more problems to find the right supplier producing the right products and at a competitive price:
Supplier search: We find suppliers in line with your project.
Sampling:We can arrange for a sample to be sent to you if you need to analyze your product before the starting production 
Price negotiation: Let our years of experience in import/export negotiate prices for you.
Quality control: We analyze your shipment according to 2 main criteria: the quantity to be controlled and the depth of the control.
Compliance: Because products in Asia are not necessarily in line with the regulations of your market, this point is crucial!
International logistics: Finally, we naturally handle all the logistics needs up to your warehouse.
Operational capacity throughout France
Logistics services in Marseille
With a total population of over 862,211 inhabitants, Marseille is the second-largest city in France. Located in the south, it is 775 km away from the capital, Paris.
This city named in 2013 European Capital of Culture covers an area of 240 km2 (compared to 105 km2 for Paris).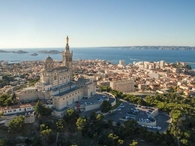 A true turning point in international trade, the ports cover more than 10,000 hectares and nearly 10,000 ships and 80 million tons of goods are welcomed annually.
As one of the key cities in France, Siam delivers all your goods to/from Marseille.
Logistics services in Lille
Lille is a city in the north of France, it counts more than 233,098 inhabitants. Lille is the main city of the European Metropolis of Lille.
The port is connected to a regional network of over 680 km of waterways including 241 km of large gauge, and is the third-largest inland waterway port of France, behind those of Paris and Strasbourg. Located on the Deûle,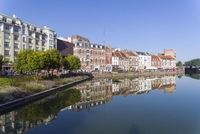 The port of Lille is a multimodal platform: river, rail, and road, which contain 3 air terminals :
A terminal dedicated to cargo (overseas cargo with a dedicated aircraft area of 21,000 m2 that can accommodate the largest aircraft on the market) + a building dedicated to "FedEx" express freight

A terminal dedicated to general aviation (private aviation, medical flights, etc.)

A terminal for commercial passenger traffic (9,000 m²; capacity 2 million passengers/year)
Finally, Lille's Airport is highly accessible as it is located in the south of the Lille metropolitan. (15 minutes from downtown Lille)
Logistics services in Paris
Paris is the most populous city and capital of France, with a population of over 2.187 million. This city has to be a focal point for national and international transport  for having such density of its rail and freeway networks and its airport structures.
Its weight in the French economy has been increasing in recent years to the point that the city accounts for 30% of the wealth produced in France.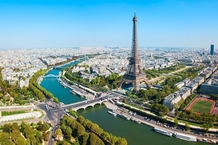 Île-de-France is also the leading economic region in Europe.
Being efficient within the Parisian infrastructure is a necessity as it is a pivotal point in combined transport and logistics in the Paris region. Trust Siam to establish a privileged link with the capital, the Île-de-France, Europe, and the world.
DocShipper info : With Siam, your transportation is insured, learn more with our insurance program which covers up to 100% of our shipments in case of damage or loss.
The transport terminals in France
International ports in France
Port of Dunkirk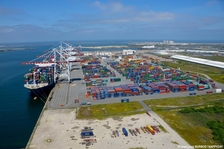 The Port of Dunkirk is renowned for its large bulk cargoes destined for its numerous industrial plants. It's France's 3rd largest port. 
Ranked as the 7th port in the Northern European Range, which stretches from Le Havre to Hamburg. The port's annual traffic reaches 53 MT(megatons), has it is the leading French port for theimport of ores and coal; the leading French port for the import of fruit in containers. 
Port of Marseille
The Port of Marseille is a key point in international trade. Each year, it welcomes nearly 10,000 ships, handles 80 million tons of goods, serves 800 customers, and develops its industrial port area, which covers more than 10,000 hectares.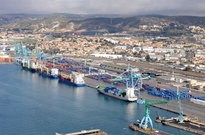 The Grand Port Maritime de Marseille Fos is the southern gateway to Europe, facilitating North-South and East-West trade. It strategicall positions make Marseille the home of the largest port in France. 
Port of Bordeaux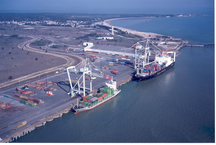 Bordeaux Atlantic port is in the heart of the Atlantic coastline, as it is spread over the largest estuary in Europe. It has 7 terminals and handles about 65,000 containers per year, for imports and exports. It is the most important hydrocarbon hub in the South-West, with between 4.2 and 4.7 million tons of hydrocarbons passing through each year, 90% of which are imported and 10% exported.
International airports in France
Paris - Charles de Gaulle Airport
This international airport is the largest airport in France, the second-largest airport hub in Europe and the ninth-largest airport in the world in terms of passenger traffic in 2019 with 76.15 million passengers. This airport serves 328 destinations in 119 countries. At the moment, three large terminals are open, its remarkable affluence allows it to schedule up to 120 movements per hour.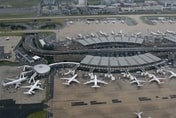 It has many advantages, but the most important is its accessibility. Indeed, it is located in the heart of a large rail and road network. The platform is therefore very accessible for the freight carrier.
Nice - Côte d'Azur Airport
This French international airport is located in Nice in the Alpes-Maritimes and on the French Riviera. After Roissy and Orly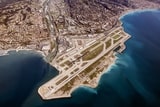 airports, Nice airport is the third-largest French airport. In 2019, the commercial traffic, reached 14,485,523 passengers of which 65% is dedicated to international commercial traffic. It has several terminals, including one dedicated to cargo. This airport is very well served, both by rail and road.
Lyon - Saint Exupéry Airport
Located 25 km east of Lyon, this French international airport. In 2019, it was named the best European airport of the year among those hosting 10 to 25 million passengers per year. This airport has 2 terminals and is equipped with a TGV station in the heart of the terminals. Lyon-Saint-Exupéry Airport has excellent freeway access and has been linked to downtown Lyon since summer 2010 by a shuttle bus, the Rhônexpress.

It is composed of a multimodal platform at the heart of the goods flow, with 51,629 tons of freight and airfreight. It specializes in the transport of live animals and the storage of temperature-controlled products.
FAQ | Freight Forwarder & Supply Agent in France
How can SIAM help me in France ?
Thanks to our tailor-made solutions, which correspond to all your needs, we offer you a unique support. From procurement to distribution, including compliance, quality control, transportation and customs clearance. You don't have to waste time in a field you don't master, leave it to the professionals!
What is a door-to-door service?
A door-to-door service is a logistic solution that includes all the needs of your project: packing, international freight, customs clearance... You don't have to do anything, we take care of everything. This service is our specialty!
How can SIAM help me find a supplier?
In order to find the perfect fit, we have numerous supplier in our database that should interest you. If not, our sourcing team will search through our network to find the wholesaler that will fit your expectations: in terms of quantity, price and quality.
Is SIAM a freight forwarder?
Yes and no! We are a freight forwarder, but we are much more than that. Our business model allows us to support our customers throughout the entire product cycle, such as an assist during the entire purchasing process, the logistics department will handle the transport operations and finally we can help you manage your B2C orders through our 3PL department (if you are an E-retailer). You only have to focus on the promotion and sale of your products, we manage the rest.
How much will I pay for SIAM services?
Except a few services that have a fixed charge, It is impossible to give you an exact price. The majority of our solutions are built on a case-by-case basis, so the cost of an operation extremely variable. If you have a serious project? Do not hesitate to contact us! You'll receive a return within 48h (provided that we have all the necessary information and the development of a solution).
DocShipper info: Do you like our article today? For your business interest, you may like the following useful articles :
DocShipper Advise : We help you with the entire sourcing process so don't hesitate to contact us if you have any questions!
SIAM Shipping | Procurement - Quality control - Logistics
Alibaba, Dhgate, made-in-china... Many know of websites to get supplies in Asia, but how many have come across a scam ?! It is very risky to pay an Asian supplier halfway around the world based only on promises! DocShipper offers you complete procurement services integrating logistics needs: purchasing, quality control, customization, licensing, transport...
Communication is important, which is why we strive to discuss in the most suitable way for you!