Incoterms 2020

The Incoterms rules or International Commercial Terms are a series of pre-defined commercial terms published by the International Chamber of Commerce (ICC). They are widely used in International commercial transactions or procurement processes. A series of three-letter trade terms related to common contractual sales practices, there are intended primarily to clearly communicate the tasks, costs, and risks associated with the transportation and delivery of goods.
The Incoterms 2020 are organized into two categories:
for all modes of transport:
EXW – Ex Works
FCA – Free Carrier
CPT – Carriage Paid To
CIP – Carriage Paid, Insurance
DPU – Delivered at place unloaded (new) : new DAT
DAP – Delivered at Place (new)
DDP – Delivered Duty Paid
only by sea:
FAS – Free Alongside Ship
FOB – Free On Board
CFR – Cost and Freight
CIF – Cost, Insurance and Freight
The Incoterms rules are accepted by governments, legal authorities, and practitioners worldwide for the interpretation of most commonly used terms in international trade. They are intended to reduce or remove altogether uncertainties arising from different interpretation of the rules in different countries. As such they are regularly incorporated into sales contracts worldwide.
That's why, they are really important in terms of regulation. It allows all authorities to judge under an unique system which makes the communication easier for every buyer and seller around the world.
It's not rare to see Chinese seller (for example) to sell product under "FOB price" without explaining that the goods price does not include the transport of the goods, duties and taxes.
For a more clear vision of INCOTERMS, refer to the following table: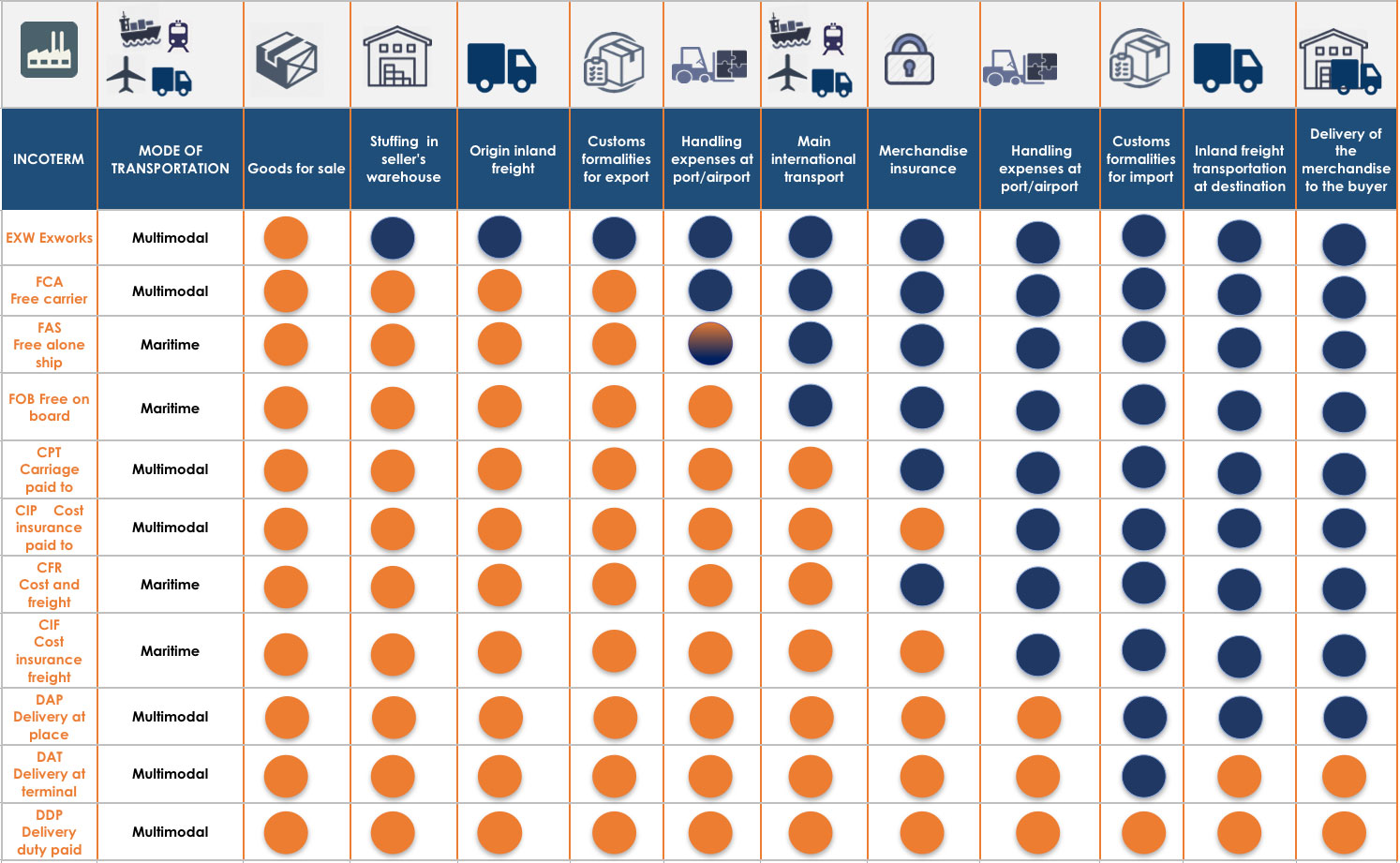 **In order to optimize our services, Siam Shipping and Siam Relocation are now part of the Docshipper group. Our customers can now benefit from total supply chain coverage. Therefore, Siam Shipping team became Docshipper team**
SIAM Shipping | Procurement - Quality control - Logistics
Alibaba, Dhgate, made-in-china... Many know of websites to get supplies in Asia, but how many have come across a scam ?! It is very risky to pay an Asian supplier halfway around the world based only on promises! DocShipper offers you complete procurement services integrating logistics needs: purchasing, quality control, customization, licensing, transport...
Communication is important, which is why we strive to discuss in the most suitable way for you!