Shipping by Train
SIAM Shipping also offers railway freight transport services. We provide national, continental and international rail freight.

The choice of intermodal transport reduces freight costs by offering a solution other than off-road shipping. Rail allows long-term supply and door-to-door service. This is an added value for companies looking to expand their business.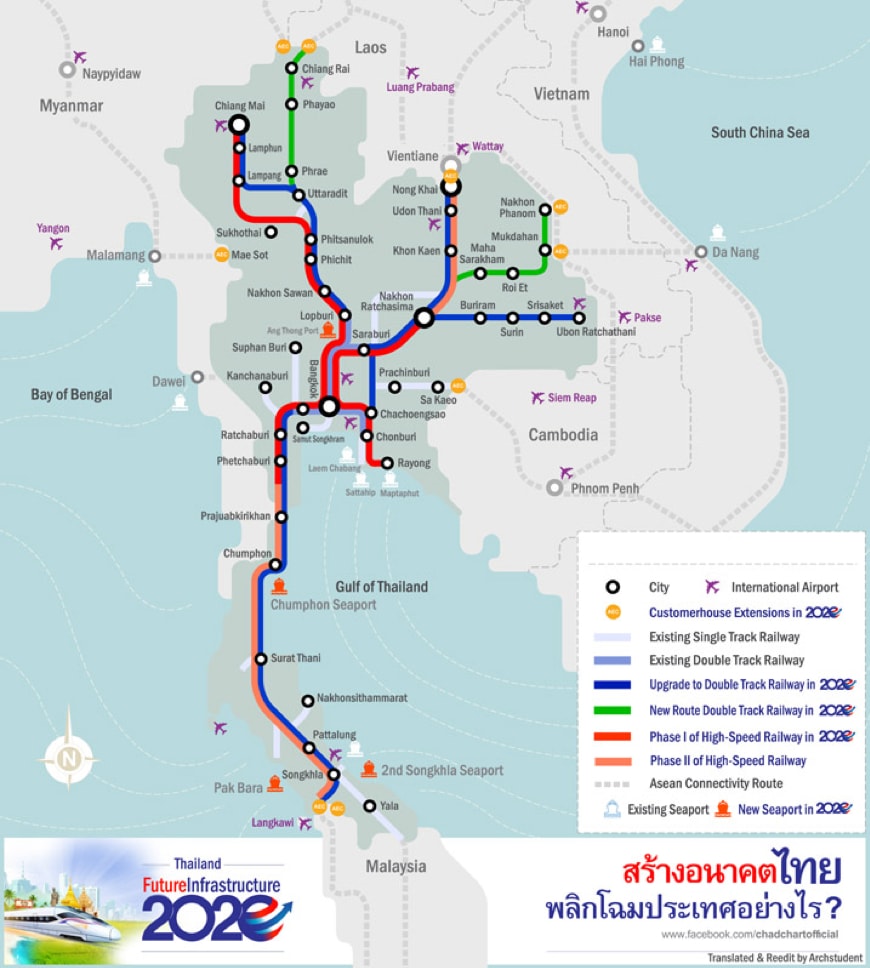 Rail freight in Thailand – Future infrastructure by 2020
Rail transport is going more and more important in Thailand
Rail transport in Thailand has been dependent since 1951 on the State Railway of Thailand (STR).

It is relatively undeveloped compared to those of other states in the region, with around 4,070 km or 4,136 km of one-way routes, including about 80 electrified ones (about 30 for the Bangkok SkyTrain Bangkok, whose work was still ongoing in 2013). It carries about 45 million passengers in 2010 compared with 85 million in 1990.
SIAM Shipping info : **In order to optimize our services, Siam Shipping and Siam Relocation are now part of the DocShipper group. Our customers can now benefit from total supply chain coverage**
This mode of shipment also provides additional security for shippers as well as reduced travel time and reduced risks of delays. In addition, the train is the most fuel-efficient means of transport and therefore the lowest carbon emitter. The train therefore comes with a much lower carbon footprint, ensuring a better environmental compliance.
The train is the most economical means of transport in Thailand. The average speed is low, around 40 km/h or even less, and schedules are often not respected outside of Bangkok's rail network.
In 2020, the STR came under intense criticism for its opaque management, its obsolete equipment and a high number of accidents due to poor track conditions.
Projects are underway for several hundreds of kilometers of dual carriageway lines at this date and the government is considering a budget of € 19.2 billion for the creation of four high-speed lines.
These should make it possible to complete a network linking China to Singapore. The center of Bangkok is currently the starting point for all-country train lines. The three main lines are:
The north network, which goes up to Chiang Mai,
The northeast network, which goes up to Ubon Ratchathani and the Lao-Thai friendship bridge on the Laotian border since 5 March 2009,
SIAM Shipping info : The railway stops 20 meters away from the border. (The rest of the track, which allowed to go directly by train to Phnom Penh, was destroyed Under the Khmer regime)
SIAM Shipping info : The South network, which goes as far as the Malaysian border. Thonburi Railway Station is the starting point for trains to Kanchanaburi and the famous Kwai River bridge on the SIAM-Burma railway, known as the "Railway of Death", which stops in the years 2000 to Nam Tok Sai Yok Noi.
Rail freight in Thailand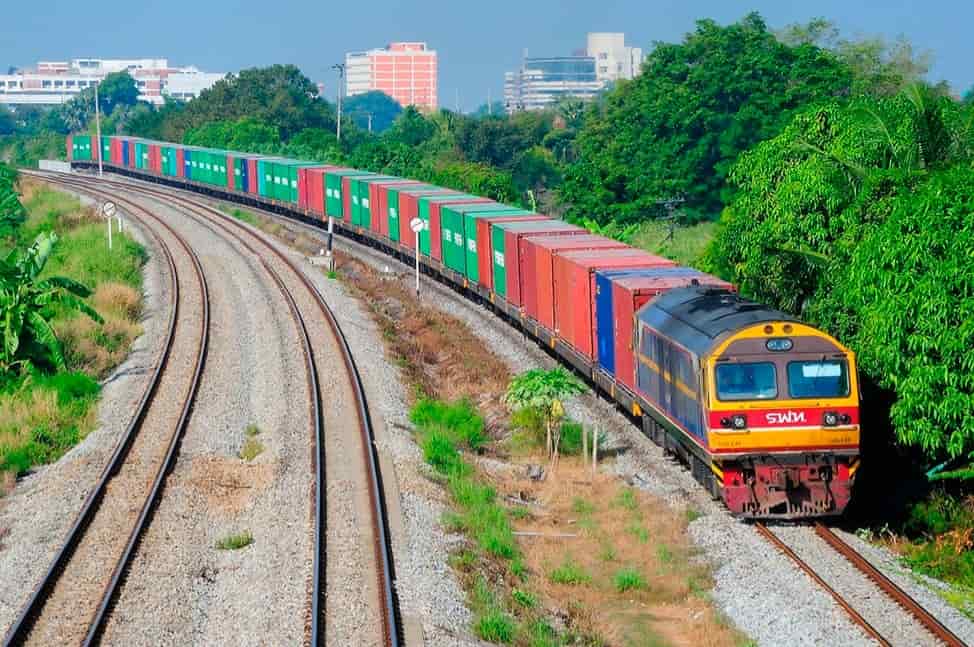 Road vs. Rail: choosing the right method of transportation for your goods in Thailand 
Ground transportation is often the preferred option when transporting goods in South-East Asia. Freight is essential to the world's economy, to ship goods from one location to another. It is directly linked with the way of doing business we are used to.

Selecting the best-suited option when shipping goods is crucial to better meet the needs of the seller and the buyer.
Transporting Goods via Road Freight
PROS
Flexibility as regards final destination and volume of goods to be transported.
Departure at any time, and one of the cheapest means of transport
Perfectly suited for specialty services: Whether you are shipping dry freight; frozen, fresh, or refrigerated; heavy or oversized, road freight is made for you!
CONS
Restrictions due to traffic jam and speed limits
Bad weather can cause unexpected delays
Road freight comes with a lot of unexpected events during a journey
SIAM Shipping Advice : The best option is to consider railway transport to avoid this kind of problems! To have further information about trucking service, check our dedicated page here: Trucking service
Transporting Goods via Rail Transportation
PROS
Much faster and more reliable as it is less dependent on weather conditions and traffic jams
Railway transport is ideal for larger volumes, and much longer distances
CONS
Less flexibility: schedules to be respected
Door-to-door service is impossible
SIAM Shipping Tip : You must weigh the pros and cons of each option and opt for the best solution in harmony with your needs. 
*Door-to-door service can also be offered through railway freight, thanks to multimodal transport. It enables to ship goods through two different means of transport (truck, air, sea, railway). The container is easily movable from one means of transport to another.
We can ship across Thailand, Asia, or all over the world
For instance:
A container is delivered by truck to a station platform
The container is lifted and loaded onto a train
The train takes the container to another location
The container is unloaded from the train, and loaded again on a truck which will bring it to its destination 
To sum up, here are the 4 main benefits of railway transport:
Time saving
Tremendous reliability
Lower risks of delays
Easily movable to other means of transports
Rail freight in Thailand
Rail cargo: Basic knowledge
Bulk Cargo
Most of the time transported by rail, the bulk cargo represents most of the tonnage. The cargo bulk is the perfect way to carry large unpackaged quantities. To unload the goods, a spout or shovel bucket can be used, whether with a liquid or a solid contained in a wagon. Liquids brought into tank cars may be petroleum, chemicals or compressed gases.
For dry bulk commodities such as coal, grain, ore and track ballast type, hopper cars are used as way of transport. Thanks to its development, the hopper car participates in the increase of the automated handling of these products at the time of loading and unloading.
The two main types of hopper cars are open and covered:
Covered hopper cars are widely used for products that must be protected from moisture or rain. Indispensable, for example, for sugar, grain or fertilizers.
Open cars are more common for products not subject to moisture (coal).
SIAM Shipping info : Hopper cars have been very common around the world when automated handling has been used. The most used unloading method, Rotary car dumpers simply invert the car to unload. It becomes easier and more compact (because slopes are not required) gondola cars instead of hoppers.
Heavy-duty ore traffic 
The transport of iron ore and coal is carried out with the longest trains in the world, and the wagons can reach up to 130 tons and the whole train tens of thousands of tons. Each day more than one million tons of coal are transported by train.
Containerization
This intermodal freight transport system uses 'ISO containers' or 'isotainers' which can be loaded with cargo by being sealed and placed on container ships, wagons or trucks. The way the products are being shipped have changed completely since the arrival of containerization.
Containers stacked on container ships, stacked on transport vessels accounted for about 90% of the non-bulk shipments worldwide in 2009. It should be noted that 26% of all container transshipment are carried out in Thailand.
The use of the same container sizes throughout the world has avoided problems of size and incompatibility between different countries by facilitating transshipment between different gauge trains.
SIAM Shipping Advice : Even if containers travel for hundreds or thousands of kilometers on a railway, it is possible to use a viable intermodal freight transport system (truck + rail) even in a small country. However, logistics must be properly coordinated. To have further information about this subject, feel free to contact one of our experts or check directly our dedicated page: Multi-Modal Freight
Rolling highways and piggy back service
In Thailand trains are used as the highway. Trucks can be on trains and once they reach their destination, they are unloaded. This method is used in the Channel Tunnel between Bangkok and Nongkhai,. Piggy train are frequently used by some shipping companies. They are known as trailers but the Container Market (COFC) is less favorable to them because they lose part of market.
SIAM Shipping info : Containers are generally 53 feet long and are used for inland transport.
Special cargo
Containerization or bulk is not suitable for all types of cargo. Some special wagons are designed for this type of cargo.
The cars are stacked in open or closed auto racks, the vehicles can be on or off the support.
Steel plates are in modified cars (coil cars)
Goods that require a regulated temperature during transport can go in refrigerated wagon or refrigerated truck (UIC). There is an increasing number of refrigerated containers.
For wood or other building materials we can use the Center beam flat cars
Schnabel wagons are used for oversized and / or extra heavy loads.
SIAM Shipping Advice : To have further information about project cargo, we invite you to check our dedicated page: Oversized items
SIAM Shipping info : If you want further information, we invite you to visit the official website of Thailand by clicking here: Train Thailand
SIAM Shipping | Procurement - Quality control - Logistics
Alibaba, Dhgate, made-in-china... Many know of websites to get supplies in Asia, but how many have come across a scam ?! It is very risky to pay an Asian supplier halfway around the world based only on promises! DocShipper offers you complete procurement services integrating logistics needs: purchasing, quality control, customization, licensing, transport...
Communication is important, which is why we strive to discuss in the most suitable way for you!