Air freight forwarder from/to Thailand
DocShipper is an established air freight forwarder. We have been offering air freight services to/from Thailand for many years. We are able to provide air freight to many airports all over Thailand.
Booking air freight from/to Thailand is simple with our dedicated air cargo department located in Bangkok airports
Booking air freight to the USA,Canada, Europe, ASEAN or any other countries could not be simpler. We currently offer a range of flexible services operating from airports across the world.
 Our prices are competitive and our airlines top notch.
Booking air freight services from/to Thailand is easy with DocShipper. We provide various services, collaborating with many airports all over the world. You will enjoy our price-competitiveness and our top notch network of airlines.
SIAM Shipping Tip : If you want to get a free air freight quote, just provide us with the weight and dimensions of your shipment. We'll get back to you as soon as possible with the best price on the market. Select both your departure and arrival airports. You are in the rush ? Don't panic, get your price here: Our online form
Obviously, we also offer an optional pickup service directly in front of your door, for your entire convenience.
Can every type of cargo be shipped the same way?
Most of cargoes can be loaded on any type of aircraft. Nonetheless, some specific cargoes such as hazardous ones can be restricted or even banned from flights. It is our specialized team's job and responsibility to check regulations and ensure rules compliance.
After that, we'll make sure to bargain for you, and obtain the best rates with the carriers. We now have a very long-lasting working relationship with many carriers, ensuring us to benefit from the best rates.
Air freight rates from/to Thailand
Get an easy quotation to benefit from our highly-competitive prices, alongside excellent customer service. In case of a high volume, we can even negotiation spot rates for you. We are committed to mix low prices and excellent customer service. Every dollar we are able to save is one dollar we saved on your behalf.

If you require any assistance during the booking process, please don't hesitate to contact our staff at info@siam-shipping.com. We'll be delighted to answer all your questions and help you.
Air Freight Special Offers
After being in the business for many years, we can now guarantee the best rates for you:
If you require a pickup service, we will send you the cheapest and most efficient air cargo solution.
As mentioned before, we can negotiate on your behalf for high volume, in order to obtain discounts and save a lot of money.
As well as our competitive regular rates, we also have air freight special offers sometimes:
Regularly, we come up with punctual discounts for specific regions, and volumes.
If you want to benefit from these special prices, your shipment usually has to exceed 100 kgs.
*If you want to ship a high volume, please contact us to see if there is an available spot rate for your shipment.
International Air Freight Shipping: Definition
Ocean freight still accounts for 90% of international freight, but air connects the whole world in a few days only. This is for example true for a shipment from Thailand to the USA: 20-30 days by sea, 4 days by air cargo.

A difference must be observed between air freight and express freight shipments. Express freight is often handled by one carrier (UPS, FedEx, DHL, etc.) that ensure door-to-door services for low volume, in less than five days. There are often not exceeding 1m3; weighting less than 200 kilograms). International air freight comes most of the time with much higher volumes and implies various carriers' involvement.
International Air Freight Charges: What are the costs for shipping by air?
Weight and volume are key indicators in Air freight. Air carriers' pricing method is based either on volumetric weight (also known as dimensional weight) or actual weight, depending on which one is more expensive.
The most common method to calculate it is to multiple the item's volume in cubic meters by 167.
SIAM Shipping Tip : Let's imagine a parcel with the following dimensions: W: 55cm, H: 55cm, L: 55cm. The volume would be 0.1663. If we multiply it by 167, we get a volumetric weight of 27.78 kg.
*From the dimensions of your shipment, you can also compute your volumetric weight automatically with this free tool brought by DHL: Volumetric weight calculator DHL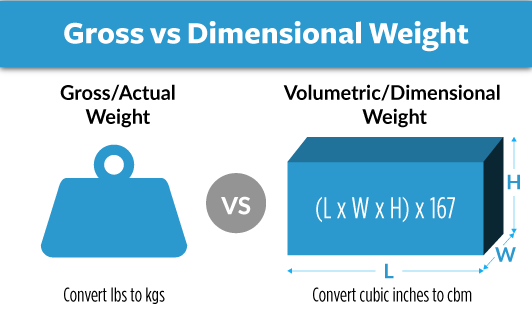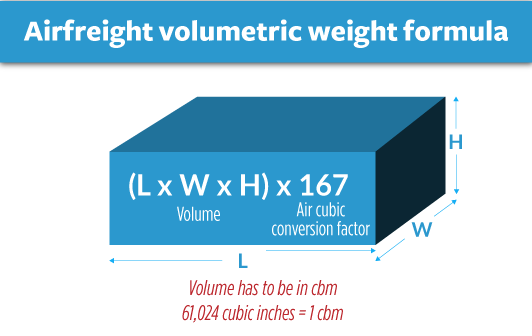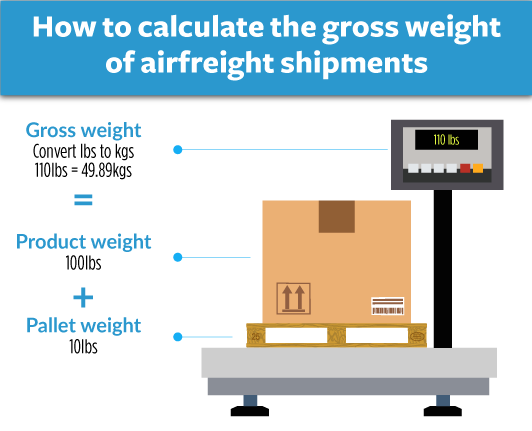 Why Ship by Air?
Fast– Imagine getting a product from a Chinese warehouse to the USA in five days. Air freight is 30 times faster that ocean freight. Passenger jets cruise at 575 mph, while slow-steaming ocean liners move at 16-18 mph. Air freight is usually 5 times more expensive than trucking service, and 16 times more expensive that ocean freight.
Reliability–The freight industry is getting more and more aware about the importance of ensuring a decent traceability for the shipments. Air freight comes with an excellent freight tracking, ensuring you are kept on the loop on the status of your shipment.
Safety– Your goods are much less at risk through air freight, as compared to ocean freight.
Why Not to Ship Cargo by Air?
Cost– As mentioned before, air freight comes with a higher price than ocean freight. Comparing air and ocean freight, a medium size 2000 lbs box from Shenzhen, China to New York, USA, can cost $1,200 by ocean but it can go up to $4,000 by air.
CO2 emissions– Of course, air freight also means greater emissions. For instance, according to UK government research, 2 tons shipped for 5,000 kilometers by ocean will lead to 150 kg of CO2 emissions, compared to 6,605 kg of CO2 emissions by air. Definitely not the most environmental-friendly way to ship your goods.
Heavy Shipments– Freight shipping has been for many years mainly focused on shipping containers, which are great for shipping large, heavy items. As air freight is priced based on size and weight, price can go up very quickly.
What goods are generally shipped by air?
Since air freight is quite expensive, it is usually used for small, high-value or time sensitive items. Here are some examples:
Electronics. We all have the example of Steve Jobs in mind: he purchased the whole air freight capacity between Asia and the USA to ship the first iMac before the beginning of holidays.
Apparel. Seasonal trends are changing quickly in the fashion industry. Therefore, companies need to get their products from warehouses to the stores as soon as they are ready to be sold.
Pharmaceuticals. Given their small size and value, medical goods are frequently shipped by air.
Documents and Samples. Air freight is still the most cost-effective way of shipping documents. DHL Global Forwarding got it started by taking ocean freight documents by air to get them to a new West Coast-Hawaiian ocean line.
Seasonal shipments. Whatever the product is, if there is a high international demand at a certain point, air freight will be required to get shipped as soon as possible.
Beyond the air freight, which is calculated based on the cost above, the air freight price will also likely include:
Fuel surcharges
Security surcharges
Container Freight Station / Terminal Handling charges
Airport transfers
In addition, for door-to-door costs, the price will also include:
Customs brokerage
Pickup and delivery
Cargo Insurance
Accessorial charges
Are International Air Freight Quotes & Prices Changing?
The air freight industry is growing slowly, with less than 1% growth in 2017. According to the International Air Transport Association (IATA), air freight went down from 5% in 2014 to 2.2% in 2017. The main reason for this decrease is the growing reliability and trust for ocean freight in the industry.
Ocean freight keeps on getting cheaper, due to massive ocean freight overcapacity. On the other hand, the number of air passengers is growing years after years. Therefore, there is more and more belly cargo space to store air freight, but not even the half of freight capacity is being used.
As a result, most of companies do everything they can to avoid air freight, leaving only time-sensitive items to air freight.
SIAM Shipping info : Whether you're a large company, a small business, a start-up or an individual, DocShipper can organize your air freight from start to finish, without you having to do anything. Tell us about your neeeds, so our experts can find the most appropriate solution for your freight and give you tips on how to save on shipping costs. We'll answer any questions you have!
What does an air freight forwarder do?
When the public is asked what exactly the work of freight forwarders is, most have a vague idea of ​​the role of these entities in the transport of goods from point A to point B. However, the role of freight forwarders is in general the same, whether the cargo is moved over the ocean, air or land, even though there are differences in the way ocean freight flows in relation to air cargo.

Here is a general description of the work that a shipping agent such as DocShipper can provide for its customers when they have goods to transport.
A freight forwarder is an agent for the shipper
When customers choose to hire a freight forwarder such as DocShipper to transport goods, they hire it to act as a representative or agent to deal with the ocean or air freight business.
For this reason, freight forwarders act as "travel agencies" for your transport. Rest assured, we take care of the customs, import and export rules and regulations of the countries concerned by the entry and exit of your goods.
The freight forwarders must also be in contact with the Airlines company which will manage and transship the goods by reserving the storage space, confirming the schedules and ensuring the safety of your cargo.
Freight forwarders are allowed
DocShipper is authorized by the responsible authorities to handle international trade goods, as are other shipping agents.
The International Air Transport Association (IATA) issues licenses to shipping agents.
It is very important to ensure that the agent with whom you book your products have the certifications to ensure the safety of your goods.
The shipping processes
The key role of an air freight forwarder is to help the exporter or the shipper with the preparation of the documentation concerning your goods by reserving the storage space in the transit vehicle and ensuring that the Insurance costs, airport charges, consular fees and handling charges are borne by the shipper and are covered in full.
An important service for a freight forwarder is to fully understand how to package the goods safely and efficiently.
The freight forwarder must also provide a service including the communication with local and at the destination agent, airport authorities.
FAQ | ✈️ Air freight in Thailand 🇹🇭 | Rates - Transit times - Taxes
How is freight cost calculated?
There will be fixed charges as export and import charges which is all airport related charges (manutention, customs declaration...). Then you also need to add the freight cost which will vary according to the origin and the destination. It will be charged X USD/Kgs.
Which is cheaper shipping by air or sea?
Even if sea freight is the most popular method of transport because it's cheap, sometimes air freight can be cheaper ! It is the case for small parcels, usually below 300 Kgs.
What the difference between air freight and express shipping?
Express services will use couriers companies network. Those companies are famous : DHL, FedEx, UPS, EMS, Aramex... Classic air freight will use the space available on airlines companies such Thai Airways, Air France, Air China...
Does there is door to door services with air freight?
Your door to door services will have to includes all export (at departure) and import (at destination) process. You will also need trucking service from origin and to the arrival to finalize the shipment. This is obviously something that we offer.
SIAM Shipping | Procurement - Quality control - Logistics
Alibaba, Dhgate, made-in-china... Many know of websites to get supplies in Asia, but how many have come across a scam ?! It is very risky to pay an Asian supplier halfway around the world based only on promises! DocShipper offers you complete procurement services integrating logistics needs: purchasing, quality control, customization, licensing, transport...
Communication is important, which is why we strive to discuss in the most suitable way for you!