The International Air Transport Association (IATA) certified Siam Shipping to have dangerous goods shipped by air. To pack, label and ship dangerous goods, it is a necessity to comply with rules and regulations, otherwise, you will waste time and money. For the safe shipping of dangerous goods by air, the rules are given by IATA, and their rules are applied by airlines throughout the whole world.
DocShipper Alert : In order to optimize our services, Siam Shipping and Siam Relocation are now part of the Docshipper group. Our customers can now benefit from total supply chain coverage
Risks and danger with containers and goods by air freight
Dry ice, explosives, flammable materials, or substances are hazardous materials, commonly named HAZMAT. They are considered dangerous goods. However, some dangerous goods are not obvious. For instance, certain comestibles oils, nail polish, and perfume are considered dangerous goods, they are common items that are wrongly not considered as dangerous goods by most people. To ship these items, proper packaging is required because they are flammable. Most people consider that only chemical companies, gas companies, pharmaceutical companies, or research labs are led to deal with dangerous goods. In fact, any company may have to ship hazardous materials or dangerous goods. It can be cosmetics, retailers, or else food companies.
DocShipper info : To know more about HAZMAT term, feel free to visit Wikipedia website which is very clear on the subject. Click here to check HAZMAT article on wikipedia.
What is a dangerous product?
Some goods that are classified as "dangerous" might surprise you, such as aerosols, perfumes, or anything that contains lithium batteries, such as phones or laptops.
There are nine categories of hazardous products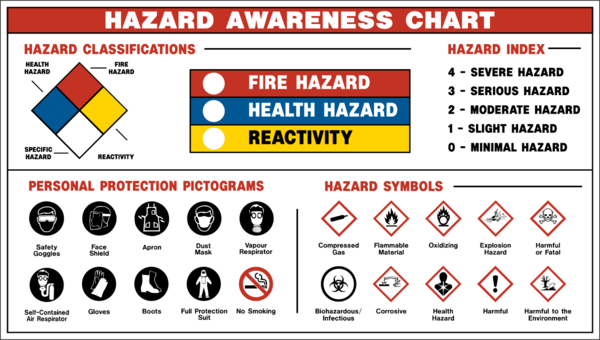 Can I check the hazardousness of a product through labeling?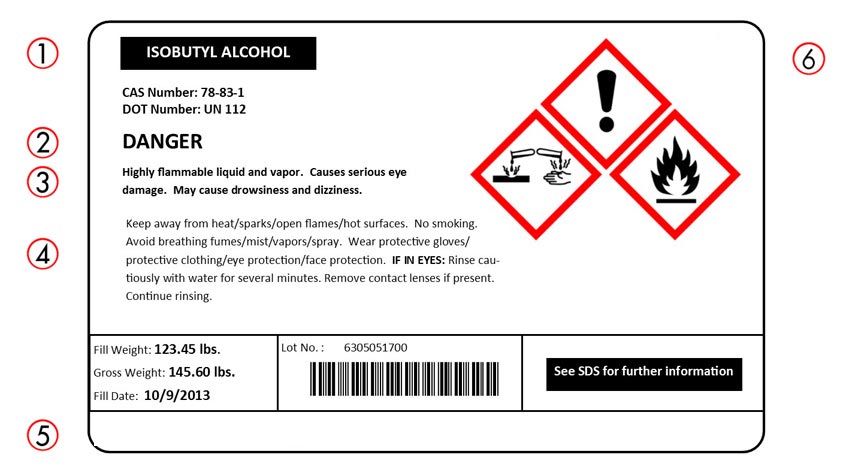 1 = Product Identifier
2 = Signal Words
3 = Hazard Statement
4 = Precautionary Statement
5 = Supplier Information
6 = GHS Pictograms (Diamond-Shaped Symbols)
Interested in our services? Need personalized information?
Our experts will answer you within 24 hours
What is required to ship dangerous goods by air?
Labeling Dangerous Goods: Hazardous materials that require labeling are classified into 9 classes by IATA. Then, in the 9 classes, there are different categories that have to be taken into account to label a good properly. You may have to add a special handling label if your goods need proper safety precautions to be taken during the load and the unload. The 9 principal classes are:
Explosives
Gases
Flammable liquids
Flammable solids
Oxidizing substances
Toxic and infectious substances
Radioactive materials
Corrosives
Miscellaneous dangerous goods
HAZMAT Packing: international regulations have to be respected if you ship dangerous goods by air. You often need steel pails, plastic jugs, and fiberboard boxes to pack dangerous goods. These packing groups are standardized by the UN:
Packing Group I – Great Danger: the packaging is the most protective and containers cannot have some products of this category together. Sometimes they even can't be shipped together.
Packing Group II – Medium Danger
Packing Group III – Minor Danger: minimum protection is needed.
Proper HAZMAT Documentation: with the proper packaging, you will also need more shipping documentation than non-risky goods. Among the documentation there are:
Emergency phone numbers
Registrant information
Packing group number
Regulatory information like DOT exemptions, special permits, and EX numbers
Why Siam Shipping is the best service for the transportation of Dangerous Goods by Air?
Our team can advise you at best and as a freight forwarders certified by IATA, we are able to verify that the international regulations are respected in all of your shipping documentation. Some goods are identifiable as dangerous goods with difficulty. We help our clients recognize them. We make sure that your products aren't incorrectly shipped, which save a considerable amount of money but also dangerous mistakes are prevented. We also check with you that the IATA regulations are respected concerning packaging, marking and labeling for the carriage of dangerous goods by air.
Risks and danger with containers and goods by sea
Shipping dangerous goods – as air freight, you need to label the cargo and respect some regulations, this time established by the International Maritime Dangerous Goods (IMDG), when you ship hazardous goods. It prevents any environmental disaster. It also assures that the transport vessel won't be damaged or that the people on the vessel won't be hurt. Moreover, all supply chain organizations will be able to appropriately handle the cargo.
It can be a real challenge to transport dangerous goods by sea and respect the strict requirements. SIAM Shipping Services give you all you need to ship your goods properly. Thanks to our 10 years of experience in the freight forwarding industry, we are able to handle your dangerous goods safely. The transport of your hazardous products and the departure point to the arrival will be facilitated.
What is required to ship dangerous goods by sea?
From all over the world, you need to respect the IMDG requirements to ship your dangerous goods. Explosives, toxic or infectious substances, flammable solids or liquids, radioactive substances, corrosives, poisonous gases, certain pesticides, and herbicides are considered dangerous goods. The main requirements are:
Correct Classification & Labeling: once again, you have different classifications determined by IMDG to label properly your dangerous goods. Thanks to good labels, the cargo is identified and moved safely by all handlers on the supply chain.
Appropriate Packaging
 The classification and type of cargo will impact on the packaging. Dangerous cargo required special inner and outer packaging to be sure that there is no danger when the dangerous substance is in contact with the packaging.
Segregation from Other Cargo
Sometimes you have to separate dangerous goods from other products otherwise it can be dangerous on the vessel.
Why Should you call Siam Shipping - Docshipper Services?
Any badly prepared hazardous cargo or inappropriate documents can lead to delay or to deny entry at the port of your cargo. It can be very dangerous for your business if it is based on the safe delivery of this cargo.
Trust Docshipper Service. We have an extensive experience in the ocean freight forwarding industry, we are able to give you the necessary documentation, pack your cargo, and make sure your dangerous goods meet all the regulations of the IMDG Code.
We work with all major shipping lines and contractors. Thanks to that, we are able to negotiate competitive prices and have your dangerous goods shipped to any port in the world. Thanks to our large network, we also assure the delivery of personalized service to small businesses. During all the transportation, we stay in contact with you to inform you about the location of your production. In the end, we make sure that your product arrived safely and on time.
Check the following video to discover the 9 classes for the transport of hazardous goods
Docshipper handle hazardous items worldwide
Medical Equipment
For your delivery of medical equipment and pharmaceutical products to hospitals, laboratories, medical centers, trade shows, … and even your patients, we take care of you.
We assure you that you oversee your pharmaceutical transport or medical equipment without breaking the charge. The delivery is dedicated to your medical equipment or pharmaceutical products.
Because this type of transport is sensitive and very delicate, it requires very strict transport knowledge. Our drivers are experienced and used to handling this type of fragile material.
DocShipper info : We use the transport mode without interruption of load, that is, door-to-door. Your carrier is totally dedicated to you during this mission, without any detour to other customers. Further information about our inclusive logistics solution, click here: Door to Door services
Air Transportation Dangerous Materials
The transport of hazardous products is subject to both national and international regulations. This type of transport shall be secured fully and shall fulfill all conditions imposed by the competent authorities.
During air transport, it is crucial to measure the consequences of potential deviations in temperature, humidity, and the risk of vibration damage during successive handling operations.
Siam Shipping with Docshipper specializes in the transport of hazardous products to and from Thailand, we master all steps and regulations, including the choice of packaging, labeling, and documentation. Here is a list of the products we already carry:
Chemical products
Petrochemical
Petroleum products
Liquefied gases
Aerosols
Cosmetics
Painting
batteries
Dry Ice
Explosives
Cargo insurance
Goods insurance covers goods in transit by road, rail, sea, or air. In its simplest form, it offers coverage against accidental damage and other risks. The "all global risk" option, covers a range of accidents specified on a contract (for example damage during loading, theft, and negligence).
The cost of your insurance and under what circumstances you will receive compensation will depend on:
The value of goods in transit
Whether the trip is domestic or international
FAQ | Transport hazardous items in Thailand
What is the definition of a dangerously good safety mark?
A label, placard, orange panel, sign, mark, letter, word, number, or abbreviation, or any combination of these items, can be used as a dangerous products safety mark. The dangers of dangerous goods and their risks can be quickly identified with the use of safety markings.
How do you transport hazardous materials safely?
Materials transported in a cargo bed should be made secure and be protected from the weather. If transporting more than one type of chemical, make sure incompatible chemicals are placed away from each other.
What is the special document required for hazardous cargo?
Hazard class, UN number and PSN. Name and address of exporter and importer. Weight and quantity of goods. Number and type of packaging (cartons, drums, containers).
How are hazardous materials shipped internationally?
All hazmat containers traveling by air must be labeled. The label should contain the code and name of the hazmat, as well as the full description. If the container is empty but previously carried a hazmat, the words "last contained" should precede the shipping name.
DocShipper Advise : We help you with the entire sourcing process so don't hesitate to contact us if you have any questions!
SIAM Shipping | Procurement - Quality control - Logistics
Alibaba, Dhgate, made-in-china... Many know of websites to get supplies in Asia, but how many have come across a scam ?! It is very risky to pay an Asian supplier halfway around the world based only on promises! DocShipper offers you complete procurement services integrating logistics needs: purchasing, quality control, customization, licensing, transport...
Communication is important, which is why we strive to discuss in the most suitable way for you!