Leader in cross border logistics services from Thailand
We offer inland cross border door-to-door trucking services from Thailand, Malaysia, Laos, Myanmar, Cambodia, Vietnam and Singapore and vice versa.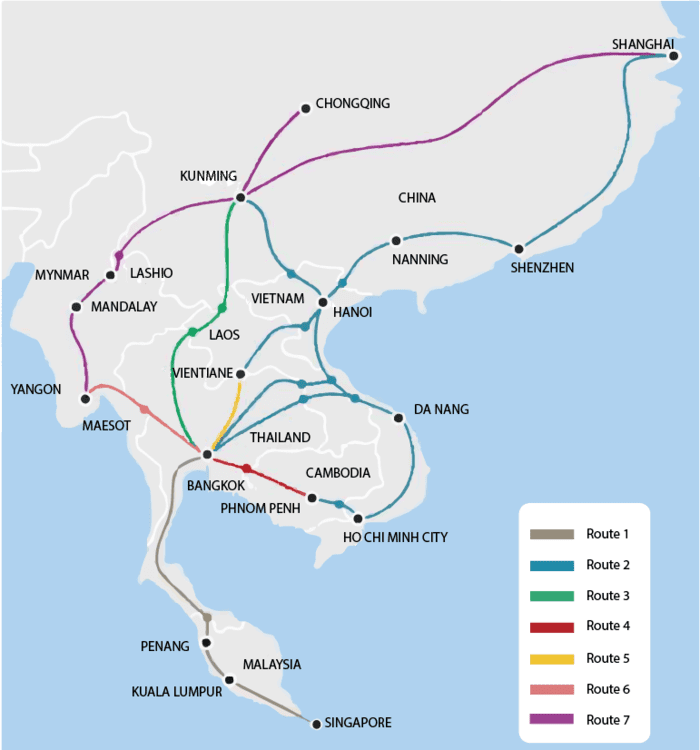 What makes Siam shipping / Docshipper the best in cross border transportation (CLMV)?
Fully accredited for "Inland Cross Border" for shipments to/from Laos, P.D.R., Myanmar and Cambodia, Vietnam and Malaysia.
Trailers / trucks for domestic & International shipping.
Low-base truck for oversized items & heavy cargoes.
Our trucks are fully licensed by the Department of Land Transport for "Inland Transportation".
One stop / Multimodal transport: for any shipment to/from any countries in the world via Thailand, by sea and/or air, then shipped by inland truck.
Thailand is a key facilitator for cross border transportation thanks to the location of the country. We provide domestic and cross border transportation, using 6 and 4 wheelers, and closed vans for FTL and LTL shipments.
We have launched a new service of inland cross border door-to-door trucking between various countries: Thailand, Malaysia, Singapore, Vietnam, Laos & Indonesia.
*The project is known under the name of 'Asia Road Express'.
The main objective is to connect Thailand to its neighbors by road, in order to benefit from to lower costs. We also offer this service for LTL shipments, with competitive rates.
Docshipper Advice: For further information about trucking service, check directly our dedicated page: Trucking services

We also have a dedicated page for smaller volume, contact our Experts or check this page: Less Than Truck Load services
**In order to optimize our services, Siam Shipping and Siam Relocation are now part of the Docshipper group. Our customers can now benefit from total supply chain coverage**
CROSS BORDER SERVICES TO MALAYSIA
For Malaysia: we pass through Songkhla and Sadao to cross the Malaysian border. Departure from Bangkok & Kuala Lumpur is scheduled on every Tuesday.
CROSS BORDER SERVICES TO SINGAPORE
For Singapore: we pass through Sadao and Songkhla, down to Kuala Lumpur, and then cross borders to Singapore.
CROSS BORDER SERVICES TO LAOS
For Laos, we pass through Konkaen. Then we use two routes: the first one passes through Nonkhai, and the other through Mukdahan, to Laos.
CROSS BORDER SERVICES TO VIETNAM
For Vietnam, we pass through Konkaen to Mukdaharn to Laos & we cross the bridge that gets to Vietnam.
The Vietnam – Thailand trade route offers a reliable and quick alternative to the traditional sea-freight option. The common route from Hanoi to Bangkok covers a total distance of 1,309 km.
At Docshipper, we provide a smooth and easy customs clearance process during the journey, at the Vietnam/Laos border, and at the Laos/Thailand. We connect Ho Chi Minh City to Bangkok by road.
CROSS BORDER SERVICES TO CAMBODIA
For Cambodia: we pass through Aranyaprathet, and cross the Cambodian bordel to PhanomPhen.
CROSS BORDER SERVICES TO INDONESIA
For Indonesia, we pass through Malaysia.
CROSS BORDER SERVICES TO CHINA
For China, we pass through Laos and Vietnam to get to Shenzhen and the whole Southeast part of China.
You need cross border logistics services ?
Docshipper aim to be one of the main player on the Thaï market to provide cross border shipments from/to Thailand. Feel free to contact our team and receive a free quote within 48h !
*Docshipper has developed a trucking network throughout the ASEAN region by developing its integrated trucking network that connects major cities.
It was one of the first companies to offer such services. For raw materials and finished products, we offer customers an airport that combines the flexibility of new routes, visibility, safety, additional capacity and the option of combined land, air and sea transport for raw materials and products finished.
Docshipper Advice: Advantage of Cross border trucking services :
Improve Cargo security
Improve Tracking visibility
Provide Value added to customer
Reduce Customs inspection process
Thailand is one of the major logistic players in ASEAN
ASEAN is a potential market which represents about 600 million consumers. It is composed of: Brunei, Cambodia, Indonesia, Laos, Malaysia, Myanmar, Philippines, Singapore, Thailand and Vietnam. Thailand uses the policy of "three economic rings and five commercial bridges".
This strategy aims to derive great benefits from the country's geographical position in Southeast part of Asia. The five commercial bridges are composed of several roads that can accommodate important transport flows to neighboring countries. They include the North Gate, Thailand, Myanmar, Laos and southern China.
The northeast footbridge, connecting Thailand to Laos, Vietnam, southern China and East Asia; The eastern gateway connecting Thailand to Cambodia, Laos and Vietnam; The West Gateway linking Thailand to several BIMSTEC countries, particularly Bangladesh, India and Myanmar; And the southern gate, connecting Thailand to Malaysia, Singapore and Indonesia.
We provide the best logistics services by benefiting from our location
These gateways give to Thailand a strategic position in ASEAN. The country has become a pillar of Asian logistics, as it helps to connect the different countries to each other.
The logistical and material capacities of the country's employees as well as financial support and training of labor have been improved by the Thai government. Moreover, Thailand offers a wide range of services, which allow to take care of the requests as soon as possible. These networks further enhance links with other suppliers or freight services within ASEAN.
Cooperation between countries – A new age of Logistics
The efficiency of logistics operations is also reinforced by the development of electronic logistics; indeed, customs procedures are now done in electronic format across borders. As a result, the time required to process this information is considerably reduced. Thailand attaches immense importance to ASEAN's membership of the citizens and to the citizens' liaison with ASEAN.
The country has decided to set up a program to create "ASEAN libraries" in more than 20 provinces across the country. Several groups and organization, including youth and civil society organizations, were included in the program through regular dialogues to develop ASEAN policies.
In addition, Thailand translated major ASEAN documents into Braille, Thai and English and produced audio tapes that will allow a wider segment of the population to have access to ASEAN information. The Kingdom is, after all, a community available to all and not just reserved for a few people.
**In order to optimize our services, Siam Shipping and Siam Relocation are now part of the Docshipper group. Our customers can now benefit from total supply chain coverage. Therefore, Siam Shipping team became Docshipper team**
SIAM Shipping | Procurement - Quality control - Logistics
Alibaba, Dhgate, made-in-china... Many know of websites to get supplies in Asia, but how many have come across a scam ?! It is very risky to pay an Asian supplier halfway around the world based only on promises! DocShipper offers you complete procurement services integrating logistics needs: purchasing, quality control, customization, licensing, transport...
Communication is important, which is why we strive to discuss in the most suitable way for you!