WHY YOU MUST GET IMPORT/EXPORT LICENSE BEFORE  SHIPPING FROM/TO THAILAND ?
If you want to export from Thailand, you must have an export license, if not you cannot ship!
If you want import to Thailand, the minimum requirement is an import license, but many goods require import permit as well.
**In order to optimize our services, Siam Shipping and Siam Relocation are now part of the Docshipper group. Our customers can now benefit from total supply chain coverage**
Remark SIAM: Please note that its one of he first thing we will verify, our import/export department will carefully check all docs before departure/arrival. If you don't have it or if you need information, just contact us.
Thai import / export license
Whatever the operation you make, you must obtain an Import / Export License (or customs card, valid for 3 years.) It is a smart card for importers and Exporters Thus, online brokers get a golden card, while a yellow is intended for the owner or manager, the lawyer will get a green card and the clearance card is pink.
Import and Export Laws and Rules
All shipments departing or arriving in Thailand are governed by rules.
On the other hand, the export of certain products is formally prohibited by law in the absence of certain licenses.
Example Docshipper : It is illegal to sell rice abroad. The trade in timber, rubber, animal skins, scrap and silk may be allowed to foreign buyers in exchange for substantial taxes at their expense. For gold, livestock or sugar, it is essential to obtain a license from the government.
Info Docshipper : To read more about customs clearance in thailand click here : Customs clearance (process, duties and taxes, calculation and tips, everything you need to know about customs clearance !)
Import license and controls
*Import license is not sufficient, in many cases you also need an import permit
The Thai Ministry of Commerce divides the goods into different families that are controlled on import and often require a license. Over the years, even if these controls are gradually liberalized, there are about 50 categories of goods requiring an import license. They are frequently modified by ministry notifications. The license application must be attached to a supplier's order, confirmation, invoice.
Many products are subject to other controls from other laws. These include:
The importation of pharmaceutical products (medicines) requires a Food and Drug Administration authorization from the Ministry of Health.
The trade in minerals is subject to a strict rule: without the appropriate authorization, it is prohibited to import more than two kilograms of tungsten oxide and tin ores and metallic tin.
Antiques, works of art, museum and historical exhibits may not be shipped without authorization from the Director General of Fine Arts
Weapons, ammunition, explosives, fireworks and prohibited firearms are prohibited from the production, purchase, use or import unless they have the appropriate license Of the Ministry of the Interior.
To protect public health, the importation of cosmetic products must be accompanied by the name and location of the office and place of manufacture of the products and their name and composition.
Info Docshipper : You still have some doubt regarding your future importation of cosmetics ? Contact our SINO expert or check our dedicated page : Import of cosmetics
Remark Docshipper : If your products are not mentioned above, please send us all details by email and we will get back to you within 48 hours. If you want to obtain an import permit you must submit form on specific department as mentioned above, make sure to gather all documents before to avoid any troubles with Thai customs.
Export license and controls
Remark Docshipper : The Ministry of Commerce has legislation in place to control imports and exports of goods that apply to products. Currently, about 50 products require control.
Export licenses have been established for certain products, such as seeds, tobacco leaves and trees. In addition, products such as rice and sugar require export licenses under the Export Standards Act. This law makes it possible to control the quality of these products intended for export.
Agricultural exporters find that membership in business associations is mandatory and that these associations can create and implement their own membership regulations.
* Please note that the Thai rules and laws are constantly changing and that it is very important for you to check every information with the Thai authorities who can update some rules. We do not warrant the accuracy of any information provided on Siam-shipping.com.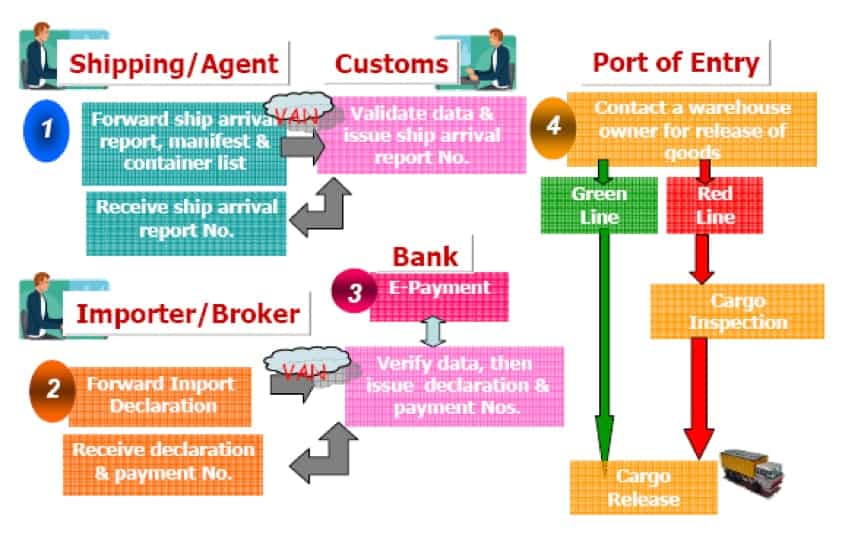 WHAT HAPPEN IF I DO NOT HAVE ANY OF REQUIRED LICENSES ?
It depend, and the case will be manage by our customs department. Most of the time, your goods are stuck until reaching an agreement with customs. As its hard to explain, and different according to the shipment, do not hesitate to contact us for more details. Kindly check with us before ship out your goods, because once the shipment is on the way, it might be to late. Please note that for get licences, you have to apply under a company name, an individual is not eligible, except for some cases. 
Khun Wanna, import manager @ SIAM Shipping
To process the importation / exportation in Thailand , you must follow 5 steps:
*Please note that to get licenses, you must apply under a company name, an individual is not eligible, except for some cases. 
Step 1 – fill an official declaration
You can fill the Customs Form 99 or 99/1 manually or via the EDI system, then you go to the step 2.
Step 2 – Provide some official documents:
Cargo report or air waybill (air freight)or bill of lading (sea freight)
3 copies of the invoice
Packing list
Insurance mentioned on the invoice
Release form (customs form 100/1 or 469)
Foreign transaction form if the import value exceeds 500 000 Baht
Import license (if applicable)
Certificates of Origin (if applicable)
Other relevant documents such as catalogs, product specifications, etc.
Info Docshipper : You want further information about our freight insurance ? Contact our SIAM Expert or check our dedicated page: Freight insurance
Step 3 – Submit the Customs Statement and Support Documents:
Once at the port of entry, you must provide the Declaration of Importation and the supporting documents so that they are checked by the customs.
The customs authorities will ensure that the documents are completed and that there is no missing supporting document attached. The authorities will also control the customs tariff, the calculation of duties and taxes and the valuation of goods.
Docshipper Plus: We will manage all process with customs, it's a part of our import service.
Step 4 – Pay the applicable import duties and taxes using one of these methods:
Payment to the Customs Department
Electronic Funds Transfer via BOT's BAHTNET
Electronic payment to Krung Thai Bank
Electronic Funds Transfer (EFT) via EDI
Docshipper Plus: To facilitate, we can charge you duties and taxes as the draft (paperless) require. Then we will transfer the amount to Thai customs and we will wait to get the release of your shipment.
*In some case, the process isn't finish, we have to wait for the approval from customs officer.
Step 5 – Inspect and release customs cargo:
Remark Docshipper : The importer must provide the verified statement including the invoice to the appropriate warehouse.
The imported goods will then be inspected by customs inspectors. The inspected parcel must correspond to the declaration submitted by the importer so that the customs inspectors validate and register the computer control and then release the goods to the importer.
Remark Docshipper : Whether you are an exporter or an importer, you know that the secret to increasing your cash flow is to increase the speed of transport of your goods, and for this it is imperative not to make any errors in the documentation.
To conclude, we strongly advice to consult our import/export department before starting your business, Thailand is not an easy country, and if some forwarder does not check, it mean they are not professional.
**In order to optimize our services, Siam Shipping and Siam Relocation are now part of the Docshipper group. Our customers can now benefit from total supply chain coverage. Therefore, Siam Shipping team became Docshipper team**
SIAM Shipping | Procurement - Quality control - Logistics
Alibaba, Dhgate, made-in-china... Many know of websites to get supplies in Asia, but how many have come across a scam ?! It is very risky to pay an Asian supplier halfway around the world based only on promises! DocShipper offers you complete procurement services integrating logistics needs: purchasing, quality control, customization, licensing, transport...
Communication is important, which is why we strive to discuss in the most suitable way for you!