According to the IMF, the economy of Thailand is considered as an emerging economies, heavily dependent on exports which account for over half of GDP, 654 billion of dollars in 2015. This same year, Thailand is the second largest economy in Southeast Asia, after Indonesia but ahead of Malaysia.
The recovery in Thailand since the Asian economic crisis of 1997, is expressed in particular by specializing in certain export sectors such as automotive, food processing, electronics that make return significant amounts of foreign currency as tourism. GDP growth of Thailand has been running for a decade between 2% and 8%, with high volatility, especially because of the consequences of tensions in the South of Thailand, the 2004 tsunami and political instability linked to shirts red and yellow shirts and the 2008 crisis.
SIAM Shipping info : **In order to optimize our services, Siam Shipping and Siam Relocation are now part of the Docshipper group. Our customers can now benefit from total supply chain coverage. Therefore, Siam Shipping team became Docshipper team**
History of Thailand
The metric system is compulsory in Siam since 1912.
In the 1980s and 1990s under the government of Prem Tinsulanonda, Japanese investment and the opening of the country allow some industrialization of Thailand, while in parallel the tourism plays a growing role in the country's economic development. The average annual growth of 9.4% between 1985 and 1996, the country is now an Asian tiger.
The Asian economic crisis has greatly affected Thailand and its baht currency, the role of the high level of toxic assets from Thai banks was highlighted.
Between 1997 and 2001, the country is now plagued by economic difficulties; but since Thailand recorded particularly strong growth rates.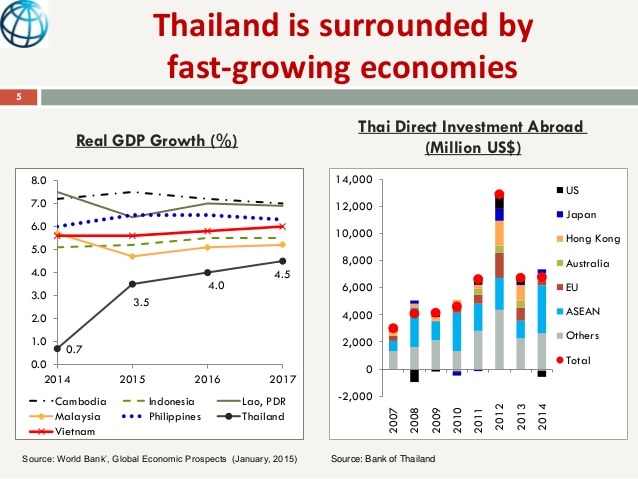 Sectoral analysis
Agriculture in Thailand
Agriculture is the main economic sector of Thailand employing 59% of the workforce and contributing 11% of GDP in 2015 against 18% between 1980 and 1986.
Thailand is the largest exporter and one of the leading producers of rice, although the yield per hectare is low. In the late 1980s, the annual rice production was approximately 20.8 million tons, an annual increase of around 11.3 million tonnes compared to 1960.
Rubber, which comes mainly from plantations of the Malay Peninsula, is the second largest production country; Indeed, in late 1980, its annual production amounted to 860 000 tonnes. Thailand is the first world exporter of rubber.
The country also operates significantly its potential forest that covers 28% of its territory, including teak. Thus in 1992, the annual timber production was 37.6 million cubic meters, but the power is trying to significantly reduce those exports to anticipate deforestation's problems.
Livestock consists of buffalo (over 6 million), cattle (5 million) and 4.3 million pigs.
The annual catch of shrimp, fish and shellfish, reaching 3.3 million tons in 1993, is a significant sector of the Thai economy. Commercial shrimp works well: throughout the country, more than 30,000 farms produced about 280,000 tons of shrimp in 2010 and exports to Europe, Japan and the United States reported more than $2 billion. But part of fishing which is used to feed shrimp in Thailand is regularly accused in the early 2010s to be made by migrant enslaved.
Mines in Thailand
Thailand was a major tin producer (21 000 tonnes in 1984). The price of this metal has fallen by 60% in the early 1980s, the Thai production did not exceed 4700 tonnes in 1993. The main mining production is now brown coal (156 million tonnes), to which are added gypsum, zinc, tungsten, antimony, manganese, and lead.
Energy in Thailand
Oil in Thailand
Recently Thailand discovered several oil deposits on its territory, operated by the national company PTT Public Company Limited (including the Thai state is a shareholder at 51%), it produces 173,800 barrels per day (in 2001) and 18.73 billion cubic meters of natural gas.
In 2019, there was a count of about 300 oil platforms in the Gulf of Thailand.
Electricity distribution in Thailand
Most of the electricity distribution network is in the city as in the country by overhead cables.
In 2016, electricity companies and the Thai telecommunications were instructed to bury electric cables become sometimes dangerous. The Thai Media Daily News, however advanced the complexity of the operation and ensures that the landfill will not be in a "near future".
Industries in Thailand
In 2007, the industry contributed 43.9% of GDP, but employed only 14% of the workforce, especially in the food industry, textiles and electronics. Then comes the automotive, cement production, cigarettes and various chemicals and petroleum products. In 2009, car production has reached 930,000 units, twice more than in 2001.
Transport network in Thailand
The road network has improved in the 1970s, it covers almost 70 000 km of roads. The Thai railway network it about 4071 km of railways, operated by the state.
SIAM Shipping info : The airline industry is in particular represented by the airline Thai Airways as well as local companies that offer domestic flights and long-haul.
The river system through the Chao Phraya navigable over 80 km from its mouth, is an important inland waterway, providing passages on nearly 4000 km of waterways. The port of Bangkok and is one of the most modern in all of Southeast Asia.
Services in Thailand
In 2007, the service sector contributed 44.7% of GDP and employs 37% of the workforce. In the country, are present 3 general public banks, 5 specialized public banks, private banks 15 Thai and 17 foreign banks.
SIAM Shipping info : In the city of Bangkok are present over twenty newspapers, including eight foreign languages (two in English and six in Chinese), from more than 2.5 million copies.
Tourism in Thailand
The tourism sector in 2015 represents about 14.5% of GDP, a very high rate compared to other countries in Southeast Asia. In 2001, the country has a tourist traffic of 10.1 million visitors in 2002 increased by 7.3% to 10.9 million. In 2007, 14 million tourists visited Thailand, the country is known for its seaside tourism especially in Phuket & Koh Samui, and its sex tourism. In 2011 despite floods, attacks in the Muslim south and the strong Thai baht, Thailand has again surprised by its resilience in the tourism market. Thailand recorded 19 million tourist arrivals in 2011, an increase of 19.9% yoy, according to the Ministry of Tourisme8. In 2015, Thailand welcomed nearly 30 million visitors, setting a new record.
The tourist traffic does not stop growing, in 2016 : 32.59 million tourists visited Thailand.
The country announced it will focus on the high end, while the country was long a destination for the wealthy few vacationers.
SIAM Shipping info : Japan, the United States, Germany, Malaysia, China and the Netherlands are the main trade partners of Thailand.
More information about the Thai economy on the following official website : Bank of Thailand.
Work in Thailand
The labor force in Thailand was estimated at 36.9 million in 2007, located at 49% in agriculture, 37% in services and 14% in industry. In 2005, women accounted for 48% of the workforce. Less than 4% of the workforce is unionized, but it is 11% in industry and 50% in public enterprises.
Business in Thailand
The Thai economy relies heavily on exports. Statistics show that exportation represented an average of 70% of GDP in 2006 and 2007, against an average of 23% from 1980 to 1986. The increased trade between China and Thailand, including through the China-Asean Free trade Agreement should expand trade between the two countries to the tune of $ 100 billion over the next three years, double what it is now.
DocShipper info: Do you like our article today? For your business interest, you may like the following useful articles :
DocShipper Advise : We help you with the entire sourcing process so don't hesitate to contact us if you have any questions!
SIAM Shipping | Procurement - Quality control - Logistics
Alibaba, Dhgate, made-in-china... Many know of websites to get supplies in Asia, but how many have come across a scam ?! It is very risky to pay an Asian supplier halfway around the world based only on promises! DocShipper offers you complete procurement services integrating logistics needs: purchasing, quality control, customization, licensing, transport...
Communication is important, which is why we strive to discuss in the most suitable way for you!