Thailand has experienced significant growth in logistics development over the years. The country's strategic location in the heart of Southeast Asia, combined with its robust transportation infrastructure, has made it an attractive destination for logistics companies and investors.
Measures to upgrade Thailand's logistics industry
In recent years, the Thai government has realized the importance of the enhancement of the capacity, competency and efficiency of the country's logistics service providers, especially those offering transport and warehouse-management services. The objective is to boost the sector to develop ; to enable contribution to national economic growth by lowering production and delivery costs, as well as to enhance the country's competitiveness.
With these objectives in mind, public and private agencies have shown interest in the development of logistics services that are related to various activities in a bid to support trade and the conduct of international business.
Multimodal transport operators (MTOs) have different tasks and responsibilities to those of international freight forwarders. The main duty of an MTO is to provide transportation of goods under a single contract but arrange with at least two different modes of transport. An international freight forwarder, on the other hand, might perform its duty as an agent or a principal, but it will run the activities separately. Although freight forwarders nowadays also provide door-to-door services, they may separate their transport into different modes, such as transport by sea or by land. Importantly, there is currently no law that supports their carrier status, especially where it comes to liability for damaged goods. When there is a problem, the civil and commercial codes on carriage of goods and the law on carriage of goods by sea shall be applied as appropriate.
MTOs are contractual carriers who are able to fulfil their role in multimodal transport, whether that involves transport by land, sea or air. MTOs have the status of carriers with laws to support their operations.
The government is considering allowing foreign investors to take a greater role in freight forwarding and MTO services, especially under the framework of the ASEAN Economic Community. As more players come forward, Thai operators -from shipping lines to freight forwarders – will have to adjust and develop their potential to cope with both the change and fiercer competition.
**In order to optimize our services, Siam Shipping and Siam Relocation are now part of the Docshipper group. Our customers can now benefit from total supply chain coverage. Therefore, Siam Shipping team became Docshipper team**
Docshipper Info: You want further information about the transport industry in Thailand ? Check directly their official website: Thai ministry of transport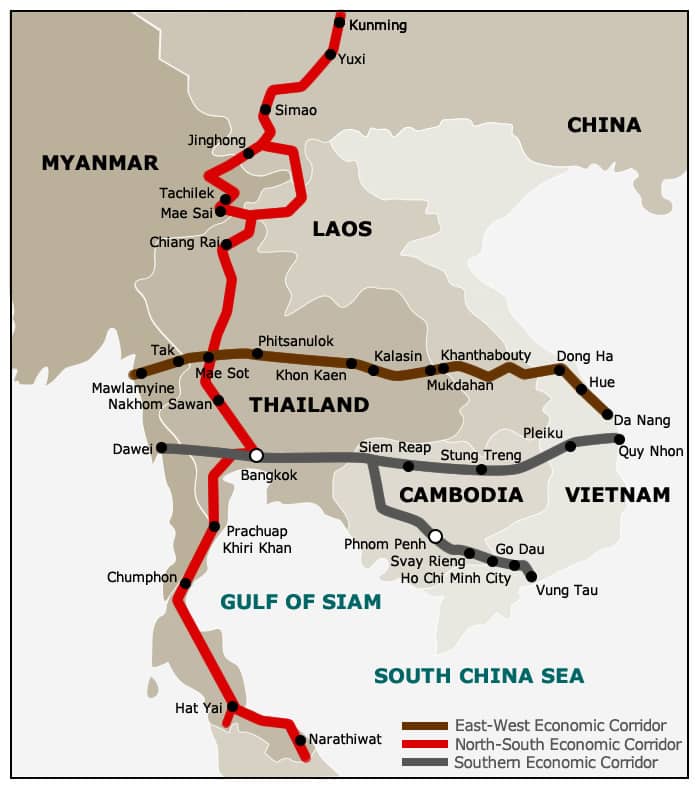 Opportunities for Thai MTOs in the international arena
Thai freight forwarders are capable of providing transport-management services and international supply-chain support to exporters and importers. However, there are still limitations on capital and expansion of their services.
International freight forwarders and MTO service providers need to develop the quality of their services in order to create a competitive advantage. Therefore, the following proposals should be considered as a matter of priority:
International freight forwarders and MTOs should 

develop an expertise in service provisioning that demonstrates superior

service

,

punctuality and professionalism, in bid to gain the trust of their customers. Furthermore, they should be able to offer a complete range of transport services, and this variety should enable them to assist customers to deliver their goods on time, while saving them money. As well, they should provide consistent training for their staff, in bid to assure customer confidence from exporters, importers and other logistics users.
International freight forwarders and MTOs should develop wide-ranging networks, both domestic and international, through which they can coordinate transport services to best cater for the requirements of their customers. They should be able to offer end-to-end services that can add value to the transactions of both importers and exporters.
International freight forwarders and MTOs should have a substantial amount of working capital. Short- and long-term financial strength should be an operational standard, in order to build confidence among customers.
International freight forwarders and MTOs should become "one-stop service providers", able to offer advice on import and export activities as well as providing other internationally-accepted information from easily-accessible databases. Their main activities should be grouped, such as customs procedures, transport. inventory management, data management and procurement, while supplementary activities such as cargo handling, packing, customer relationship management and so on, should be grouped separately.
International freight forwarders and MTOs should develop their technology capabilities, to align their services with those available internationally and to cater for the nature of their customers work. For example, tracking systems are not widely used by Thai enterprises, when compared to foreign firms, because of capital constraints and the need for such technologies to be mutually applied with distant operators. However, if Thai operators can develop advanced technologies on their home territory, this will help to improve customer satisfaction and enhance their competitiveness.
International freight forwarders and MTOs should provide educational programs to disseminate their knowledge to both customers and business partners. They should organize seminars on topics that are beneficial to their customers and their partners, and can help to strengthen the industry
Adjusting and developing Thailand's logistics service providers will help to enhance the competitiveness of the country's exporters, who face increasing foreign competition. Local operators must strive to improve their business conduct; to gain more efficiency and reduce their costs, while maintaining the highest service quality in order to satisfy the needs of their customers. Hence, logistics and supply-chain management has to become a primary strategy for building the capacity of Thai operators. Those operators who can best respond to the needs of their customers will be the winners in the coming market competition.
According to the guidelines for international trade, freight forwarders hold responsibility for delivering goods to destination countries. This is especially important for small firms that have to use consolidation services from freight forwarders in the case of less-than-a-container-load (LCL) consignments. But, as mentioned earlier, while the Multimodal Transport Act B.E. 2548 supports the status of MT0s, there is no law to clearly define the status of international freight forwarders. Due to this lack of legal status, freight forwarders receive no tax privileges and find difficulty in competing with other kinds of transporters. To help overcome this hurdle, the Thai International Freight Forwarders Association (TIFFA) has submitted a letter to the Ministry of Finance and the Revenue Department asking them to consider waiving the 7 per cent value-added tax on international freight forwarders' services.
Thailand badly needs a law to clearly define the role of international freight forwarders in various capacities, such as agents or Non-Vessel Operating Common Carriers. Furthermore, the law should recognize the status of the Thai International Freight Forwarders Association and its role in supervising the ethics and service standards of international freight forwarders.
The Multimodal Transport Act applies to MTOs and shipping lines that provide international cargo services involving two or more modes of transport, obliging them to register their MTO licenses with the Merchant Marine Supervision Division of the Marine Department. The law has an objective to provide protection for shippers or transport service users.
Enforcement of the law should be improved to ensure that various parties strictly abide by its provisions. Exporters or shippers should be encouraged to familiarize themselves with the law, which exists to protect their interests.
FAQ | Logistics development in Thailand
What are the key drivers behind logistics development in Thailand?
Thailand's logistics sector has been growing rapidly over the past few years due to various factors, including the country's strategic location at the crossroads of Southeast Asia, its expanding economy and trade relations, and the government's efforts to promote infrastructure development.
What are some of the challenges facing logistics development in Thailand?
Some of the key challenges facing logistics development in Thailand include inadequate infrastructure, such as roads and ports, which can lead to congestion and delays, as well as issues related to customs and regulations, which can create barriers to trade and investment.
What is the current state of e-commerce logistics in Thailand?
E-commerce is a fast-growing sector in Thailand, and logistics providers are increasingly investing in technology and automation to meet the demands of online retailers and consumers. However, there are still challenges related to last-mile delivery, particularly in rural areas, and the need for greater integration between e-commerce platforms and logistics providers.
How is the Thai government supporting logistics development in the country?
The Thai government has made significant investments in infrastructure development, including the expansion of ports and airports, the construction of new highways and railways, and the implementation of digital platforms to improve logistics efficiency. Additionally, the government has established various incentives and tax breaks to encourage foreign investment in the logistics sector.
SIAM Shipping info: Do you like our article today? For your business interest, you may like the following useful articles :
SIAM Shipping Advise : We help you with the entire sourcing process so don't hesitate to contact us if you have any questions!
SIAM Shipping | Procurement - Quality control - Logistics
Alibaba, Dhgate, made-in-china... Many know of websites to get supplies in Asia, but how many have come across a scam ?! It is very risky to pay an Asian supplier halfway around the world based only on promises! DocShipper offers you complete procurement services integrating logistics needs: purchasing, quality control, customization, licensing, transport...
Communication is important, which is why we strive to discuss in the most suitable way for you!