WHY CHOOSING SIAM SHIPPING FOR INTERNATIONAL BAGGAGE FREIGHT ?
Organising a trip abroad can be stressful, especially when you will be away for prolonged periods of time. If you have a lot of luggage you want to take but the extortionate airline excess baggage fees aren't too appealing, baggage shipping may be the solution for you.

Thanks to a professional baggage shipping team, cost-effective services and swift delivery times, SIAM Shipping is now one of Thai's leading baggage companies for sending personal effects.

We have over 10 years of experience in luggage shipping from the Thailand and have acquired the means to ship loads of any size, from one small bag of travelling essentials, skis or snowboards, golf clubs, computers to 20 suitcases of personal effects.
Do you need to ship belongings abroad? We got you covered!
Regardless of whether your suitcase exceeds the permitted airline weight, you have bulky items such as musical instruments or sporting items or you just want to send a loved one a bag, we can help!
We pride ourselves on our economical services and we believe our rates for shipping baggage are unrivalled. We tailor all baggage shipping quotes to each individual client meaning you will only pay for the space your luggage occupies in a shared shipping container.
DOOR-TO-DOOR SHIPPING BAGGAGE
International baggage shipping doesn't have to be stressful. Whether you are sending bags from Thailand to Europe, Africa, Asia or America, we handle everything from door-to-door so you are free to carry on with your daily life.
Inclusive in your baggage forwarding fees are :
A move co-ordinator to organise & oversee your baggage shipping from start to finish
The best boxes & packing materials so goods are protected when sending luggage overseas
Baggage collected from your origin destination & taken for loading onto shipping containers
Items shipped to chosen country, delivered to your end destination and unloaded
Shipping & local delivery, customs clearance & terminal fees
SIAM Shipping info : Whether you're a large company, a small business, a start-up or an individual, SIAM Shipping can arrange your shipment from start to finish, without you having to do anything. Tell us about your needs, so our experts can find the most appropriate solution for your freight and give you tips on how to save on shipping costs. Contact us, we'll answer any questions you have!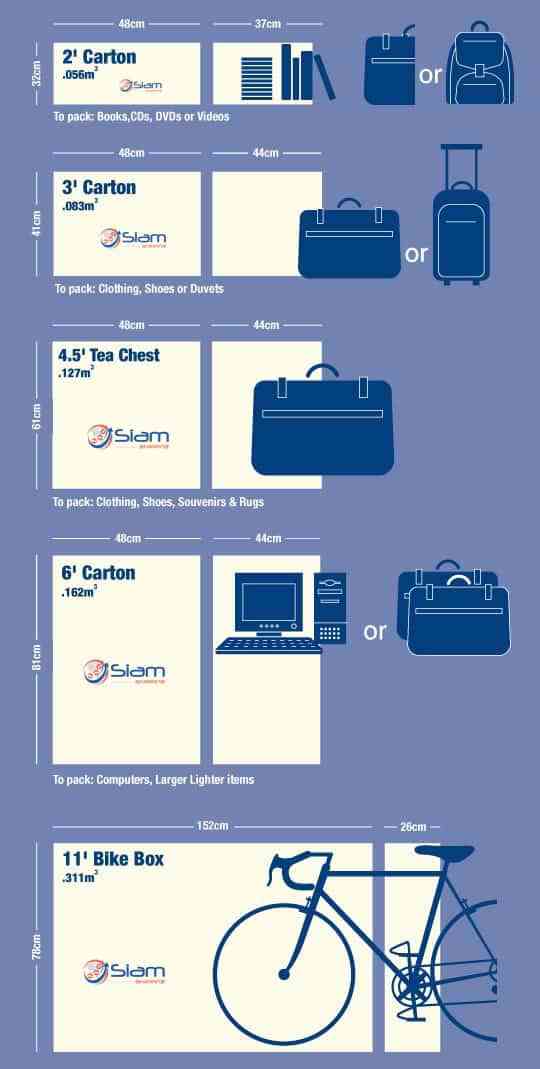 HOW IT WORKS: STEP BY STEP
If you're travelling away, whether it's a leisure holiday hitting the slopes in austria, studying abroad in the us or taking an extended break in hong kong, it's possible that you'll have excess baggage or oversized luggage that will need shipping to your destination. here at SIAM Shipping, we'll get your unaccompanied baggage from point a to point b safe and sound, and have developed a step by step guide to show you just how easily the process runs.
STEP 1. GET A QUICK QUOTE
Once you've decided to use SIAM Shipping for your excess baggage shipping, whether you're sending a golf bag and clubs or simply an extra heavy suitcase, you can contact us in order to get a price for your delivery within 24h. Simply provide us basics information: the country you'd like it collected from, where you'd like it sent to and a date and get your price. We'll provide you with our best rate as well as an estimated date for delivery.
STEP 2. BOOK ONLINE
When you're happy with the price we've quoted you, go ahead and book your unaccompanied luggage delivery online with our super easy booking system. All you will need to do is choose a collection day, which can be any working day of the week, we recommend booking at least 24hrs in advance for domestic shipments, 48 hours in advance for non-EU collections and 72 in very remote areas. It should take no more than 5 minutes to have your excess bags booked in for delivery.
STEP 3. PREPARE YOUR BAGS
Our destination pages will give you all the information on which items you can and can't transport to certain destinations, but in general, you should never pack aerosols, flammable liquids, or glass in unaccompanied bags and you should ensure that you have packed thoroughly for transit and that any cardboard boxes used are reinforced and sturdy.
In the days before your collection, usually no less than 5, a booking confirmation email will be sent to you which includes a tracking number and links where you can download your labels. You will need to print these and attach them to your bag as they are compulsory for shipping excess luggage on all our services. If you book a week or more in advance, during checkout we'll give you the option to have labels printed and sent to you. It's also recommended to put a spare copy inside each bag too. We recommend attaching labels using your own label holder, which you can order free of charge during checkout.
DocShipper Alert : Bags outside the EU will need customs clearance information. You will receive this  information by email,  including forms for you to complete. These will also need to be printed and attached in a separate wallet.
STEP 4. COLLECTION
SIAM Shipping collections usually take place between 9am and 6pm, we then try to schedule the slot to pick up.The sender is not required to hand the luggage over to the driver, so we're happy for you to leave it with a neighbour and let us know, or to take it to your place of work if you won't be in at your residential address. Bear in mind that items will need to be collected at the main point of access, so they will need to be brought to the ground floor, reception or porter's office if you are in student halls.
STEP 5. TRACK YOUR BAGS
Log into your account and simply select your delivery to see how far on its way it is. It is possible to track it through both our local and international couriers.
STEP 6. DELIVERY
SIAM Shipping with DocShipper is proud to offer an excellent service rate on delivery estimation, with more than 95%, we confirm our leading position on individual & SME market in Thailand. However, we recommend allowing a little time to spare for any unexpected disruptions.
*We guarantee to ship your parcel and deliver it on time!
DocShipper info : As with collection, the named recipient or sender does not need to sign for the item; it can be anyone at the delivery address – for example, a concierge or the reception desk at your hotel may receive it for you, but ensure that you have notified them in advance.
Which freight option for your excess baggage?
We provide a wide variety of transportation and storage options to accommodate to your every need.
With our state-of-the-art online tracking system, you can track the status of your items whenever, wherever.
Trucking: With DocShipper, your items are guaranteed to be safely delivered via our extensive fleet of trucks, specially designed for short and long distances.
Sea freight: For items that are required to be shipped by sea, we offer container shipping services as an economical way to transport your items in Thailand.
Air freight: For fast movements of your items, we recommended our airline containers by air freight.
Meet all your storage needs
As a global company, we provide our clients with a wide array of safe and secure storage options. Whether you need a place to store your items for a short or long duration, our team of storage professionals are here to provide the best possible solution for you.
Our storage facilities are equipped with state-of-the-art equipment and guarded by well-qualified security personnel to ensure all your items remains protected against theft, water, fire or pests, 24 hours a day.
Door-to-door comprehensive protection plan
As much as we try to ensure your items arrive in perfect condition, unforeseen circumstances can occasionally lead to damages of your items.
Even with experienced staff, who are known for their professionalism and expertise in handling various shipping items, we understand there will always be risks involved especially during transits and storage.
To mitigate the situation, we offer a comprehensive door-to-door protection to all our clients. The protection includes replacement of the costs incurred due to the damages caused by road, rail, ship and/or air shipments.
DocShipper info: Do you like our article today? For your business interest, you may like the following useful articles :
DocShipper Advise : We help you with the entire sourcing process so don't hesitate to contact us if you have any questions!
SIAM Shipping | Procurement - Quality control - Logistics
Alibaba, Dhgate, made-in-china... Many know of websites to get supplies in Asia, but how many have come across a scam ?! It is very risky to pay an Asian supplier halfway around the world based only on promises! DocShipper offers you complete procurement services integrating logistics needs: purchasing, quality control, customization, licensing, transport...
Communication is important, which is why we strive to discuss in the most suitable way for you!