Ecommerce is among the most adaptable spheres, as the COVID-19 pandemic showed. Online store owners had to deal with the influx of traffic, orders, and returns. Everything required an immediate response and the highest user experience. One minor delay and customers will migrate to competitors.
Client expectations rise with the growing market. Retailers invest in technical store optimization and UI/UX enhancements, including convenient shopping cart elements to convert visitors into buyers. Other steps involve increasing the website loading speed or creating mobile-friendly solutions like progressive web applications.
The skyrocketing orders create a burden on delivery services. As a result, new trends and technologies emerged. The Internet of Things now assists companies in mapping routes to avoid delays. Drones deliver packages to the most remote locations. Trucks monitor the temperature in containers. What should we expect in eCommerce logistics in 2022 and beyond? To answer this question, we've prepared this post with major trends you should be ready for.
Higher Demand for 3PL Services
Do you find it hard to cope with the hundreds of orders? Consider working with 3PL providers. 3PL services denote third-party logistics and come into play when managing customer orders in-house becomes impossible. It's about entrusting inventory management, warehousing, and fulfillment to other companies.
Is this term new? No, outsourcing logistics began in the 1970s and 80s and progressed with the emergence of eCommerce. 3PL providers have gained extensive experience in delivering goods. So it may be reasonable to opt for their services and focus on other tasks.
One of the vivid examples of 3PLs is FedEx Supply Chain, a famous company in the US and Canada. It has a vast network of warehouses, partners, and facilities.

As eCommerce sales increase, so does the demand for outsourced 3PL services. 3PLs will expand their operations to reach various locations. For example, more micro warehouses in urban areas are expected to emerge in 2022. Everything will aim at processing higher order volumes, better inventory management, and quicker delivery times, which are prerequisites for a polished shopping experience.
What features do 3PLs offer to their clients?
3PLs monitor the inventory levels in real-time and reorder goods to avoid stock outs.
They enable 2-day shipping at lucrative prices.
They let you distribute inventory across multiple locations to be closer to customers and have backup stock.
3PLs can assist with returns management by dealing with the issue or by integrating with returns software solutions to improve a customer experience.
3PL providers let you customize packaging, gift notes, and labels. They also take care of kitting.
3PLs make international shipping possible.
These companies offer analytics tools to provide insights into business processes.
The Rise of Direct-to-Consumer (D2C) Fulfillment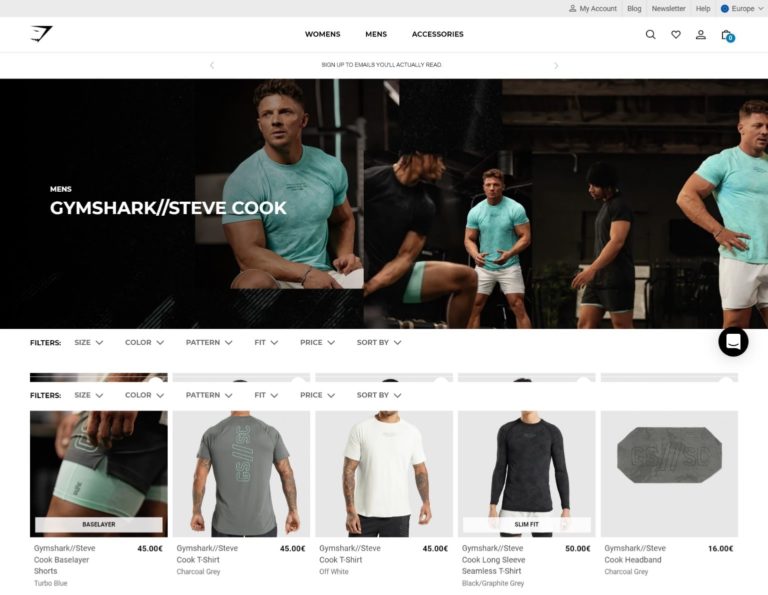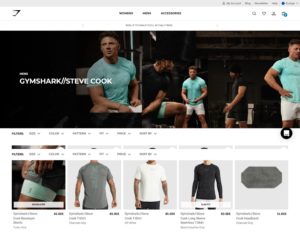 Direct-to-consumer (D2C) is a method of selling products with the minimal involvement of an intermediary (a retailer ordistributor). It may even exclude the third party from the selling process. A manufacturer needs a website or another venue to market its products and sell them to consumers.
Being a D2C company opens up numerous benefits, such as direct access to the customer. Manufacturers can experiment with branding, marketing, and customer service and look for ways to outrank competitors.
Take Gymshark, a UK-based fitness apparel manufacturer, as a demonstration. Founded in 2012, Gymshark has increased its turnover thanks to the D2C model and the incorporation of influencer marketing.
For example, it partnered with Steve Cook, an American professional bodybuilder. The opinion leader has 2.4 million followers on Instagram and constantly mentions the brand in his profile. Besides, they launched a collection of garments to encourage more sales.
D2C brands have seen rapid growth in recent years. Why? The reasons are as follows:
social media popularity;
competitive pricing;
customer-centric policies;
reliable quality;
Such factors are attributed to the smaller scale and more streamlined supply chain of D2C companies. However, the quick expansion of D2C businesses has brought about several challenges with controlling warehouses and self-fulfilling orders. These tasks can limit scalability, right? That's why many D2C brands work with 3PLs to handle the retail order fulfillment.
A 3PL assists D2C firms in reaching Amazon-like logistics. It also makes it possible to deliver goods in 2 days, provides better delivery rates, and automates fulfillment. So, D2C brands can focus on optimizing the shopping experience to compete with eCommerce moguls like Amazon.
DocShipper Advice : If you are searching a third party to handle your logistics, feel free to contact our experts here and get a response in 24h
Customizing Product Packaging
Product packaging is the first thing consumers get in their hands. They will judge the goods by the packaging you sent them. It should distinguish the brand from others for buyers to take a photo of the box and share it on social media. That's where you can opt for premium packaging to create a branded experience. The branded experience involves:
custom boxes with different sizes, colors, materials, and shapes;
packaging slips and labels;
order confirmation messages;
unique product presentation;
placing a thank-you note or other personalized details.
It helps you set a positive tone for communicating with consumers and foster brand loyalty. How can you customize shipping? Employ eCommerce shipping solutions like the one we're able to offer at Docshipper. Such software not only assists in designing branded packaging but also generates it in bulk, tracks orders in real-time, and sends email notifications.
Below, you can see how the right packaging can positively present the brand. A purchaser posted a photo with a review on the goods and tagged the PYM company, a seller of mood chews. As you can see, the box goes in line with the branding. It also includes the welcome note, another opportunity to add a human touch and establish a pleasant atmosphere during unboxing.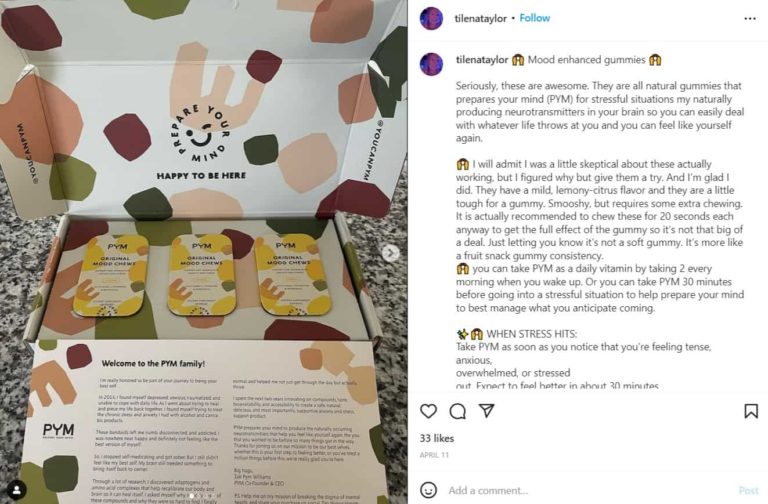 The Role of Last-Mile Logistics
Last-mile refers to delivering goods from the warehouse to the customer's doorstep. It's the final step where most challenges arise. It determines whether consumers will be satisfied with delivery or not. So it's crucial to focus on this stage of the shipping process to satisfy clients and ensure a long-lasting relationship with them. Last-mile deliveries have changed since the eCommerce boom. They used to consist of items moving on pallets from warehouses to other businesses or stores. They aimed at carrying large volumes of goods quickly and efficiently.
The eCommerce industry has transformed the last-mile delivery. Now it's about many small orders being transported to various locations, raising the cost of the last mile. According to Business Insider, it accounts for more than half of all shipping costs (53%).
Last-mile delivery can range from a few blocks to 50 or 100 miles (ca. 161 km), despite its name. Its key goal is to guarantee people get their parcels or packages as fast as possible, regardless of the destination. What may spoil the last-mile experience? For example, urban areas are marked with traffic congestion, while rural ones are scattered across miles.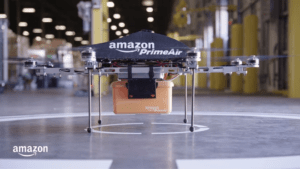 The last-mile delivery will continue to be a great concern for eCommerce businesses. It will attract more innovations to streamline the process, such as light electric vans, eCargo bikes, driverless vehicles, and drones like in Amazon Prime Air.
The stores will heavily rely on real-time delivery updates and route optimization solutions. At the same time, some 3PLs will concentrate on this type of delivery, offering the "last mile as a service" (LMaaS) to retailers.
Selling Products Internationally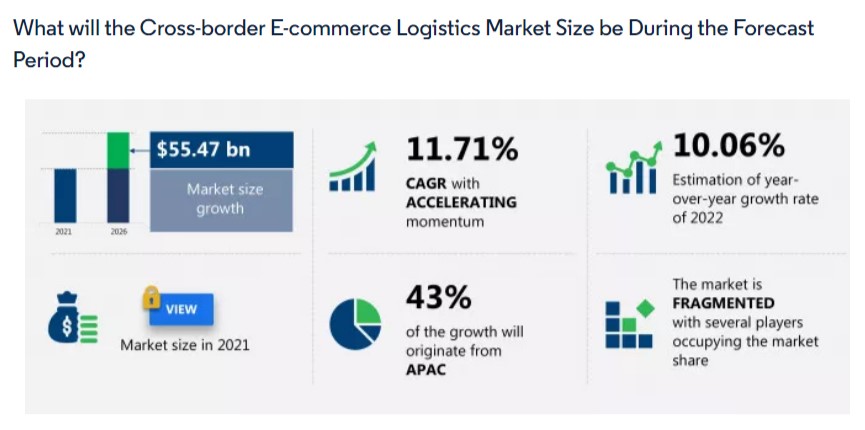 Another trend with a lot of traction among customers is cross-border eCommerce shipping. Technavio expects cross-border eCommerce logistics to grow by $55.47 billion by 2026.
Why do consumers choose to buy overseas products? The reasons include:
easy and flexible delivery options;
accessible payment methods;
high product quality;
The advantage of cross-border eCommerce shipping for retailers is the opportunity to reach new customers outside their country. It lets them increase brand awareness in the international market. As products from foreign sellers are easily attained from any part of the world, businesses need to make international shipping more accessible.
How? Make sure you can import products into the intended countries.
Work with numerous carrier partners, as picking one service limits the number of products available for shipment.
Dangerous goods take additional paperwork and labeling to be transported internationally. Some foreign shipping companies may charge you more for these packages.
DocShipper info : You are looking to ship products internationally ? Don't hesitate to contact our experts to get a free quotation.
Leveraging IoT for Product Deliveries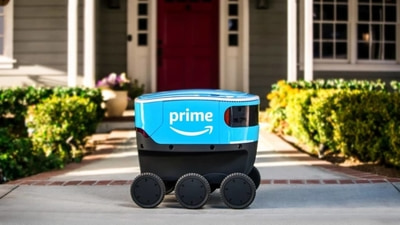 The Internet of Things (IoT) comprises networked physical devices. They monitor, gather, and transfer data over Wi-Fi to cloud-based software for analysis and act as a single organism. How do they influence eCommerce logistics?
IoT devices rely on GPS tracking of shipments and monitoring parcel conditions. They include RFID chips, smart devices, and mobile sensors to track and verify objects and measure the following environmental parameters:
temperature;
humidity;
light levels;
etc.
Asset tracking via IoT is an increasing trend for supply chain managers. It saves time and money while enabling data-driven decision-making and improving supply chain quality control. For example, sensors monitor the temperature in the track containers. If something doesn't comply with the norms, they send a notification to the driver or manager or automatically adjust the temperature.
Another IoT application in logistics is driverless cars and drones. According to Allied Market Research, the autonomous last-mile delivery market is expected to expand to $90.21 billion by 2030. Amazon is at the forefront of drone and robot adopters. A case in point is its delivery robot, Scout. This little helper can navigate over sidewalks and hand over packages to consumers.
Using AI for Management and Control
Artificial intelligence is another technology disrupting eCommerce. It's useful in sales, marketing, customer service, and logistics. According to Statista, respondents propose the following AI use cases in the transport and logistics industry:
inventory management – 40% of participants;
quality control – 34%;
customer care – 32%;
monitoring and diagnostics – 31%;
cybersecurity – 31%;
fraud detection – 29%.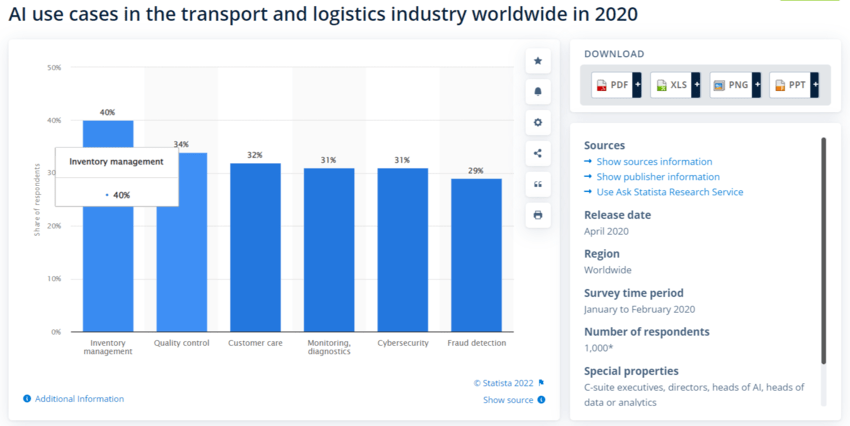 The company's success relies on the ability to predict future supply needs. Imagine your organization fails to make accurate estimates, and the goods go out of stock during the high demand. Horrible.
AI can assist you in preventing these situations. AI-based solutions outperform humans in analyzing historical and real-time data, forecasting trends, and streamlining warehouse management. A retailer can distribute high-demand assets to regional warehouses, saving time on shipping.
To illustrate what I mean, consider the Danone case. The French manufacturer of food products incorporated machine learning (part of AI) into its processes. As a result, the technology helped the company save perishable goods thanks to enhanced forecasting and planning. It improved the work of numerous departments, such as sales, supply chain, finance, and marketing.
One more AI capability is defect identification. It involves computer vision with high-resolution cameras to monitor every element of the manufacturing process. AI-powered sensors discover flaws that are hard for the human eye to spot and trigger corrective actions. It reduces the number of product recalls and waste.
AI can even save the organization from workplace dangers. It is possible thanks to detecting anomalies, such as harmful gas emissions, and sending alerts to workers.
Route Forecasting and Voyage Planning with Real-Time Analytics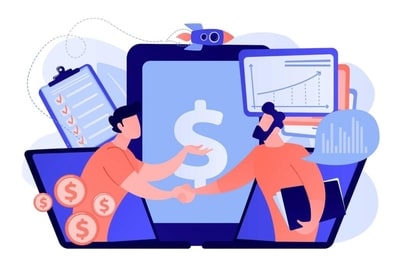 Companies can use real-time data to gather information from the weather conditions. This information is useful for route forecasting so that carriers can react to unforeseen events.
Consider the incident in the Suez Canal in 2021. It proved the importance of forecasting models to the shipping industry. Most frequently used maritime transport routes were blocked entirely. So shipping companies were forced to improvise, looking for the shortest and most cost-effective alternatives.
That's where AI technologies can demonstrate their effectiveness again. The AI algorithms decipher changing elements, such as wave frequency, tides, and winds, to plan the optimal route. However, there is still room for improving data collection.
Using ships to collect data may be unreliable. Satellites may lack accuracy. To that end, maritime data buoys and virtual buoys are becoming more widespread around the world. They improve accuracy and gather data independent of market movements.
To Wrap Up
Ecommerce logistics is rising in tandem with the popularity of e-stores and delivery services. Customers expect high speed, accuracy, and quality.
How do you keep up with the constantly changing demands? Employ modern technologies to avoid discrepancies on the way to customers. It includes leveraging IoT, automation, real-time analytics, and more. At the same time, prospects seek companies with sustainability on the agenda. You need to strike a balance between quantity and reasonable consumption.
For example, you should cut down on returns due to human mistakes. That's where tools with built-in AI can eliminate errors and work 24/7, so you don't have to hire more staff to do repetitive tasks.
Or you can entrust the job to third parties. A robust eCommerce logistics partner can increase productivity, save delivery costs, and improve customer satisfaction. Instead of hiring a logistics director or managing eCommerce logistics in-house, partnering with the proper 3PL can provide your company the freedom and flexibility to develop.
FAQ | Top 8 Trends in eCommerce Logistics
What Is the Definition of eCommerce Logistics?
Ecommerce logistics is the transportation of inventory from the manufacturer to the client's doorstep. Also known as digital fulfillment, it involves inventory management, storage and warehousing, and order fulfillment. These domains further fall into numerous subcomponents with their challenges. For example, an eCommerce store should sustain sufficient stock levels in warehouses. A 3PL provider should ensure speedy delivery even during peak seasons and holidays.
How Are eCommerce and Logistics Interconnected?
Ecommerce refers to everything that is sold or bought online. Logistics is a more behind-the-scenes part of eCommerce, but it's still crucial. It involves warehousing, labeling, shipping, packaging, invoicing, exchange and refund, and payment collection. You also need to understand rules, routes, locations, and transportation legislation if you ship something. At the same time, goods should be delivered securely, timely, and to the correct recipient to leave a positive impression and build strong relationships.
What Impact Does eCommerce Create on Logistics?
Logistics will become more important with the expansion of eCommerce. The delivery of goods is getting more complicated as retailers need to manage more online orders, employ extra resources, and store the siloed information in one place. That's why eCommerce businesses will partner with third-party logistics providers for product distribution and order fulfillment. They guarantee stores save valuable time, which offers a competitive advantage.
What Are the Main Technologies Shaping eCommerce Logistics?
Supply networks get increasingly complex and distributed across the globe. Modern technologies will assist delivery services in navigating the shifting corporate landscape and adapting fast. The top trends involve: big data; cloud computing; artificial intelligence (AI); robotic process automation (RPA); the Internet of Things (IoT). Let's take big data as an example. It is the foundation for AI, cloud computing, and RPA to become more precise and successful at automating processes. The more data clients leave, the more opportunities it creates for identifying their habits and preferences for more accurate offers. Big data also goes beyond the internal data. It unites data from all sources to provide an uninterrupted omnichannel experience.
Author Bio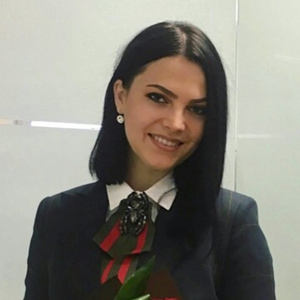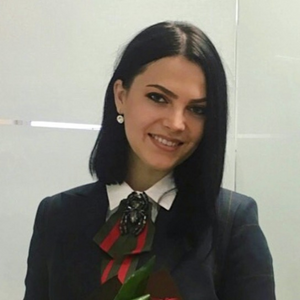 Kate Parish,
chief marketing officer at Onilab, with 8+ years in Digital Marketing and eCommerce web development promotion. Kate constantly upgrades her knowledge and skillset to stay fit in the progressing online world. She always does exhaustive research in such spheres as SEO, branding, SMM, PPC, and Magento PWA development, before sharing her expertise with a wide audience.
DocShipper info: Do you like our article today? For your business interest, you may like the following useful articles :
DocShipper Advise : We help you with the entire sourcing process so don't hesitate to contact us if you have any questions!
SIAM Shipping | Procurement - Quality control - Logistics
Alibaba, Dhgate, made-in-china... Many know of websites to get supplies in Asia, but how many have come across a scam ?! It is very risky to pay an Asian supplier halfway around the world based only on promises! DocShipper offers you complete procurement services integrating logistics needs: purchasing, quality control, customization, licensing, transport...
Communication is important, which is why we strive to discuss in the most suitable way for you!