Even though your company delivers any type of packages, you saw yourself involved into a complex situation : transporting dangerous goods. Each freight has its own regulations regarding dangerous goods. If you have ever worked in transport and logistics, you must have already heard about the ADR without really understanding what it is...
That's why we decided to tell you first more in details about this topic and some transport standards that you need to respect depending on the type of transport borrowed. Then, we are going to develop their nine classifications.
The meaning of ADR, and what is its scope of intervention?
The ADR is called the European Agreement concerning the International Carriage of Dangerous Goods by Road.
Its only objective is to make the shipping of hazardous goods easier. It guarantees the security of the operators, but also of the environment.
Furthermore, it's updated every 2 years by the United Nations Economic Commission for Europe (UNECE).
What is the role of ADR, what does it legislate?
The ADR established a range of hazardous materials that can be shipped by road.
This agreement refers to the packaging and the wrapping to be respected based on the type of goods shipped. It describes the labels and pictograms that need to be attached to the dangerous goods and the means used. It reminds us too of the documents required to ship these packages.
The ADR also provides regulations which consist on how to load, stack and empty dangerous goods. This is included in the mandatory formation of the people who deal with this kind of goods.
Where does ADR operate?
The ADR is followed by many countries in Europe. It's a rule applied to all the dangerous goods that are being carried between the countries. Please note that if you do not comply with the standards mandated by ADR, the country where the infraction is committed will enforce its own sanctions.
Other standards regulating the transportation of  dangerous substances
Depending on the means of transportation chosen, the standards are different.
For rail freight, the Regulation of Dangerous Goods (RID) establishes its norms. Created by the Intergovernmental Organization for International Carriage by Rail (OTIF), RID is applied in 46 countries.
For the sea freight, it's important to follow the packaging and documentation standards enforced by the International Maritime Dangerous Goods Code (IMDG).
If you want to transport your hazardous goods by air, you need to have the approval of International Civil Aviation Organization, ICAO. You must follow a set of safety requirements for packaging, conditioning as well as documentation.
Regarding river transport, the European Agreement concerning the International Carriage of Dangerous Goods by Inland Waterways is the source of the regulations and standards.
You can also contact SIAM Shipping through our form or by phone if you need a concrete and quick help for your shipments.
How are hazardous materials classified in transportation ?
According to the ADR, dangerous goods represent any substance that can injure people or the surroundings while shipping.
This kind of product is controlled by a severe legislation that controls their stock, handling and transportation.
The United Nations Economic Commission for Europe (UNECE) identified 9 classes of hazardous materials that may be recognizable thanks to IMDG codes, labels (or pictograms) and a UN number, mentioned on the labels.
So, do you recognize the significance of each of the labels associated with the dangerous goods? Are you aware about what differentiate one class from another?
1st class of hazardous materials: explosive materials and objects
This class includes all pyrotechnic products such as fireworks, bombs, detonators...
Within the class, there are several specific categories that describe in details the product that should be delivered.
1.1) Risk of mass explosion
1.2) Risk of projection and mass explosion
1.3) Fire hazard, slight blast or projection hazard or both, but not mass explosion hazard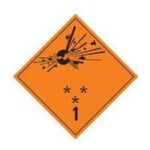 1.4) Minor explosion hazard
Although the danger is not high, it is still here, mostly in the case of fires, but the threat of projection is to be ruled out.
1.5) Very insensitive substances
When they are shipped under regular conditions but still show a risk of mass explosion
1.6) Extremely insensitive substances
There is no mass explosion risk.
Labels :
For these first 3 types of explosive substances and articles, the pictogram used shows a bomb that blows with the figure 1. However, for the last 2 classes of explosive materials, the category numbers are written on the upper part and the number 1 on the lower part.


2nd class of hazardous materials: gases
In this class we find liquefied, compressed and dissolved gases. The figure "2" is written on its label and, as in the first class, we can differentiate 3 categories :
1. Flammable gases in contact with heat
The label of the first category of the 2nd class shows  a white or black flame on a red background.
Example: butane, methane, ethylene...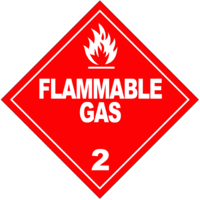 2. Non-flammable, non-toxic gases
This sort of gas encourage combustion and can provoke asphyxiation when it substitutes oxygen.
Label : A white or black gas cylinder on a green background. For example, Helium is non-flammable and non-toxic gas.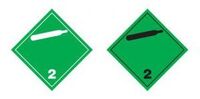 3. Toxic gases
Gases liable to cause death or serious injury to human health if inhaled. Examples: fluorine, chlorine, and hydrogen cyanide.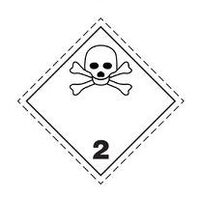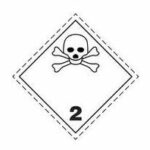 3rd class of hazardous materials: flammable liquids
In this class, we can find flammable liquids and liquid desensitized explosives, such as petrol, paint, turpentine.
The label depicts the number 3 with a flame.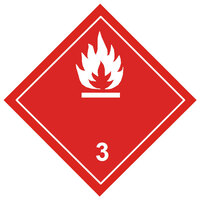 4th class of hazardous materials : flammable solids
1. Flammable solids, self-reactive, explosive desensitized solids
A rubbing of these materials can produce fires. The label has the number 4 with a black flame on a red and white striped background.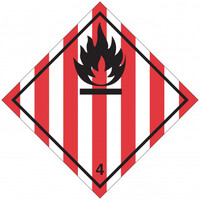 2. Spontaneously Combustible Solids
They present a threat when it makes contact with the air.
Example: Coal, white Phosphorus...
The label represents a black flame on a white background, and the bottom part is red.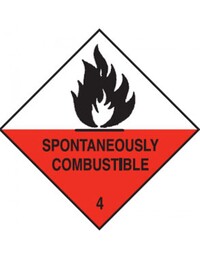 3. Solids that emit gases when wet
Example: Sodium potassium.
The label has a blue background with white or black flame.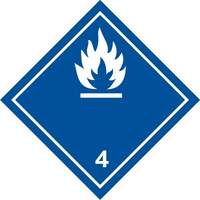 5th class of hazardous materials : Oxidizing materials and organic peroxides
1. Oxidizing materials
These substances trigger combustion and may cause fires when there is an interaction with other elements.
On the label, you can see a circle that ignites on a yellow background, and the number 5.1.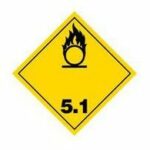 2. Organic peroxides
They are derived from a hydrogen peroxide. They are extremely hazardous substances, that can't exceed a specific load quantities.
The superior part of the label has a red and yellow background, with a black flame on the red part and the number 5.2 on the yellow part.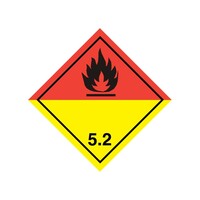 6th class of dangerous materials: toxic and infectious substances.
1. Toxic substances or poisons
They can kill when swallowed, breathed in or merely in touch with the skin.
Their label depicts a skull and crossbones with the figure 6.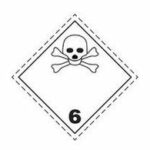 2. Infectious materials
This category includes products containing microorganisms that may lead to disease.
Its label is with symbol that represents infectious substances.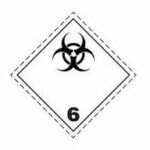 7th class of dangerous materials: radioactive materials
We have 3 categories depending on the degree of radiation and  another one which includes fissile materials.
The two first classes have a high-level of radiation.
Examples: Uranium, thorium, plutonium.
Their labels have an indication that shows which one is Class 1, class 2 or 3, a radioactive clover with number 7.


For the fissile materials:
Its label has the indication : "Fissile materials" and the number 7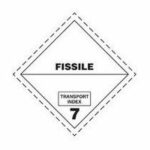 8th class of dangerous materials: corrosive materials
We refer to them as corrosives because they can lead to lesions when the skin comes into contact with them, or even poison when they are ingested or inhaled.
Examples: Sulphuric acid, sodium hypochlorite.
Its label depicts two sample tubes which are poured onto a hand and a surface, and the number 8 is written.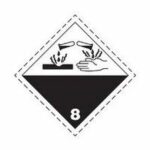 9th class of hazardous materials: Miscellaneous
This class contains others substances that present a threat that does not meet any of the following criteria previously listed.
Example: asbestos, air-bag inflators, self inflating life rafts, dry ice
Finally, its label has its superior part striped in black and white, and the lower part is white with the number 9.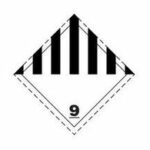 You can notice : each label is shaped like a diamond and measure at least 100x100 mm. For further details about the classification of dangerous substances, please check this page of the UNECE. Be sure to follow all the requirements to ship smoothly your hazardous goods to your destination.
FAQ | Everything you need to know about dangerous goods transportation
What are the nine classes of dangerous goods?
1) Explosive materials and objects
2) Gases
3) Flammable liquids
4) Flammable solids
5) Oxidizing materials and organic peroxides
6) Toxic and infectious materials
7) Radioactive materials
8) Corrosive materials
9) Miscellaneous
What is the ADR?
The ADR is the European Agreement concerning the International Carriage of Dangerous Goods by Road. The agreement consists in making the transport of hazardous material safe by indicating the type of packaging, wrapping and what documents needed according to the type of goods. It provides instructions on how to handle these materials on ports and during the travel.
Which labels are used when you ship gases?
There are three types of labels : a red label with a white or black flame for combustible gases, a green label for non-combustible gases and a white label with a skull for toxic gases.
Which class belong the radioactive materials?
The radioactive materials are in the 7th class among the nine classes.
SIAM info: Do you like our article today? For your business interest, you may like the following useful articles :
SIAM Advise : We help you with the entire sourcing process, so don't hesitate to contact us if you have any questions!
SIAM Shipping | Procurement - Quality control - Logistics
Alibaba, Dhgate, made-in-china... Many know of websites to get supplies in Asia, but how many have come across a scam ?! It is very risky to pay an Asian supplier halfway around the world based only on promises! DocShipper offers you complete procurement services integrating logistics needs: purchasing, quality control, customization, licensing, transport...
Communication is important, which is why we strive to discuss in the most suitable way for you!