Our mission is to assist clients at every stage of the process. From departure to arrival, we will handle every step including storage, customs clearance, export/import licenses, packing, and freight (road, air, sea). A thorough knowledge of international regulation enables us to meet our customers' expectations in terms of efficiency and timing.
From our logistics expertise, SIAM Relocation is born! Contact our moving department to learn more about our local and international moving services.
**In order to optimize our services, Siam Shipping and Siam Relocation are now part of the Docshipper group. Our customers can now benefit from total supply chain coverage. Therefore, Siam Shipping team became Docshipper team**
1/ How to choose a reliable international mover in Thailand?
Many companies claim to be international movers, claim to know Thai import and export personal effects relocation and appeal to you with low rates. Beware because many people get scammed, here are our tips to avoid the bad surprises:
1.1 The contact
You must be able to reach your contact person by e-mail, phone, or physically, at any time. For e-mail communication, the response time must not exceed 48 hours. Prefer a company with staff able to communicate in several languages, and if possible in your native language. Siam's relocation staff are able to communicate in Thai, English, and French.
1.2 People's Opinions
Go to the specialized forums and look for reviews on the moving company. Send private messages to former/previous customers, do not rely solely on a site or ad. Search until you make sure of the good reputation of the chosen company.
1.3 Avoid the comparators
"We offer a wide range of international moving companies". Be very careful, because the website where you make the request will then send your request as an auction, and you will be offered an attractive offer, often at the expense of service. Prefer a company with a dedicated and fun crew.
1.4 Office in Thailand
Check that the company has an office in Thailand and that it does not treat it all. Ask for a meeting in the office, check the office, how many employees…. Subcontracting is detrimental to the quality of services and often leads to bad surprises.
2/ freight forwarder or mover?
A freight forwarder in Thailand can offer international moving services, but this service is nothing but an extra for this kind of company, and it is better to let a specialized company dedicated to the transport of personal belongings handle it. The reason is that personal belongings are not managed in the same way as commercial goods. Many customers use freight and are very disappointed with the services provided.
2.1 Compare
Ask several carriers of personal belongings, compare quotes, not just the price, but also have a close look at the services being offered. Do not focus on the price because a low price probably hides a mediocre service.
2.2 Ask questions
Do not hesitate to ask a lot of questions, and expect clear and precise answers. You are the customer, and the company that will carry your belongings must be able to respond quickly and accurately.
2.3 Read and understand specifications
A quotation must be read and understood before signing it. Verify the services included and excluded in the quote: packaging, unpacking, delivery, and all ancillary services. Again, ask questions, too much is better than too little/ If a little is good, then more is better.
2.4 Do not pay a down payment
All international movers have a pre-paid payment policy, everything must be paid in advance. Beware of companies that just ask you for a down payment.
2.5 Anticipate
Take advantage of this in advance, whether you are looking for a carrier or for your administrative formalities. SIAM Shipping thanks to Docshipper has its own agent to handle every custom clearance step with official Thai customs.
3/ What kind of home are we able to move ? 
3.1 House moving
Heading back to your home country? If you live in a house, also called ban or moo ban in Thai, you will have to move all your household goods, furniture, framed arts, clothes, your children's toys, etc. To do so, you should absolutely contact an international mover, not a freight forwarder.
Docshipper Remark: The first thing to do is to ask for an estimate of the volume and the packing needs. In fact, any movers will have to gather a lot of information before providing a quotation: doors height, access conditions, what kind of truck has to be used, and so on.
3.2 Condo and apartment moving
Most expatriates live in serviced apartments, also called condominiums. In this case, the volume to be moved is in general less important, because this kind of accommodation is (generally) already furnished. If you live in a condo, scheduling a survey is key! We have to check a lot of details, as condos often come with security guards. We need to make sure there is a service lift, the timetable imposed by the condo management, obtain the security's permission, etc.
4/ International moving rates
Understanding the quotation
International relocation is divided into several steps:
Departure services
We offer all kinds of services that have to be provided before the departure of the shipment: packing service, handling, licenses and all kind of administrative documents, and specific paperwork for tricky items (i.g. export licenses when shipping Buddha-related items).
Docshipper Tips: People get a misconception about an international move, indeed the cost of this move is strongly affected by all manutention steps, mainly the packing service at departure.
Freight services
Just like a classic freight forwarder, we have to charge fixed and mandatory costs such as international freight charges (charged by the carrier), export charges, and import charges at destination. Sometimes, depending on your needs, we also charge for the delivery to your residence. To sum up, every step of the logistics chain has a cost, from the packing, to the final delivery.
International moving services
Local import charges, also called destination charges could be listed as follow: Port charges, Storage, import customs clearance, delivery, unpacking and any other related services. Those charges are different regarding the country, for example, USA, UK and Canada have different pricing policy. When booking your removals with us, you get door to door rates including import charges, no surprises at all.
5/ Local move
We also offer inland relocations services. Whether you need to move to a different suburb, to a different city, or to a different island, we can provide you with high quality services in compliance with the same norms and regulations that rule international relocations.
Our main objective is to ensure high quality services for every customer, located in any parts of the country. Our various offices can handle relocations from everywhere in Thailand: Northern Thailand, Isan region (eastern part), Southern part, etc. SIAM Relocation is dedicated to a full coverage of the Thai territory.
There are a lot of moving companies and freight forwarders in Thailand. This country is a highly-competitive market for logistics companies. However, most of companies are based in Bangkok, and only a few of them can cover the whole country.
Docshipper Tips: This is what makes us so special, we offer high-quality services covering the country's main places.
5.1 Bangkok
Bangkok is at the same time an international city, heart of the political and economic life of the country, and an ancient city still linked to its historical roots. Our packing teams is based in Bangkok, ready to ensure a professional and quick packing for your relocation in 48h maximum. Our office in Bangkok accounts for almost 50% of our activity.
5.2 Phuket
Phuket is a mountainous island in the south of the country. A lot of expatriate live in Phuket, as it has been for many years a main spot of tourism and expatriation. We implemented our staff and some warehouses in Phuket to cover this island.
5.3 Pattaya
Operations in Pattaya and its neighbouring cities such as Rayong or Jomtien are handled by our office in Bangkok, because of the proximity of these cities. We can even send some of our staff to these cities for specific needs.
5.4 Koh Samui
This island is connected to the country through a ferry boat. Thus, we have to take into consideration the cost to deliver your items to the mainland (mainly Bangkok). Thanks to our experience in Thailand, we have been able to negotiate special rates for this service. Our office in Samui is ready to offer you high quality service in compliance with international shipping regulations.
5.5 Chiang mai
Chiang Mai, located in the north part of the country, is a popular destination for digital nomads and retired people. The city is mainly known for its more temperate climate, its nature, and its chilled-out lifestyle. We can ensure a survey within 48 hours following your request.
You are looking for logistics and/or sourcing services ? You need a dedicated assistance ?
Our experts will answer you within 24h !

6/ Moving process
As specialists in this field, we are well aware of the amount of stress our clients may have to endure after they have made the decision to move. We assure you that our relocation specialists are capable of providing a smooth and hassle-free moving experience.

Here are some guidelines on what is to be expected throughout the consultation process with our relocation specialists.
6.1 Before you set the appointment:
Set aside at least an hour to talk to our relocation specialist about your needs and concerns.
Do an inventory of items (or "packing list") you would like to move and leave behind. Do the same for items you would like to bring along with you instead of having it moved by our team.
Bring along some toys and/or books if you are moving with your children.
Check the compatibility of your electrical items if you are moving it to another country.
Go through and understand your employer's Relocation Policy if the decision to move is your employer's decision.
6.2 During the appointment, our relocation specialist will:
Discuss on your needs, requirements and concerns.
Go through and finalize your inventory of items to be moved and left behind.
Determine the right packing and handling procedures for fragile and/or expensive items.
Assess your items and determine appropriate protective packaging.
Determine the packing and moving date(s).
Discuss on additional services including house cleaning and transporting your car, pet, liquids, food and/or alcohol.
6.3 Our relocation specialist will also furnish the following:
About SIAM Relocation and how we can work together to ensure a smooth and stress-free moving experience.
Our protective packaging and transit options.
Information on the required paperwork.
Customs regulations and other requirements for overseas relocation.
Risk management and policies.
7/ Special services
7.1 Pet relocation
Your dog, cat or any other pet deserve the maximum security and care when travelling. To do so, our specific service will ensure a quick and safe travel for your beloved animal.
You are looking for logistics and/or sourcing services ? You need a dedicated assistance ?
Our experts will answer you within 24h !
7.2 Fine arts
High-value framed arts or sculptures have to be handled with specific caution and care. SIAM Relocation decided to be specialized in this domain. We have developed a decent expertise, adapting ourselves to the specificities of this kind of shipments, especially in terms of packing.
7.3 Packing and unpacking
If you are moving to Thailand you do need an unpacking team, and we are proud to be your destination service provider, make sure we will ensure you the best unpacking/unloading and replacing service trough Thailand.
If you are moving from Thailand, you do need the best service and of course the cost effective one, so we are here! please check our 3 package and compare.
3 Packages, 3 ways to move according to your budget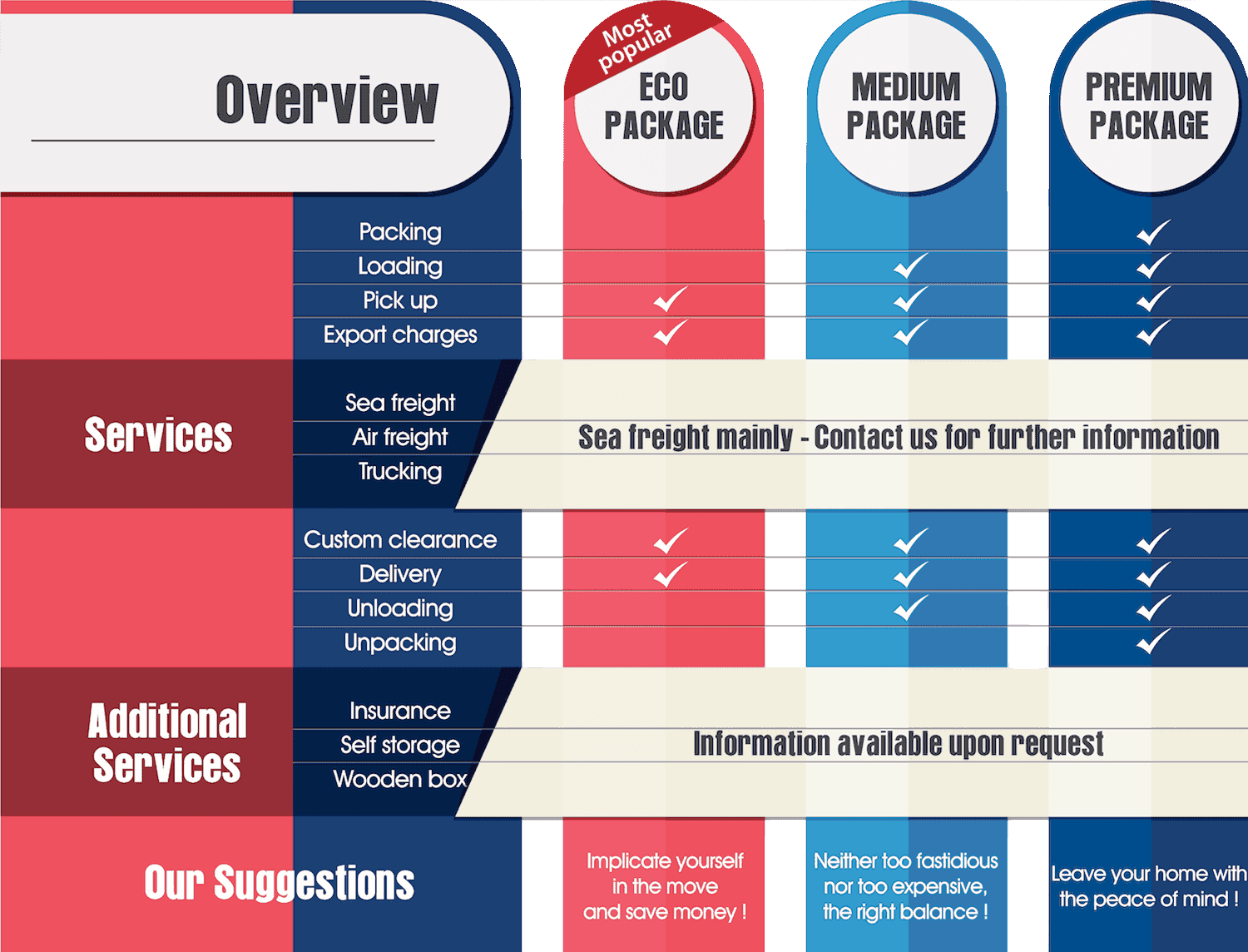 7.4 Car shipping
We, at SIAM Relocation, are able to handle your car shipment on every way possible: from/to Thailand. The importation of a car is a bit tricky mainly regarding the duties and taxes needed by the local customs.

8/ Why choose us?
Multilingual staff
National coverage: presence in Bangkok, Phuket, Chang Mai and Koh Samui.
Global network for international door-to-door relocations
Dedicated service for animals
Dedicated service for works of art
Relocation assistance
3 packages: ECO, MEDIUM and PREMIUM, to adapt to our customers' needs
Reliability and reactivity
Permanent contact with the salesman in charge of your shipment
Expertise: SIAM Relocation has been striving for excellence for many years
Take your time to choose the right movers. You do not move often in a lifetime, so choose your carrier carefully, do not entrust your belongings to random companies, check their reputation, check out the specialized forums, and do not focus solely on price. Ask questions and expect concise answers. SIAM Relocation is one of the market leaders, so don't hesitate to contact us, we will revert to you within 48 hours.
**In order to optimize our services, Siam Shipping and Siam Relocation are now part of the Docshipper group. Our customers can now benefit from total supply chain coverage. Therefore, Siam Shipping team became Docshipper team**
SIAM Shipping Advise : We help you with the entire sourcing process so don't hesitate to contact us if you have any questions!
SIAM Shipping | Procurement - Quality control - Logistics
Alibaba, Dhgate, made-in-china... Many know of websites to get supplies in Asia, but how many have come across a scam ?! It is very risky to pay an Asian supplier halfway around the world based only on promises! DocShipper offers you complete procurement services integrating logistics needs: purchasing, quality control, customization, licensing, transport...
Communication is important, which is why we strive to discuss in the most suitable way for you!