Introduction
If you got to the point of asking yourself how you should proceed to ship your products between both countries, you are most likely about to launch the process.

At SIAM Shipping by Docshipper, we decided to build up a detailed shipping guide, in order to tackle in one article all the most important topics. In fact, we are aware that finding relevant information on the internet is not easy. We are able to provide you with advices and details thanks to our strong expertise acquired over several years of experience on the Asian market.

No matter if you are a first-time importer/exporter, or if you are already used to handling such processes… No matter if you need a one-time delivery, or if you need us to set up regular shipments between both countries: Siam Shipping has a solution for you!

This ad hoc article is here to give you all the valuable information to get started in the best condition with your shipment.
**In order to optimize our services, Siam Shipping and Siam Relocation are now part of the Docshipper group. Our customers can now benefit from total supply chain coverage. Therefore, Siam Shipping team became Docshipper team**
SIAM SHIPPING BY DOCSHIPPER ADVISE YOU ON THE BEST METHOD
---
WHAT IS THE MOST SUITABLE METHOD OF TRANSPORT ?
SEA FREIGHT TO MALAYSIA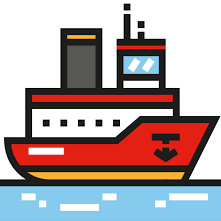 Ocean freight will be the best deal for you if :
Your goods are bigger than 2 CBM
You're not in a hurry to receive them
You want to ship specific goods (batteries...)
TOP 5 – Shipping line





Overview – Ocean cargo from Thailand to Malaysia
Remark Docshipper : Considering the 3 major parameters that are time of transit, security and price, this is the most effective freight solution.
*SIAM Shipping by Docshipper is proud to offer tailor-made services for your shipping needs from Thailand to Malaysia, adapting our offer to any type of budget and expectations.
SIAM Shipping is one of the leaders on the market when it comes to sea freight from Thailand to anywhere in Malaysia. We take care of every logistic step within the logistic chain: packaging, warehousing services, shipping, customs clearance, delivery, etc.
We are committed to provide hassle-free shipments to our customers!
At SIAM Shipping by Docshipper , we offer efficient and high-quality sea freight services from any city in Thailand, as – Bangkok, Phuket, Chiang Mai, Pattaya, Chonburi, and much more -, to anywhere in Malaysia. We are able to ship your products to Kuala Lumpur, Penang, Georgetown or anywhere else in a safe and efficient way, mainly thanks to our strong network at destination.
What makes us so special is our capacity to adapt our services to YOUR needs and expectations, providing hassle-free shipments to any destination. We are truly committed to ensure a long-term business relationship with our customers, bringing peace of mind to your daily business operations.
Main Ports in Malaysia
Port Klang (Kelang) : the largest port in Malaysia
Port Kelang, also known as Klang, Pklang, or Port Klang is the largest port of Malaysia. Naturally, most of the shipments we handle towards Malaysia from Thailand are headed to this key port. This is the official port of Kuala Lumpur, and it comes with straight connections to the largest cities of the country by road and railway.
We ensure efficient shipments to the main ports all over the country, such as Johor, Kuantan, Tanjung Pelepas, Bintulu… By doing so, we can offer logistic solutions for all requests we receive for importing goods into Malaysia.
Remark Docshipper : Please contact our sellers to set up any sea freight transportation service. We will figure out together what is the best destination port, suited to your expectations and needs.
Here are is a table that defines transit times on average, between the biggest Bangkok and Malaysian ports. Smaller ports will have a slightly higher transit time than the three majors, because of their tiny traffic:
| | | |
| --- | --- | --- |
| FROM | TO | |
| Bangkok | Penang | 9-11 days |
| Bangkok | Johor | 8-10 days |
| Bangkok | Kuala Lumpur | 8-10 days |
*Please note that those transit times are just indicative timing between Thailand and Malaysia
Remark Docshipper : When choosing to opt for sea freight services, you are choosing to save money over time! This is a cost-effective option for your shipment to Malaysia.
Sea freight rates
As mentioned above, if your main aim is to save time, sea freight is not the best option you may select to export from Thailand to Malaysia. In this case, air freight is recommended.
On the other hand, if you are looking to save money, sea freight may be the best option.
Why sea freight?
*Because as well as shipping at a low cost, sea freight also comes with the possibility to ship high volumes.
SIAM Shipping by Docshipper  will provide you with all the sea freight-related services such as FCL, LCL, Bulk Cargo, and so on.
The total cost of your shipment will not be the same, depending on the services you need. The price will be different whether you just need a CFR shipment (freight service), DAP (delivery at place, or 'door-to-door' service), or DAT (delivery at terminal), etc.
At SIAM Shipping, we are 100% devoted to creating tailored services for our customers. In this way, our pricing strategy is based on a case-by-case method, to come up with the most accurate and tailored quotation to our customers.
Remark Docshipper : You want further information about this method of transport ? Feel free to contact our SIAM Expert or visit directly our dedicated page here : Sea freight
AIR FREIGHT TO MALAYSIA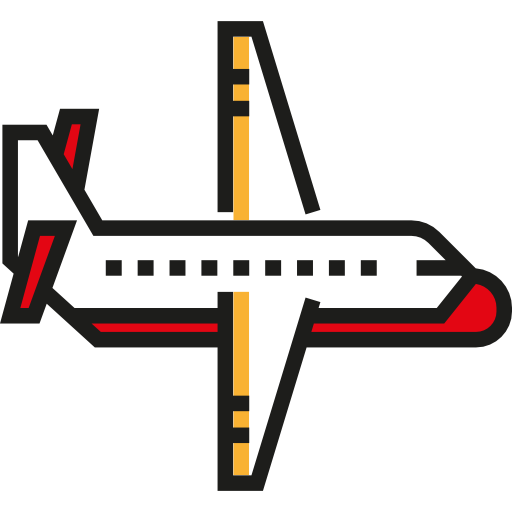 Air freight will be the most efficient solution if :
Your goods are smaller than 2 CBM and 200 kg
You're in a hurry to receive/send the goods
Remark Docshipper : Naturally, if you need to get your goods delivered as fast as possible, air freight is the best option for you. You are in the rush? Contact our SIAM Expert now !
Remark Docshipper : Air freight is the best option when time is key.
*As for our sea freight to Malaysia, we can provide door-to-door or door-to-airport services, allowing you to benefit from a safe and efficient air shipment from Thailand.
No matter if you require a one-time urgent air service to Malaysia, or regular shipments between both countries, SIAM Shipping by Docshipper has a solution suited to your budget and needs.
We are aware of the time sensitivity of many shipments we manage, and we do our possible offer you the most cost-effective shipments to make it as smooth as possible for you and your business.
Docshipper Plus: Thanks to our experience and expertise as a long-term Thailand-based freight forwarder, our dedicated staff can bargain with the largest airlines to get the best rates for your air shipment.
Main Airports in Malaysia
SIAM Shipping has built a strong network over the years in Malaysia, allowing us to provide door-to-door services to any part of the country. We are maintaining everyday close collaborations with the main Malaysian airports, as we know important is it for our clients to benefit from a strong flexibility.
Kuala Lumpur
KLIA is the main logistic hub of the country. The vast majority of the air shipments we ship to Malaysia are shipped to this airport.
Remark Docshipper : If you need a delivery of your products in downtown Kuala Lumpur, SIAM Shipping is here for that too! 
Langkawi
Langkawi is an international airport located in West Malaysia. We can arrange weekly shipments to this airport, with a direct flight from Bangkok. The largest Asian companies, such as AirAsia or Malaysia Airlines have services for this airport.
We are also expert in arranging air shipments to all largest airports of the country: Kuching, Kota Kinabalu, Penang, etc. It all depends on your needs and expectations. Just remember that SIAM Shipping can provide logistic solutions always suited to your business needs.
*Don't wait any longer and contact us now!
Air freight transit times
Instead of just coming up with approximate transit times, we are convinced that providing information about the various steps that come with air freight shipments is a better solution.
Check here some rough estimates:
| | | |
| --- | --- | --- |
| FROM | TO | |
| Bangkok | Kuala Lumpur | 1-3 days |
| Bangkok | Langkawi | 1-3 days |
| Bangkok | Penang | 1-3 days |
| Bangkok | Kuching | 1-3 days |
*Keep in mind all the following logistic steps have to be undertaken when it comes to air cargo:
Step 1 – Gathering details about the shipment: type of cargo, weight, destination, service required…
Step 2 – SIAM Shipping closes shipment with the airline company
Step 3 – Storage at warehouses prior to departure
Step 4 – Customs clearance
Step 5 – Cargo arrival and delivery services (if required)
Note Docshipper : Always stay tuned on the status of your air shipment, thanks to our tracking service!
Air freight rates 
*How do you calculate rates when it comes to air shipments?  
Here is an explanation:
The rule is to multiply your parcel's volume in CBM by 167 for air freight.
As an example, if your parcel comes with the following dimensions: W: 140, H: 90, L:70, the total volume is 0.882m3. If you multiply it by 167, the volumetric weight of your parcel is 147,29kgs.
Remark SIAM: If this weight is greater than the real weight of your shipment, our rates will be based on the volumetric weight.
This is an easy way to calculate rates. SIAM Shipping operates in full transparency towards its customers when it comes to pricing. Then, the rates are likely to vary depending on the services you require.
The price will naturally be higher for a door-to-door service, as compared to a regular door-to-airport service. Again, we decided to quote every single shipment through a case-by-case basis, in order to offer accurate and transparent quotations.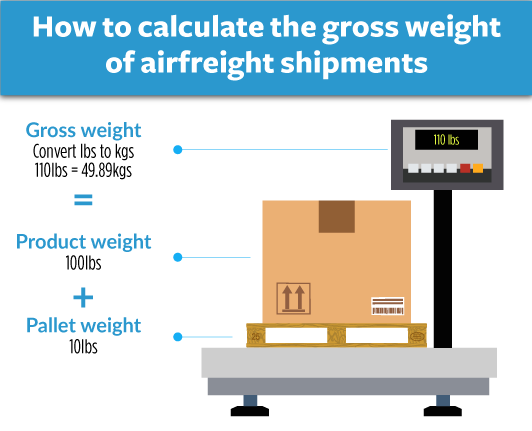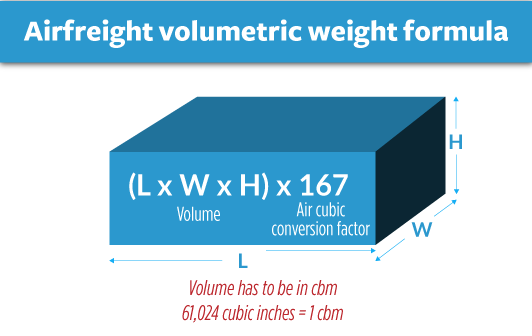 CROSS BORDER TO MALAYSIA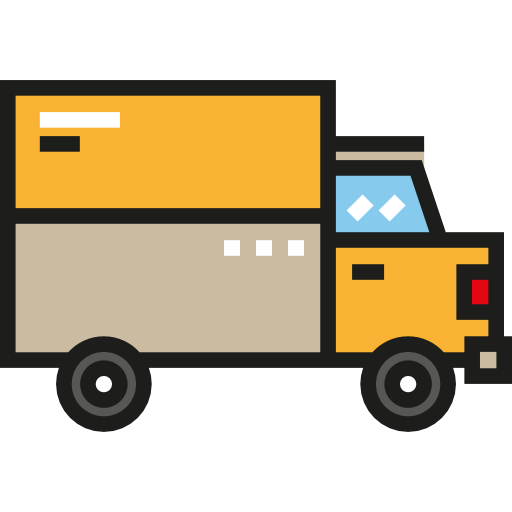 Road freight will be the most convenient option if:
Your supplier is located on the south side of Thailand
The final destination of your goods is in the north of Malaysia
You're not in a hurry to receive your goods
Contact us now! Your SIAM Expert will find out the best logistic option for your shipment from Thailand to Malaysia!
Remark SIAM: Road freight will rarely be a great solution to consider, to transfer goods between these two countries
The third option you can choose is door-to-door trucking services from Thailand to Malaysia. Cross-border road freight from Thailand to Malaysia can be a great logistic solution, combining good rates and quick transit times.
Our team of professional truck drivers will go down the country until the border between both countries. Trucking services offer an interesting flexibility, as the delivery location can be anywhere in the country of destination.
As road freight requires proper forecast and planning, please reach out to your SIAM Expert as soon as possible in order to schedule it all together and figure out the best routes.
We offer a full range of services for cross border trucking:
Prompt customs clearance and paperwork assistance
Full transparency of processes and routes
Door-to-door services with constant tracking of your shipment
Professional drivers
Dedicated customer service
Duty and taxes forecast
We provide all the requested licenses if needed
*We have been arranging this kind of shipments throughout South-East Asia over the past few years. We thus acquired a unique expertise, enabling us to offer the highest quality services available on the market.
Transit times
Despite the huge distance between some part of Thailand and Malaysia, transit times are still faster as compared to sea freight.
Here are some examples:
| | | |
| --- | --- | --- |
| FROM | TO | |
| Bangkok | Kuala Lumpur | 3-4 days |
| Bangkok | Malacca | 3-4 days |
| Bangkok | Penang | 3-4 days |
| Bangkok | Kuching | 3-4 days |
Interested in our logistics services? Need further assistance & dedicated information?
Our SINO experts answer within 48h !
OUR CUSTOMS BROKER INFORM YOU
---
CUSTOMS CLEARANCE IN MALAYSIA
What duties and taxes will I pay for my goods ?
Remark SIAM: Every single shipment being imported into Malaysia has to undergo clearance processes. This is an important step of the whole logistic chain.
The required documentation has to be properly prepared and provided to the local customs, to ensure a hassle-free clearance of your goods.
The following documents have to be provided to the Malaysian customs: 
Invoice
Packing list
Delivery letter
Leaflet, catalogue or other related documents
Insurance certificate, if insured
Bill of lading
Letter of credit (if used)
Permit, licenses/ certificates
Proof of fare payment
A declaration form (Customs Form No. 1) that mentions the number, description of packages/ crates, value, weight, quantity and type of goods and country of origin
Completed Custom forms should be submitted to Customs offices at the place where the goods are imported or exported.
All duties/ custom taxes imposed on imported goods will need to be paid in advance before the goods can be released. Taxes to be paid include import tax and sales tax.
Import licenses are not required for all products. Having a general overview of Malaysia's licensing policy is important when considering importing into this country, in order to avoid troubles with local authorities.
SIAM Plus: Obviously, SIAM Shipping is here to assist you in the process and make sure the documentation is in compliance with local requirements!
Import duties from Thailand to Malaysia
Tariffs and Taxes
Malaysia is aligned with the Harmonized Tariff System (HTS) for imported and exported goods coming from members states of the Association of Southeast Asian Nations (ASEAN).
Here is the composition of an HS Code, you can now see what an HS code is and what does it mean.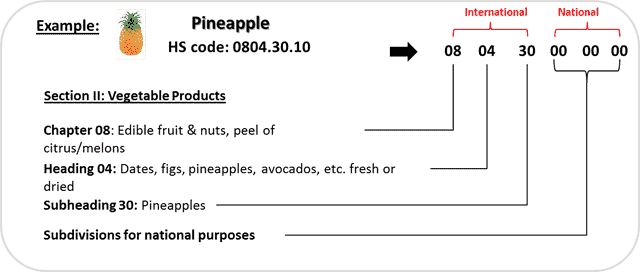 You already know the HS Code of your products? You can find the tariff barrier that applies on the official website. Note that at the moment their website (http://tariff.customs.gov.my/) is down so you should check directly with our SIAM Experts.
To find further information about duties and taxes in Malaysia according to your HS code, please check the official website: Customs in Malaysia
Let's have a look on the previous example!
If we now fill all information needed by the customs, we will be able to determine what will be the duties and taxes charged on your shipment.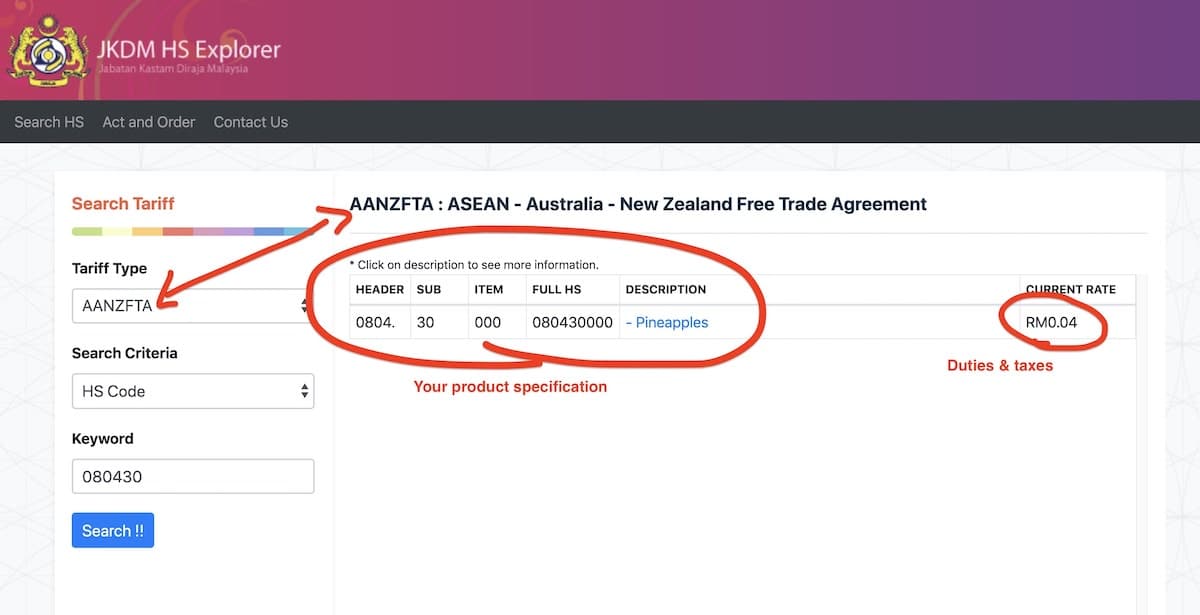 Import Tariffs and Taxes
Malaysia's tariff rates range from 0 to 50%, applying ad valorem rates. Nevertheless, the average duty paid for imported industrial goods is 6.1%. Higher rates are applied for goods for which production already exists within the country, as well as 'sinful' goods such as pork and alcohol.
Reduced tariffs or tariff exemptions are applied for raw materials that are not easy to source within the country, and used for the manufacture of exported goods.
*Malaysian has been applying a GST on imported goods of 6%.
Note SIAM: Malaysia recently decided to cancel this 6% GST. From the 1st of June 2019, the country is supposed to charge a 0% for GST, encouraging business operations within the region.
Customs contact in Thailand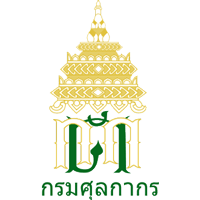 Customs contact in Malaysia

Customs process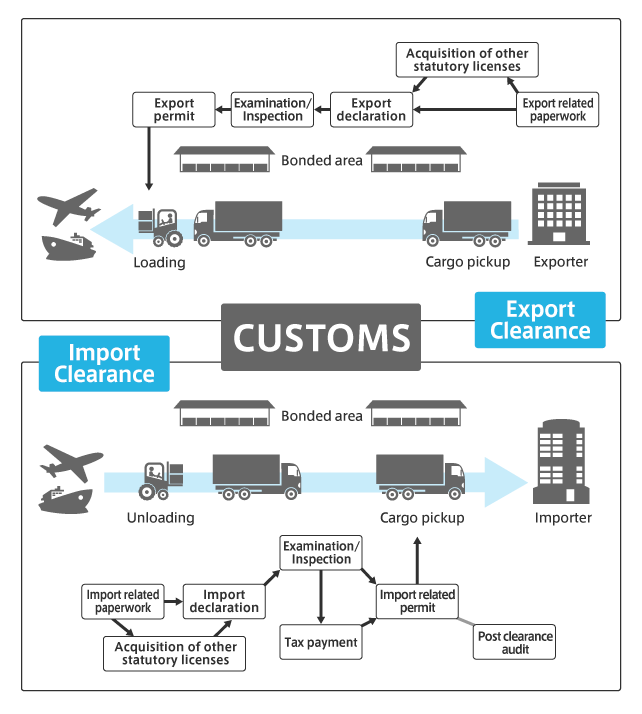 OUR CUSTOMS BROKER INFORM YOU
---
PROHIBITED & RESTRICTED ITEMS
Remark SIAM: If you have one of the following item, you should check directly with our SIAM Experts. Some of those items are restricted or even totally prohibited, it is important to anticipate such shipment to avoid any problem.
Drug Contraband

Ivory

Poison

Explosives

Batteries

Pornography

Biohazard

Flammable

Knife

Chemicals

Firearms

Tobacco

Corrosive

Drugs

Gambling

Counterfeit

Counterfeit Notes

Hazardous

FAQ | Shipping between Thailand and Malaysia
🆚 Should I opt for sea freight, air freight or trucking?
It will depend on your shipment and several points: weight, volume, exact origin, and exact destination. For example if you ship something from the south of Thailand (let's say Phuket) to the north of Malaysia (let's say Penang), trucking should be the best option (fast and competitive) unless you have a small shipment. Indeed air freight is the cheapest (and fastest) method for shipment below 1.5 CBM / 200 Kgs. If you plan to ship high volume, you should consider sea freight.
🧾 What information do I need to provide to get a freight quote quickly?
Our vision of transport and our desire to provide quality service have led us to offer solutions as individual as possible by studying requests on a case-by-case basis. Thus, dimensions, weight, volume, packaging requirements, starting and finishing address, and the nature of the products are all variables that will be necessary in order to obtain a quote quickly.
🚚 Can SIAM Shipping group my shipments from several suppliers?
Our warehouses guarantee a consolidation service once the goods have been collected. However, for further information, it is preferable to contact our sales staff as coordination must be carried out rigorously in order to avoid storage costs.
⏱️ What are the transport transit time between Thailand and Malaysia?
Obviously, it will depend on several points: obviously the departure and arrival as well as the method of transport (air freight, sea freight or trucking). Usually, you can consider the following transit times: 8 to 10 days per sea freight, 1 to 3 days per air freight and around 4/5 days by truck.
SIAM Advantages
---
WHY CHOOSE US ?
SIAM Shipping understands what customers needs and builds a long term relationship with its loyal customers. Your satisfaction, our success !
« Respect is earned. Honesty is appreciated. Trust is gained. Loyalty is returned. »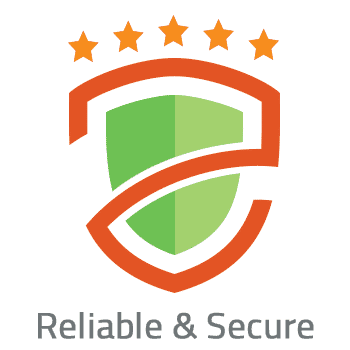 SIAM Shipping | Procurement - Quality control - Logistics
Alibaba, Dhgate, made-in-china... Many know of websites to get supplies in Asia, but how many have come across a scam ?! It is very risky to pay an Asian supplier halfway around the world based only on promises! DocShipper offers you complete procurement services integrating logistics needs: purchasing, quality control, customization, licensing, transport...
Communication is important, which is why we strive to discuss in the most suitable way for you!