Store your belongings/goods in the heart of Thailand – Bangkok!
Whether you are looking for short-term or long-term storage services, we provide warehousing services for professional goods and personal effects. Located in the heart of Thailand, Bangkok, we have a solution for any of your requests!

Because at SIAM Shipping into Docshipper group, we know that your belongings are valuable, our warehouse are protected by temperature changes, and have different labels ensuring the reliability and quality of the infrastructures.
SIAM Shipping info : It is possible to carry out any type of storage: regular, controlled temperature, or even freezing.
SIAM Shipping info : **In order to optimize our services, Siam Shipping and Siam Relocation are now part of the DocShipper group. Our customers can now benefit from total supply chain coverage**
It is also possible to store in the Free Trade Zone, for example while waiting for the clearance of your goods or to avoid taxes until goods are sold (Imported car for example).
Once you are ready to receive your goods, you may consider picking up your belongings yourself or delegate the task of delivering them safely to the place of your choice.
SIAM Shipping info : At DocShipper, we are truly committed to adapt our offer to our customers' needs: get yourself involved in the process and save money!
Warehousing services in Bangkok
Our warehouse located in Bangkok comes with all the related services:
Delivery anywhere in Thailand
Loading and unloading
Full equipment: forklift, cranes…
Expansive services such as pressing, bubble wrap, container boxes, wooden boxes or plastic beds. We offer to stockpile for medium or huge cargo. Put it inside to store your merchandise or place outside, for the vehicle if fundamental.
The security watches secure our stores at the entrance who check and note everything which is going back and forth.
Different storage for different goods
SIAM Shipping info : Depending on your different goods, different types of storage may be used.
DocShipper adapts its storage offer to every single request. Here are some examples of storage, based on the various products you may have to store.
Fabric: Clothes, furniture or toys dating from the early 20th century must be kept between 1.6 and 23 degrees Celsius, with a moisture content of around 55%. They must first be washed and packed with tissue paper or cedar.
Electronics: Your electronic equipment (phones, speakers, cameras) can be invaded by mold if they stay too long in the air. To avoid this kind of inconvenience, we advise storage between 10 and 26 degrees with a humidity of between 30 and 60%.
Discs: Although they are less and less present on our shelves, CDs, DVDs and video games must also be kept in a cool place, ideally between 17 and 21 degrees and 45 and 50% humidity. Direct sunlight should be avoided to avoid damage to the surface. Vinyls must be stored in their original packaging.
Paper items: comic strips, magazines or books can turn yellow with heat. They require a humidity of less than 35% for a temperature between 1.5 and 23 degrees.
Metals: Poor preservation of your metals can result in copper becoming green, silver blacking, iron rusting and lead dissolving. They should be kept between 1.5 and 23 degrees for a humidity of 35 to 55%.
Tailored storage services at your door
*Do you need to store small volumes for a short amount of time?
SIAM Shipping Advice : Finding a storage provider that accepts small parcels in Bangkok is far from being easy. If you need to store just one box before going abroad, contact us now: SIAM Shipping into DocShipper group, has developed a specific service for this kind of request!
DocShipper picks up your personal belongings or products from your shop or residence and ensures a complete storage service even for the smallest volumes.
We can also deliver it anywhere you want in Bangkok and its surroundings at any time. Contrary to regular storage, you can reach out to us to store even one box at a time.
DocShipper is not only able to store it as soon as you contact us. In fact, we can also pack it, label it and arrange the delivery for you.
*Prompt and efficient, SIAM Shipping makes you save time, money, and stress!
SIAM Shipping info : Now that you have a clear overview of the services offered by SIAM Shipping, we thought it would be useful to provide you with basic knowledge about warehousing services. Stick with us and learn more about this key step of the logistic chain.
Special warehousing – Cold storage in Thailand
SIAM Shipping: an expert of refrigerated warehouse services in Bangkok and its surroundings
To proceed to a transportation of sensitive or perishable goods, it is essential to use cooled-temperature storage. It is pretty hard to find this service in Bangkok, and this is why SIAM Shipping is proud to offer this flexibility to its customers.
SIAM Shipping Advice : This kind of storage requires a specific knowledge! Rely on DocShipper's expertise to handle your goods requiring refrigerated storage services.
Here are 2 tips to better understand and manage air-conditioned storage
Management of temperature and humidity
As you know, Thailand is a warm and humid country, which can be harmful to fragile materials and products such as foodstuffs.
Moisture and temperature control often go hand in hand, both must be managed in the same storage space. When the humidity in the air increases, the temperature can remain unchanged.
On the other hand, when the humidity in the air is falling, this creates an impact on the heat of the air that needs to be adjusted. Ventilation, air conditioning and heating systems ensure that the temperature is maintained at a preset temperature.
Dehumidifiers are used to manage humidity over hours and days. Air conditioners can vary the humidity levels by lowering the temperature in the storage space.
SIAM Shipping info : Contact your Siam and DocShipper advisor now. Our staff will make sure to clarify your needs and will provide you with a free quotation for this specific service.
Use the best dehumidifier
The two main categories of dehumidifiers have mechanical or dehydrating functions.
Desiccants work with a chemical to remove moisture from the air. Because this kind of dehumidifier uses the heat from the air as a power supply, it can achieve great energy and financial savings. They are widely used to handle extreme humidity.
Mechanical (or refractory) dehumidifiers are the most common. Like air conditioners, they use a refrigerant that removes moisture. They can also handle extreme humidity, but also can be adjusted. As an example, works of art and books require this kind of storage.
You are looking for logistics and/or sourcing services ? You need a dedicated assistance ?
Our experts will answer you within 24h !
Basics things to know about the warehousing in Thailand
Why is warehousing so crucial within the logistic chain?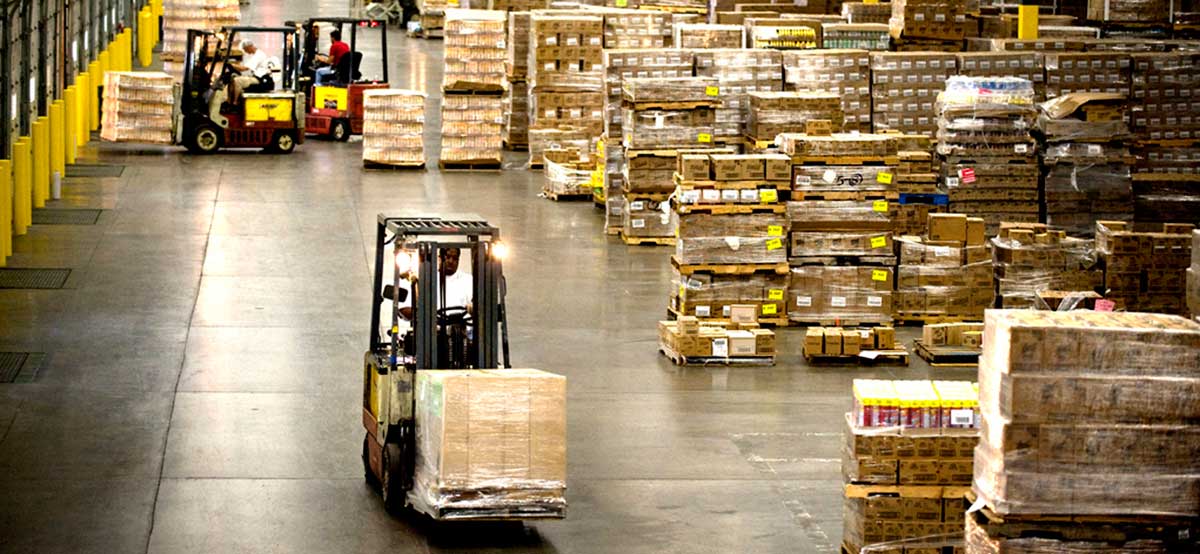 Nowadays, warehousing has to be arranged everywhere before arrival at the recipient. Usually, large warehouses are located on the outskirts of large cities, where different products are centralized before being sent to the recipients.
Providers of warehousing services like SIAM Shipping are vital to your daily business activities, as it offers you a maximum flexibility to your business. In fact, by storing your goods in a warehouse, you can benefit from the possibility to deliver it at any time to any place in the country where it is stored, or internationally.
*Storage services with SIAM Shipping creates an unrivaled utility time!
Our warehouses represent a very important place in the business circuit as they allow your company to continue its production throughout the year by offering and selling their products whenever there is an adequate demand coming from the customers.
The warehouse need becomes very important because some goods are produced only during a particular season when they are requested throughout the year. In contrast, some goods are produced throughout the year but are sold only during certain periods of the year. Warehousing thus facilitates the organization of large-scale production and distribution of goods.
Storage Features
Price stabilization
Warehouses represents a very important stage in the process of price stabilization. It is achieved by creating the utility of time by warehousing goods. Indeed, a drop of the prices of goods can be observed when their supply is abundant. On the other hand, an increase in their prices is observed when the slow season is avoided. Warehousing has a cost that is increasing day by day, so it is important to pay attention to the time spent by goods in warehouses.
SIAM Shipping Advice : You can rely on our strong expertise to advise on how much quantity you should store, for which period of time, and under which conditions.
Scope of risk
Goods that are stored in warehouses are often exposed to many risks such as theft, damage, fire, etc. Of course, warehouses are built in such a way as to minimize the risk of deterioration or fire (even caused by a natural event).
SIAM Shipping ensures a maximum security for the storage of your goods. In fact, our warehouses are equipped with the latest technologies related to safety and security, and a permanent presence on site is ensured by our staff.
Financing
The goods stored by the owner can be used as financial loans, which can be taken from the warehouse keeper. The goods in the warehouse serve as a security deposit for the warehouse keeper, who can use them as a means of pressure towards the owner.
In this way, warehousing can be a source of finance for businessmen in all aspects of business operations.
Classification and packaging
Nowadays, warehouses are starting to have better equipment and thus provide facilities for packaging, processing and classification of goods. Indeed, the goods can be packed according to specific sizes indicated by the owner.
SIAM Shipping provides the best and latest equipment related to warehousing services. In this way, we are able to provide facilities for premium packaging, processing and classification of goods. We can thus offer packing service for any of the goods you may have to store in our warehouse.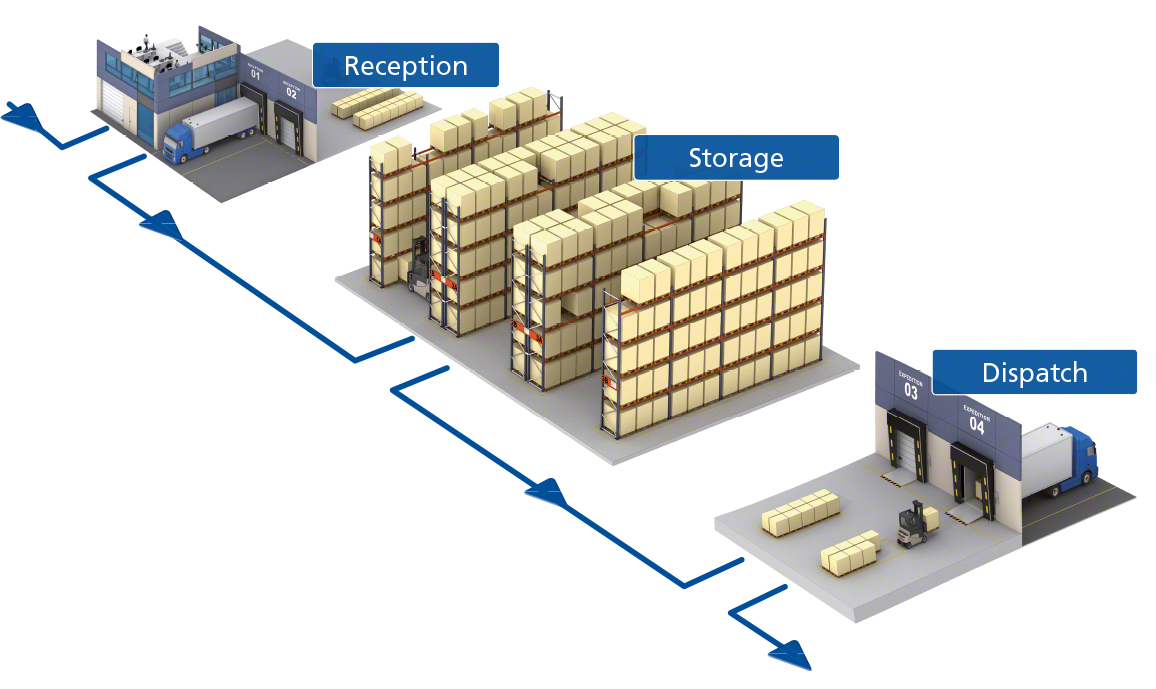 Process step by step – A flow into the warehouse
Warehousing in Bangkok – The Ultimate FAQ
What services does SIAM Shipping provide in a nutshell, when it comes to the storage of my inventory?
We offer warehousing and third-party realization services (3PL), or public warehousing services. We provide efficient and simple storage services, order fulfillment, inventory management, pick-up and packing, delivery, kitting, co-packing and return services for companies operating in Thailand.
What are the benefits of using a third-party warehouse and delivery service?
Third-party storage allows business to integrate new markets with minimal risk and local ability.
You can benefit from the relationships that SIAM Shipping has with public warehouses (3PL) in order to negotiate the best rates on the market.
Screening centers in the company and the need for safety and certification.
You pay only for the space that your inventory occupies and for the services performed by the execution center, so you can concentrate on the core of your business.
You can assemble a product composed of several parts by kitting or by light assembly of finished products thanks to the production warehouse. However, this product will have to be consolidated in order to assemble them.
What are the signs of a high-quality third-party storage facility in Thailand?
4 main signs can tell you if a storage facility can be trusted:
Security – Execution centers used to store your inventory should be in a secure area, provide off-site surveillance and be equipped with video surveillance and fire extinguisher systems.
Cleanliness – The warehouse must be proper and with a real international organization concerning the disposition of every goods; this reflects how your product will be processed inside your inventory.
SOPs – Third Party Logistics should operate with standard operating procedures and manuals tailored to the specific needs of each customer.
The Right People – an experienced, customer-friendly staff who can be contacted by phone or email is the key for your 3PL provider to continue to grow your business and build success.
What kind of goods can you store?
We can store any type of goods. For special requests, such as products requiring permits like the following, please contact us directly:
Foodstuffs
organic foodstuffs
Tobacco
Hazardous substances
Uncleared goods.
How should the goods be labeled? Can SIAM Shipping do the labelling at the warehouse?
Sure, we can handle the labelling on your behalf. Value-added services can be added to the stored products prior to delivery to the agreed location.
What about insurances?
We are responsible for insuring our facilities and operations, but you are responsible for the insurance of your goods being stored in our storage facilities.
Should I acquire the packaging material needed for my products?
No need to acquire packing materials. In fact, as mentioned above, we can provide any type of packing service to ensure an efficient packing service for any type of products.
What are you hours?
We're open from 9:00 am to 5:00 pm.  We're also reachable 24/7, 365 days a year by appointment.
SIAM Shipping Advice : Feel free to meet us in our Bangkok office! Otherwise you can fill our online form, our SIAM expert will contact you back within 48H!
How do you track my inventory?
Our storage facility is equipped with the latest Warehousing management software to offer a proper and efficient tracking of inbound and outbound flows of goods.
Can I customize my services?
SIAM Shipping and DocShipper have one main commitment: provide tailored services to its customers throughout the whole supply chain. Thus, this is also true when it comes to storage services.
*No matter the volume, the period during which you need to store your goods.
SIAM Shipping info : We are delighted to offer its services regardless your needs: one pallet per month, 20 trucks a day, small parcels, or any other request.
What do you charge for your services?
Before providing a price estimate for the service required, your SIAM expert will have to gather information:
Volume
Type of products
Characteristics of the request
Specific needs
Packing requirements
And much more
SIAM Shipping info : Once we've gathered all the required information, we will be able to provide an accurate quotation which will be as closed as possible to your needs and expectations.
I have a question that isn't listed here, what do I do
Please contact us, the whole SIAM Shipping - DocShipper staff will be delighted to answer any of your questions.
SIAM Shipping | Procurement - Quality control - Logistics
Alibaba, Dhgate, made-in-china... Many know of websites to get supplies in Asia, but how many have come across a scam ?! It is very risky to pay an Asian supplier halfway around the world based only on promises! DocShipper offers you complete procurement services integrating logistics needs: purchasing, quality control, customization, licensing, transport...
Communication is important, which is why we strive to discuss in the most suitable way for you!