The ASEAN (Association of Southeast Asian Nations) community is a regional intergovernmental organization comprising ten member countries in Southeast Asia, namely Brunei Darussalam, Cambodia, Indonesia, Laos, Malaysia, Myanmar, the Philippines, Singapore, Thailand, and Vietnam. The ASEAN community was established in 1967 with the aim of promoting regional cooperation, economic integration, and social progress.
ASEAN Economic Community
« Economic Integration has arrived. We must make the most of it »
The 10 nations of ASEAN are putting the final touches on their creation of a single market and production base with a population greater than either the European Union or North America, and the Permanent Secretary of Thailand's Ministry of Commerce, Chutima Bunyaphraphasara, says the Kingdom must now strive to make the best use of the new régional economic integration.
For much of the past decade, the leaders of Thailand's *tic- and private-sector organizations have been preaching the benefits and opportunities promised by the implementation at the end of 2015 of the ASEAN Economic Community (AEC).
As that time arrived, the ASEAN nations had almost perfectly achieved their mission of forming a single market and production base, one of the four major elements of the AEC, by reducing tariff and non-tariff barriers, facilitating intra­regional trade, harmonizing standards, rules and regulations, liberalizing trade, services and investment and allowing a free flow of skilled labor.
The single big message from the Ministry of Commerce's Permanent Secretary, Chutima Bunyapraphasara, is that the time has come; the benefits and opportunities are here for the taking, and it behoves all in Thailand who may enjoy them to make the best use of them.
Moreover, Thailand has a significant geographic advantage. Since the country is centrally located at the heart of ASEAN, Thai companies can conveniently trade with their counterparts in neighboring countries that share borders with Thailand, as well as investing in these countries. Thailand can also serve as a gateway to ASEAN for countries outside the region that wish to do business, export or invest in ASEAN.
"Thanks to our strategic location, Thailand can become a (trading and investment] gateway for our neighboring countries by utilizing the AEC program," Chutima said.
Clearly, the benefits of economic integration have been growing for some years. ASEAN is already Thailand's No.1 trading partner for both exports and imports. The Kingdom's exports to ASEAN have grown consistently, year by year. Total shipments to ASEAN member countries exceeded $59 billion in 2014, accounting for 26 per cent of Thailand's total exports.
In reality, the market for Thai companies has expanded from 69 million people in the past to 600 million people throughout the ASEAN region.
The new economic community obviously presents a jewel of an opportunity for Thai business operators to overcome constraints such as tabor shortages, higher production costs and lost trade privileges. They can now take advantage of ASEAN's "single production base" by moving some of their production to neighboring countries where these issues are not a problem.
To ensure that the country fully utilizes the benefits of the AEC, the government has initiated many projects, including the enhancement of its trade and investment policies to better facilitate business, such as hastening the completion of the "National Single Window" project; investing in road and rail infrastructure to improve connectivity with neighboring countries; promoting border trade by removing obstacles and facilitating trade at border checkpoints; providing special tax and non-tax privileges to projects situated in Special Economic Zones; and enhancing the capabilities of Thai enterprises, especially small- and medium-sized enterprises. It has also assisted the development of human resources in various occupations in order to prepare them for the challenges of the AEC.
"The Ministry of Commerce has been working closely with other parties on these initiatives and we are confident that they will bring Thailand into the forefront of ASEAN and thus our vision of 'Think ASEAN, Think Thailand' will materialize," Chutima said.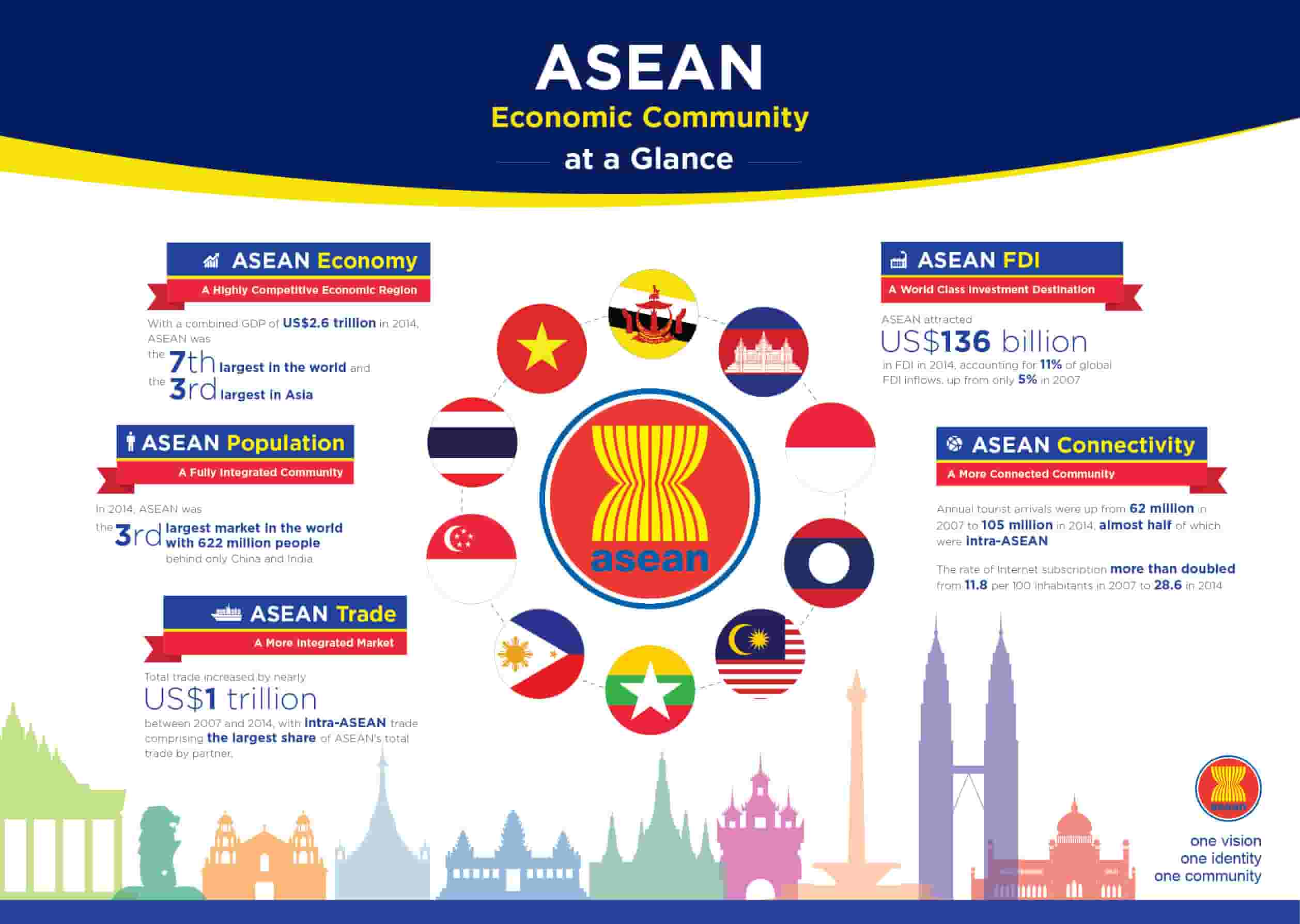 Challenges and Opportunities
Some of the main benefits of the AEC will be the ability of member countries and their businesses to complement their strengths and weaknesses and gain in local and global competitiveness.
"We can utilize benefits from the integration of Asean's supply chain," Chutima said. "As tariff and trade barriers are removed, importing raw materials from our neighboring countries will become more convenient than shipping them from outside the region. We can also bring in labor from neighboring countries to help meet our needs because we are entering an ageing demography. We can also bring in management and know-how from neighboring countries if they excel in particular fields.
"At the same time, we can utilize the transport infrastructure which has been developed to help bring down the costs of our business sector and enhance the competitiveness of our exported goods in Asean and other global markets," she said.
The 10 Asean member countries have finalized their ninth package of commitments under the Asean Framework Agreement on Services. They are now moving Onto the 10th package, although the completion schedule for this package has been postponed by two years to 2017.
Nevertheless, the member countries have already given priority to the logistics sector, among other sectors, and have opened up their markets in accordance with earlier commitments. This is because of the importance of logistics as a trade facilitator that helps to boost trade and investment and promotes the single market principle.
Logistics is now one of the major service sectors on which the Ministry of Commerce has focused its promotional efforts, along with other industries such as tourism and healthcare services. The AEC will present distinct opportunities for Thai logistics service providers. They will be able to expand their operations by establishing warehouses, distribution centers and transport services in other Asean countries.
So far, Thailand has not undertaken to open up its logistic sector more than what is stipulated in current domestic laws. However, Chutima said the sector could be opened up ahead of the AEC's framework because of its important influence on the competitiveness of Thai goods.
"In the meantime, we can unilaterally open up our logistics sector to support our policy of becoming a trading hub of the region," she said.
Chutima said that Thai logistics service providers still needed to enhance their competitiveness to some the country's mission of becoming a regional trading hub. A study commissioned by the World Bank has shown that the Kingdom has relatively high logistics costs – 14.1 to 14.7 per cent of gross domestic product, compared to 8.2 per cent of GDP in the United States and 7.2 per cent in the European Union. Thailand is ranked 35th on the World Bank's Logistics Performance Index, which rated 160 countries around the world. It is lower down the index than two other Asean members – Singapore and Malaysia. The Logistics Performance Index indicates three areas that Thailand should tackle urgently: customs procedures, infrastructure and the competency of its logistics service providers.
Chutima said the government had already announced massive investments in infrastructure projects and was currently making a big effort to improve its customs procedures. On the matter of enhancing the competitiveness of logistics service providers, she said the private sector, especially the Thai International Freight Forwarders' Association, should take a leading role.
"The government sector is very pleased to lend our support if there is a concrete plan proposed to us, since it is our policy to work closely with the private sector," she said.
The Ministry of Commerce's Departments of International Trade Promotion and Business Development implemented several projects to help Thai logistics service providers in 2015, she said. These including training and advisory services to help with organizational management and cost reductions; organizing seminars to disseminate knowledge on various topics such as innovations, "green logistics" and ISO standards; appraising organizations' capacity to achieve ISO standards; holding international conferences on connecting logistics to facilitate the AEC; organizing an Excellent Logistics Management Award; helping local logistics service providers to meet and build networks with overseas governments and their foreign counterparts; and providing space for logistics firms to showcase their services at international trade fairs such as BIG+BIH and THAIFEX in Bangkok.
Further information, visit the official website : ASEAN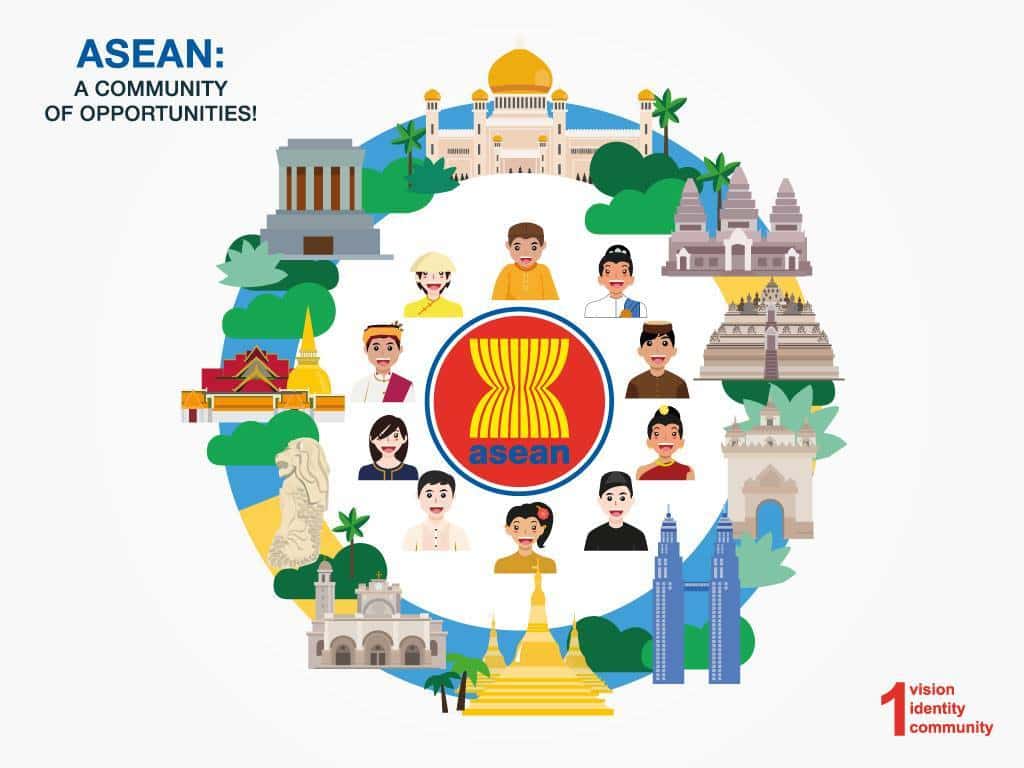 **In order to optimize our services, Siam Shipping and Siam Relocation are now part of the Docshipper group. Our customers can now benefit from total supply chain coverage. Therefore, Siam Shipping team became Docshipper team**
FAQ | ASEAN Community
What is the goal of the ASEAN community?
The goal of the ASEAN community is to promote regional cooperation, economic integration, and social progress among its ten member countries in Southeast Asia.
How does the ASEAN community promote economic integration?
The ASEAN community promotes economic integration through the ASEAN Economic Community, which aims to create a single market and production base among member countries by facilitating the free flow of goods, services, investment, and skilled labor.
What is the ASEAN Political-Security Community?
The ASEAN Political-Security Community is one of the three pillars of the ASEAN community, and it aims to promote regional peace, stability, and security through cooperation and dialogue among member countries.
How does the ASEAN community address social issues?
The ASEAN community addresses social issues through the ASEAN Socio-Cultural Community, which aims to promote regional social progress and address issues such as poverty, education, health, and environmental sustainability.
DocShipper info: Do you like our article today? For your business interest, you may like the following useful articles :
DocShipper Advise : We help you with the entire sourcing process so don't hesitate to contact us if you have any questions!
SIAM Shipping | Procurement - Quality control - Logistics
Alibaba, Dhgate, made-in-china... Many know of websites to get supplies in Asia, but how many have come across a scam ?! It is very risky to pay an Asian supplier halfway around the world based only on promises! DocShipper offers you complete procurement services integrating logistics needs: purchasing, quality control, customization, licensing, transport...
Communication is important, which is why we strive to discuss in the most suitable way for you!