Global supply chains continue to be impacted by challenges associated with the COVID-19 pandemic, including delays and disruptions. Many CEOs today see supply chain disruptions as the biggest threat to their company's growth and their country's economy. Companies must redesign and manage their supply chains to ensure business continuity and future growth. The geopolitical environment has a big impact on the global supply chain. Geopolitical issues, particularly those related to technology, have existed for a long time. Semiconductors, which primarily originate in China, are the major technology that has been at the center of this controversy. The problem is a result of the sanctions the US has placed on the industry. Not just in the US, but all throughout the world, these moves have made it more difficult to make electronic items.
Supply networks can occasionally be opaque due to geopolitical concerns as well. Even within the same supply chain, this is the case between stakeholders. The many bottlenecks that can develop in the supply chain itself are therefore far more difficult to pinpoint.
We will highlight major developments that will have an impact on supply chain planning across industries and regions in this article, as well as important methods that firms may use to determine their readiness to improve efficiency and cost-benefit ratios.
Looking at research and analysis combining economic, demographic, and industry insight, six significant trends have emerged for 2023.
1. Getting costs under control
Cost containment strategies are an important part of any business practice, and supply chain services are no exception.  ‍A price rise at one point will have effects further down the chain because of the supply chain's interconnectedness. At the moment, there has been significant inflation in the cost of labor, energy, and transportation. Due to all of these issues, the current supply chain is at risk. According to a CNBC report, inflation has risen by much to 7%.
Controlling costs will be the first objective for firms in 2023, and supply chains will come under intense scrutiny as everyone scrambles to keep costs under control.
Carriers and LSPs seek to realign their tactics and enable technologies to benefit from the quickly changing market conditions in the transportation sector. However, Shipping companies do more than just monitor carriers. It also addresses customer and after-sales policies that have a significant impact on shipping costs. Numerous strategies and tactics can be used to increase transportation-related income or to reduce transportation costs. 
SIAM Shipping info: DocShipper offers all forms of transport in any region of the world at competitive prices through a well-established system of carefully chosen partners. Feel free to contact us
2. Global restructuring of supply chains.
In 2023, There will be an increasing focus on resilience and agility rather than cost-optimized supply strategies. The shift to onshore or nearshore high-demand/high-volatility products will continue as companies seek to be more responsive to changes in demand without missing opportunities or overstocking. National initiatives to ensure the availability of critical materials and products encourage supply chain leaders to be "friendly" or expand the scope of their sourcing outside particular nations and areas. These tactics make supply chain management more complex, but they also make it better able to respond to ongoing market volatility. As the degree of restructuring results in capacity arbitrage, the ability to quickly identify new sourcing, manufacturing, and logistics options becomes critical as alternative capacity quickly becomes exhausted or expensive.
3. Ameliorate last mile delivery process/ work. Alternative.
The common inefficiencies of last-mile distribution are referred to as the "last-mile problem." Short delivery windows, same-day delivery, fuel costs, last-minute route adjustments, missed deliveries, and customer expectations are just a few of the factors that contribute to the last-mile dilemma. Customers have very high expectations for delivery in a timely manner, and fleet managers are under pressure to meet those expectations. The last mile of the shipping process is sometimes the most expensive and time-consuming step. In actuality, 53% of shipments' overall expenses are frequently attributed to the last mile.
Due to excessive delivery volumes and driver shortages, delivery performance in B2C and B2B markets has been reduced. Over time, customers become less tolerant and companies are penalized for poor delivery performance.
This poor performance is evidenced by a home delivery consumer sentiment survey conducted by Descartes. 73% of consumers said they had experienced a supply disruption in the three months before the survey.
As a result, in 2023, suppliers will concentrate on the performance and capacities of their own and third parties deliveries.
SIAM Shipping Alert: Choosing the wrong shipping company could end up costing you a lot! you may  end up losing your time, money, and energy, which is why you can  Contact us so we can help you 
4. Renewable and Eco-friendly logistics.
Consumers are demanding environmental awareness and more sustainable logistics options. Actually, According to Descartes' survey on consumer sentiment around sustainable delivery, 39% of respondents claimed they routinely make purchasing decisions based on the environmental impact of our company or products.

The best a company can do is to use recyclable or reusable materials to reduce future harm to the planet and keep consumer advocates happy.

In 2023, major retailers and last-mile delivery services will try to offer more sustainable delivery options, this will ensure that supply chains are adaptable and resilient even in the face of quickly changing market conditions and assist companies in remaining competitive in a society that is becoming more environmentally conscious.
SIAM Shipping info: Did you know that most of the sustainable shipping options are actually cheaper than traditional and conventional shipping means?  For more information, contact DocShipper's experts
5. Labor shortage leading to automation.
The Covid-19 pandemic is not only having a devastating impact on public health but is wreaking destruction on the economy, with supply chain disruptions and labor shortages becoming a problem for businesses around the world. In 2023, shippers and logistics companies will focus on automation to Increase the productivity of the available workforce and minimize the number of workers needed. To compete in a changing economy, firms need to invest in cutting-edge technology like AI/ML, robots, and IoT (Internet of Things). A recent survey by Gartner found that 61% of respondents thought technology gave them a competitive advantage. Many people point to emerging technology as an important area for investment, with 20% going toward robotics. On the other hand, automated systems help companies reduce costs, streamline processes, increase efficiency and increase supply chain visibility.
6. The digitization of international logistics
.
Most businesses have concluded in recent years that their supply chain and logistics strategies need to be changed since they are no longer working. They will need to scale their efforts to stand out, run more effectively, and improve services in 2023 by coordinating with the key global macro-trends. They will be able to influence the fundamental evolution and transformation of the sector and enhance the performance and resilience of the supply chain and logistics going forward.
2023 is expected to be a revolutionary year for supply chain management and logistics due to factors such as technology, market changes, and global turmoil. Various technologies and methods are evolving to transform supply chains as companies strive to achieve greater efficiency and sustainability.
Digitization addresses the customer experience, enabling customers to evaluate, quote, and book shipments in seconds instead of days. 
Digitization opportunities are abundant for his LSPs (Logistics Service Providers) and carriers and will have positive effects in many areas.
Figure: Degree of the impact of COVID-19 on the supply chain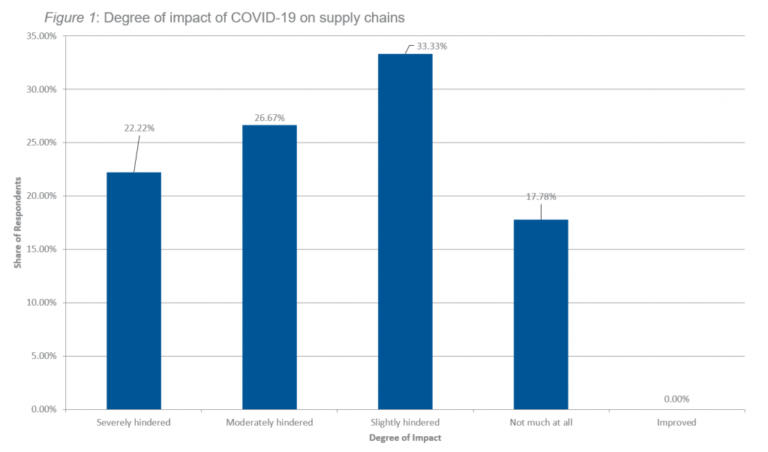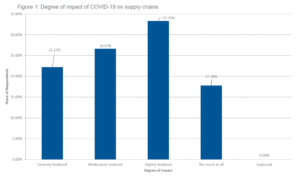 SIAM Shipping Advice: Supply chains are strengthened in large part by technology that is available today. Make Use of New Technology! For more assitance, all you need is to contact us and fill out the form
Conclusion:
We can see that some challenges from 2022 will continue to be relevant in 2023. At the same time, the countermeasures put in place when the COVID outbreak started will continue to be undone. The industry will then have the chance to shift its focus toward more growth. You can anticipate increased competition and lower shipping service prices as a result of this normalizing process.
Businesses in the logistics and supply chain industries will be able to differentiate themselves, enhance their services, and expand the following year and beyond if they anticipate and take advantage of these supply chain developments in 2023.
FAQ |Six logistics and supply chain trends to watch for in 2023:
How has covid-19 affected the supply chain?
The COVID-19 pandemic managed to affect almost all parts of the global supply chain, with almost every organization suffering some consequences. Global supply chains were devastated by prolonged, stringent lockdowns. Essential freight workers were frequently unable to report to work during lockdowns, or if they could, it was only during limited shifts and under difficult working circumstances. During the COVID-19 epidemic, one of the numerous challenges with the worldwide supply chain was the dramatically decreased airfreight, which made airfreighting commodities nearly impossible. Another problem that COVID-19 produced for the global supply chain was that a sizable part of logistics and supply chain experts who worked on the field (at the docks, on trucks, or in distribution facilities) ended up with the virus.
How to ensure supply chain Resiliency ?
Businesses will place a greater emphasis on capabilities that increase agility and enable a quicker response to disturbances, in order to construct resilient supply chains. In the next five years, effective capacity planning, demand forecasting, and predictive analytics will be crucial.
What are the benefits of Sustainable Supply Chain?
There are many advantages to sustainable supply chain management. The ability to aid businesses in minimizing their environmental impact may be its most significant benefit. A sustainable supply chain can also aid businesses in enhancing their social and financial success. Businesses that use sustainable supply chain management techniques frequently discover that they can reduce the costs of resource use and trash disposal. The sale of recyclable materials or the production of electricity from renewable resources may also enable them to create new revenue streams. Additionally, businesses can establish connections with suppliers who support environmentally friendly business practices. These connections with suppliers may give companies a massive advantage in the marketplace. A sustainable supply chain can be a win-win for everyone involved when done appropriately.
What is Procurement Cost Reduction?
The proactive and planned process of determining and bringing down the expenses related to purchasing products and services. Reduced spending while preserving quality and meeting business requirements are the major objectives of procurement cost reduction. There are several tactics available for cutting the cost of buying. Renegotiating contracts with suppliers is a popular strategy. It is possible to achieve this by requesting quotations from various providers, comparing them, and then negotiating with the supplier that offers the cheapest price. A different tactic is to make bulk purchases, which frequently qualify for discounts. Additionally, businesses can collaborate with their suppliers to find methods to cut costs by streamlining production processes and reducing waste. The ultimate objective of procurement cost reduction is to increase financial efficiency for the business without losing requirements or quality. Companies can proactively cut their spending on goods and services by using several techniques, which will boost their profitability and competitiveness.
SIAM Shipping Advise : We help you with the entire sourcing process so don't hesitate to contact us if you have any questions!
SIAM Shipping info: Do you like our article today? For your business interest, you may like the following useful articles :
SIAM Shipping | Procurement - Quality control - Logistics
Alibaba, Dhgate, made-in-china... Many know of websites to get supplies in Asia, but how many have come across a scam ?! It is very risky to pay an Asian supplier halfway around the world based only on promises! DocShipper offers you complete procurement services integrating logistics needs: purchasing, quality control, customization, licensing, transport...
Communication is important, which is why we strive to discuss in the most suitable way for you!