Shipping from and to Phuket
All Inclusive Rates for shipping from and to Phuket
Our door-to-door rates include:
Land transport costs (considering the departure from warehouse/factory to the port/airport of origin and from the port/airport of arrival to the warehouse/factory)
Local handling and transport costs at ports of origin and destination
Shipping & Exchanges
Delivery of management and documentation
Customs duties, without taxes charged on the international purchase of your stock.
You are looking for logistics and/or sourcing services ? You need a dedicated assistance ?
Our experts will answer you within 24h !
Door to door incoterm
We work with incoterm DAP (delivered to the site) for our door-to-door service. There is delivery of goods at the point agreed by the customer. All costs and insurances associated with the main transportation are included in our door-to-door rates, while import costs are not included.
SIAM tips: You want further information about our Door to Door services ? Check directly our dedicated page here: Door to Door services
Sending FCL or LCL door to door
In sea freight, you can choose 2 ways to ship your products. Usually it depends of the volume of the shipment, but it also relies on others factors such fragility or timing. Those two options are simply the FCL which is the Full container (20 feet or 40 feet) and LCL which is a shared container.
Road freight from Phuket:
The choice of road freight (or trucking) with Siam Shipping represents a reliable alternative to sea and air. Indeed, although this mode of transport allows you to get longer, it offers real security to your merchandise at much more attractive prices.
We offer a trucking service on an international platform. We accompany you to any destination for any destination. We also offer parallel services such as packaging or customs formalities.
Whether it is a standard or door-to-door shipping, our platform-form stands out for its high level of security and modernity, which is perfectly combined with national or international logistics operations. We consider every need of our customers, and we adapt our process according to your project to find the best solution for you, your time and your budget.
The trucking service of Siam Expedition is distinguished by its quality. Thus, you can be certain that your merchandise will arrive intact and in time, at the best price.
Information on road freight
To ensure the best success and the best development of your company, a good organization of logistics is essential. At Siam Shipping, we are aware. That is why we use all our network and our know-how to offer you a complete range of services that will perfectly meet your requirements in terms of quality and cost.
Network management
Our supply management services are a range of services that help you manage and consolidate all your transportation needs (multimodal, road, maritime, air or rail), as well as the needs of your supply chain. Supply. Our offer enables you to obtain the creation, management and realization of your logistics, guaranteeing you a wider and more complex transport network.
Transportation management
For medium and large sized shipments, our supply chain solutions, we can establish a transportation management that will improve the performance of your business, with competitive freight rates. Thus, your logistics needs will become simpler, more efficient and more profitable. We use an automated tool to manage the online order price, contact with the various service providers and contract management, shipment visibility and management reports.
The full LTL (Less-than-Truckload)
Trucking Siam Shipping offers logistics at regional, national or international level. We also offer optional options such as insurance or urgent mention. Our offer is distinguished with its personalized services, its listening salespersons and your qualified employees.
Complete truck loading services
If you need an immediate quantity of goods or relocate your premises, we have a fleet of trucks that are dedicated to your company's expectations. For more information, do not hesitate to contact us, we will return you in the highest delay.
What does our door-to-door service include?
Complete delivery
Our door-to-door service includes all the necessary steps to ship the cargo, from its origin to the destination:
The collection of goods from the consignor's warehouse or from the address indicated by the consignor. On the other hand, the management of the cargo remains your responsibility.
Sea, air or land freight.
Import and export taxes, but VAT and other taxes are not included.
The delivery of the goods, once unloaded, to the destination that you indicated to us.

Domestic and transborder rail freight forwarder
We are a freight forwarder and we also offer our services in all Asia. We can provide intermodal freight for all companies throughout ASEAN, our core business. This will allow companies to reduce costs and this offers an alternative to road transport.
The intermodal rail is also a long-term transport solution, it can be a real door-to-door service solution. It is also a more economical means of transport for companies, which will respond more rapidly to the growing need of the consumer.
Safety is also more important in this type of transport. Indeed, intermodal rail transport greatly reduces the risk of delay and / or theft of merchandise in the cargo. It is also considered a more environmentally friendly means of transport since it requires less fuel.
Intermodal transportation
Intermodal transport is a means of transport of goods that uses at least 2 modes of transport (trucking, rail or boats) without handling the freight. Thanks to these different means of transport one allows oneself to have the best characteristics of each transport used, this also brings savings for the sender. This brings a real scalable capacity for shippers, so if you need a door-to-door service, contact us to know more about our intermodal solutions.
Customs regulations on international move from/to Phuket
Household goods & personal effects
Some products can be imported into Thailand without any tax for the foreigner who imports them, but these personal effects are subject to specific conditions. If the person importing the goods has diplomatic status, holds a valid one-year Thai work permit, his goods enter within six months of his arrival in Thailand. If the above conditions are verified, only one ship or air can be authorized, and the shipper can bring his domestic appliances only free of duty. The rule is similar if it is a Thai national who wants to return his property and personal effects to Thailand. He must, however, prove that he has resided for more than a year in a foreign country and on a continuous basis. It is only by air and sea that goods can circulate, and each of the electrical appliances is exempt from duty.

Anyone not complying with the above rules will have to pay fines. This is the case for all returning Thailand or foreigners who import household appliances and personal property in Thailand. The amount varies according to the objects and is negotiable with the customs service. Siam Relocation will do everything possible to limit the price of these tax obligations to the maximum.
The sender is not obliged to be present in person during customs clearance at the port or airport, but we must despite all present his original passport and a work permit, also original, one year to the Thai authorities During clearance. The shipper must therefore already be in Thailand for the dispatch to be cleared from the customs. A returning Thai national must present his old and current passport.
SIAM tips: You want further information about our Moving services ? Check directly the website of our moving department: SIAM Relocation
Prohibited & restricted goods
Some goods are prohibited at the time of entry into Thailand. This includes firearms, ammunition, pornographic material and short wave radios.
Vehicles and move
Foreign diplomats may import a vehicle into Thailand free of duty. Indeed, the Ministry of Foreign Affairs of Thailand must send a letter verifying its status and request that the Thailand Customs authorize the duty-free importation. For other foreigners and Thai nationals importing a vehicle is a very difficult thing in Thailand. The procedures are very complex and very long to import his vehicle. The right to evaluate can reach up to 300% of the purchase value of the vehicle.
Pets on international move
There are special regulations for domestic animals in Thailand. Dogs, cats and birds can be imported without a quarantine period. For this you will need a health certificate dated less than 7 days and a vaccination card in progress.
Pets can be sent as cargo and the fee will be around US $ 4000 per animal. Prices vary depending on the type and size of the animal. No fee is charged if the animals are brought in excess baggage.
Phuket is one of the southern provinces (Changwat) of Thailand. Neighboring provinces are Phang Nga and Krabi, although Phuket is an island and its borders are not terrestrial. North of the island is Phuket International Airport.
Geography of Phuket

Phuket is the largest mainland province of Thailand located in the Andaman Sea, west of the Malay Peninsula. It is very mountainous, with a mountain range west side which aligned north to south. The mountains of southern Phuket extend 440 kilometers from the Kra Isthmus. The highest point of the mountain chain is the Khao Phra Phuket Mi, with an altitude of 1138 m; while the highest point on the island itself is Mai Tha Sip Song (Twelve Canes), at 529 m.s.n.m. About 70% of the island is covered with forests. The western coast has several sandy beaches, but the east coast is generally swampy. The southern end of the island is Laem Promthep, a place very appreciated to watch the sunsets.
The main tourist region of the island is the beach of Patong, which also concentrates most of the nightlife of Phuket, besides being the largest shopping center of the island. Other popular beaches are Karon, Kata and Nai Harn to Bang Tao.
The island was affected by the tsunami of December 26, 2004 that devastated much of the coasts of the Indian Ocean
Economy of Phuket

The exploitation of tin mines was an important source of income for the island since the sixteenth century. Many Chinese workers were employed in the mines, and their influence on Phuket culture can be felt even today. With the falling price of tin exploitation definitively ended. Currently, Phuket's economy rests on two pillars: rubber plantations (Thailand is the world's largest rubber Producer), and tourism. Since the 1980s Phuket is one of the major tourist attractions of Thailand. Most of the sandy beaches of the island were transformed into tourist centers, with Patong, Karon and Kata are the most popular.
SIAM tips: Click on the following link to check more about the airport in Phuket : Airport in Phuket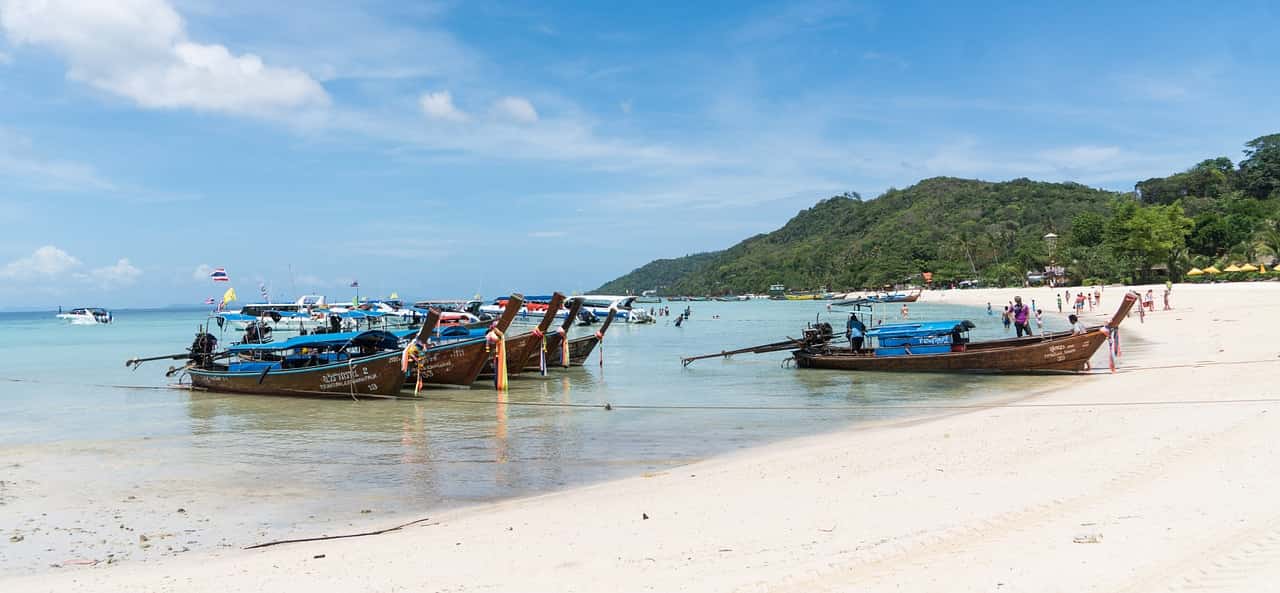 History of Phuket
The most significant fact in the history of Phuket was the attack by the Burmese in 1785. It is said that Sir Francis Light, a captain of the East India Company, sent a message to the local administration, warning that he had observed that Burmese forces were preparing for an attack. Kunying Jan, the governor's wife, who had recently died, and her sister Mook, organized the defense of the island. After a month of siege, the Burmese were removed, the March 13, 1785 and the two women became national heroines, receiving the King Rama I, the honorary names Thao Thep and Thao Sri Sunthon Kasatri.
During the reign of King Chulalongkorn (Rama V), Phuket became the administrative center of tin production in the southern provinces. In 1933, the Monthon Phuket was dissolved and Phuket became a province.
The old names of the island include Ko Thalang and Junk Ceylan, an English Malay Tanjung Salang distortion (Cape Salang).
Religion in Phuket

Like most of Thailand, the vast majority of the population is Buddhist, but there is also a significant number of Muslims (17%).
SIAM Shipping - Dedicated freight forwarder in Thailand
Due to our attractive pricing & dedication, many customers trust our services and we thank them. Stop overpaying the services and save money with our tailored package matching will all type of shipment, from small volume to full container, let us find the best and most cost-effective option.
Communication is important, that's why we strive to discuss through the most suitable way for you !