SIAM Shipping info : **In order to optimize our services, Siam Shipping and Siam Relocation are now part of the DocShipper group. Our customers can now benefit from total supply chain coverage**
Export and import licenses in Thailand
DocShipper advises you on Thai regulation for you international transport
In Thailand, many foreign entrepreneurs are attracted to the import / export business since this is an area not restricted by the Foreign Business Act of 1999. Indeed, a "farang" can proceed an import / export business without the need for a 51% shareholder in Thailand or without applying for authorization from the Thai government. Moreover, there is no general law on the importation of goods, which is at first very attractive to contractors, and secondly it means that the goods can be imported into Thailand without restrictions. Nevertheless Thai laws have been drafted to restrict the importation of specific goods. The difficulty of an import activity is concentrated in management since the Department of Foreign Trade create import licenses for different products. In addition, licenses are created for different products issued by different departments given that there are different government policies involved in import control of one type of good as opposed to another. To make it clear, an importer must hold the import license of the government department concerned.
There are goods that require an import license from the Ministry of Foreign Trade, such as unfinished pieces of clothing (to collect statistical information) of used motorcycles and motor vehicles (to protect the Public) and color printing machines in order to prevent anyone from producing counterfeit tickets. In addition, everything related to the import of chemicals, drugs and pharmaceuticals is strongly controlled by the Food and Drug Administration. Indeed, this administration ensures the protection of public health, but also national economic security. The importation of gold also requires a license from the Ministry of Finance to protect national financial security. In order to protect national cultural artefacts, the Department of Fine Arts must issue a license for the import of ancient idols.
Some machines need a specific license from the Department of Intellectual Property to avoid any copyright infringement. The importation of chainsaws requires a license from the Department of the Royal Forest to prevent illegal logging.
We advise foreign contractors who do not know if they need any license to import or export any property to contact the Ministry of Foreign Trade, which is actually a subdivision of the Ministry of Commerce.
SIAM Shipping info : mport and export license are something mandatory by official Thai customs. To know more about their process, you can visit their website on the link : Thai Customs. For further information, you can also check our FAQ dedicated on import & export activities.
FDA Registration of Thailand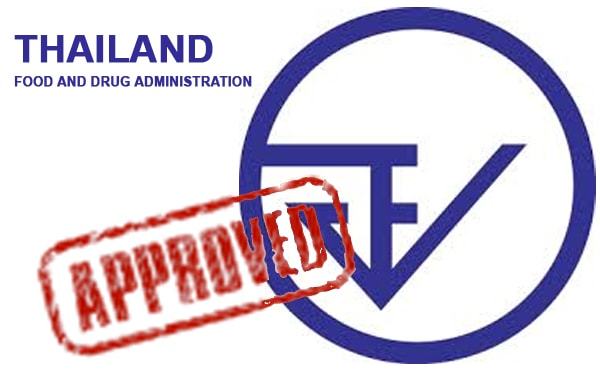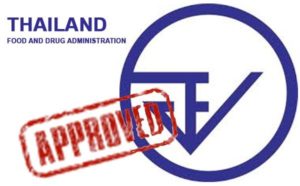 It's necessary to register with the Food and Drug Administration of Thailand (FDA) for importing pharmaceutical products, food, food supplements, animal health products or other Medical, narcotic and toxic substances. The time required to apply for a product registration in Thailand and to receive registration certificates from the FDA is very uncertain and may vary considerably.
Nevertheless, we can give you a rough idea of ​​the registration time required for the following products: one-week cosmetics, general medical devices and toxic substances from one month to four months, while food and pharmaceutical products may take several month.
SIAM Shipping info : To have further information about the FDA (Food & Drug Administration), you can visit their website directly on this link : Food and Drugs Administration.
Thailand Drug Registration
The Thai FDA requires that importers and manufacturers in Thailand obtain their approval before importing or manufacturing medicines in Thailand. The FDA classifies drugs into generic drugs, traditional medicines and veterinary drugs, each with separate registration requirements. General drugs are grouped into distinct generic categories, new drugs, and new generics. Each category of drug has a separate set of requirements. The Thai FDA issues licenses for drugs for indefinite periods.
Registration of medical devices in Thailand
All medical devices in Thailand are controlled by a certified division of the Thai FDA. Medical devices will require licenses or registrations. The Thai FDA regroups medical devices in the subcategories of 3 classes as follows:
Class 1 medical devices: condoms, surgical gloves, syringes and diagnostic kits.
Class 2 medical devices: rehabilitation devices, blood alcohol test kits, silicone implants and test kits other than for diagnostic purposes. Class 2 requires a USFDA certificate.
Class 3 medical devices: the lowest risk device category.
Registration of cosmetics in Thailand
The Thai FDA categorizes cosmetics products in 2 class according to the content of cosmetic ingredients:
1. Controlled Cosmetics: The content of the controlled ingredients of a cosmetic product will require notification of the product to the Food & Drug Administration ahead it is permit to be discharged on the market. The process leading time is usually finish within one day maximum.
2. Specially controlled cosmetics: Cosmetics product require specific registration with the FDA, otherwise it will be impossible to import such product. The registration process usually takes 30 working days.
SIAM Shipping Tip : You want further information about the importation of cosmetics in Thailand ? Check our dedicated article: Cosmetics regulation
Hazardous substances registration
According to Thailand's Dangerous Substance Act, the Thai FDA sort dangerous substances into four class according to the degree of danger:
Type 1 Hazardous Substances: Low-hazard products to be monitored. The import, export, manufacture or hold of a Type 1 substance in Thailand will not require a license or registration but is necessary to be certified and get approbation from thai government.
Type 2 hazardous substances: products that must be both checked and certified. Type 2 requires notification of the product to the FDA, registration and compliance with specific criteria.
Hazardous substances of type 3: Products with a higher degree of danger require a stricter control procedure. Type 3 must get an FDA license and a certificate of registration.
Hazardous substances of type 4: products which may endanger the welfare of buyer, animals, plants, property or the climate. Thai law bans the import, export and possession of Type 4 in Thailand.
SIAM Shipping info : To know more about Hazardous substances, we invite you to check directly our dedicated page: Hazardous substances.
Food registration in Thailand
Anything related to the importation of controlled food products in Thailand requires registration with the Thai FDA with labels fully adapted into Thai. This import will result in an analysis including the details of the processing and the ingredients to verify that Thai FDA standards approve the separate manufacturing license. Noted that import licenses must be renewed every 3 years. 
Get Thai FDA licenses
Many formulas and documentation are required to obtain an FDA license for the importer or to produce food or medicines in Thailand. You are looking for a need for registration certificates and spare parts. A full and complete application, usually with the help of a lawyer can help speed up the filing process. The FDA fees are quite variable, depending on the type of product for your application.
Method of payment – The letter of credit
Advising Letter of Credit
When you are a business partner, you receive a letter of credit notice, previously authenticated by Bangkok Bank, within 24 hours of the letter of credit being delivered.
If you read the terms and conditions correctly, and detect some that you believe are incorrect, you can not register with the importer of the modifier, you may be at risk of not receiving payment or deferred payment.
Letter of Credit Confirmation
*Once you have met all the conditions set out in the letter of credit, your payment is insured.
However, if you do not comply with the specific terms and conditions of the letter of credit, or if you submit documents with anomalies, the bank is not obligated to pay.
Transferring Letter of Credit
The Bangkok Bank will transfer the rights of the first beneficiary, terms of use and specific conditions in the L / C to a second-time manufacturer. This will facilitate business operations and purchases, while providing insurance to the manufacturer under the transferred L / C.
A Letter of Credit can be transferred only once, plus the total or partial financing system to the owner of the property or to one or more manufacturers. It's impossible to banned on some parcel if there is more than one payment.
Assignment of Proceeds from Letter of Credit
If you organize exports from domestic producers to a foreign customer, the more you manufacture, or the goods, the assignment of the product to the letter of credit is a convenient way for the organizer to make your payments. Even if the L / C is not qualified as transferable, the beneficiary may apply to the bank in Bangkok for proceeds under the L / C to the transferee. All rights under L / C still belong to the beneficiary.
Packing Credit
Receive a short-term working capital loan for the purchase of materials or intermediate materials for export. Simply provide proof of acquisition and administer for an export loan under a credit letter or export allowance under an agreement / pay an order.
Bill Receivable Under Letter of Credit
This service offers you to get a prepayment by the financial administration by a limited loan instead of delaying for payment from the issuing bank L / C. You can choose to receive a payment after the Issuing bank L / C paid the cost.
To ensure that your application is processed quickly, prepare all required documents as a costume:
Original L / C
Original documents required by the L / C as payment condition
Request for Negotiation / Reduction of Letter of Credit Export Bills (BBL Application Form)
Outward Bill For Collection
Request your collectible documents to your trading partner quickly and conveniently via our global network of correspondent financial institution. We track payments made by your trading partner.
International Inward Fund Transfer
Our network of more than 1,000 partner banks around the world and branches in ASEAN and major savings means you can receive money in a fast, safe and efficient way and save on fees.
The following information must be sent to the assignee:
Recipient's name and bank account number
SWIFT address of the bank
To comply with the change control regulations, you must complete a foreign exchange transaction form for value of your shipment at USD 50,000 or more (or the equivalent in another invention at market rate) and suppliers of forwarding information to the national Bank showing the objective of the transfer of funds. In addition, if you receive goods or services more than 360 days after the date of export or after the date of the transaction, you must complete the form and related supplies (if applicable) to request L the Bank of Thailand.
Forward Contract
Exports confidently goods without having to care about currency variation. You can sell cash from other countries in advance by doing a futures agreement with national bank and showing the value and exchange rate you will purchase on the choosing date. Real agreement can aid you to avert the risk of fluctuations in foreign currencies and exactly adjust your expected trading revenues from the trade date.
SIAM Shipping Tip : You shall give information to the bank that mention your future obligations in foreign currency when you book the exchange rate.
Open a foreign deposit account
This is an easy option to decrease the risk of money fluctuations because you can deposit cash in another currency and quickly convert them into Thai baht. This will offer you flexibility and allow you to effectively manage your income and expenses. The export credit insurance and export credit insurance service helps you decrease the risk of not getting refund from your trading partner. You will receive protection for various payments covering the price of shipping goods to commercial markets around the world. (Coverage is 80% of damage caused by commercial risks and 90% of damages resulting from political risks) Export Note (P / N) Receive cash with a short-term loan for exporters pending payments Under "Open Account" trading conditions.
SIAM Shipping | Procurement - Quality control - Logistics
Alibaba, Dhgate, made-in-china... Many know of websites to get supplies in Asia, but how many have come across a scam ?! It is very risky to pay an Asian supplier halfway around the world based only on promises! DocShipper offers you complete procurement services integrating logistics needs: purchasing, quality control, customization, licensing, transport...
Communication is important, which is why we strive to discuss in the most suitable way for you!