Bangkok crossroads of the world
With a population of more than 19 million, Bangkok is one of the most visited cities in the world. This city is considered as an attractive destination for expats who benefit from all the benefits it offers. Bangkok welcomes more than 20 million visitors a year.
In addition to be a popular destination, Thailand is a member of ASEAN (Association of Southeast Asian Nations) which is a political, economic and cultural organization of ten Asian countries. South-East Nations was founded in 1967 in Bangkok as part of the Cold War.
Docshipper Remark : Thailand is also privileged by its strategic geographical position, it shares its borders with four ASEAN countries: Malaysia, Cambodia, Laos, and Burma.
** In order to optimize our services, Siam Shipping and Siam Relocation are now part of the Docshipper group. Our customers can now benefit from total supply chain coverage**
**In order to optimize our services, Siam Shipping and Siam Relocation are now part of the Docshipper group. Our customers can now benefit from total supply chain coverage. Therefore, Siam Shipping team became Docshipper team**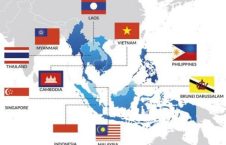 With a growing population in Thailand and being the crossroad for several countries in Southeast Asia. Thailand's has a heavily used transportation network, which is growing each year, with many projects underway, but the question is : given the population growth, will the development of transport infrastructure be sufficient ?
An issue that is still at the heart of the debates.
What modes of transportation in Bangkok?
The capital of Thailand, offers several transportation, that allow to circulate in the city, between cities, but also between countries (foreign).
Among these:
Taxis
Tuk-tuk (three-wheeled motor scooter)
Motor-bike taxis
Bus
Boats
Subways: BTS (Skytrain) and MRT (underground)
We recognize that the better way to go around the city is the moto-bike taxi, which is not affected by traffic jams. We can only notice that the passenger will be in contact with the pollution coming from cars, or moto-bikes. We advise to wear a mask when you go on them.
Docshipper Info : Bangkok is a big city, but the budget for transport infrastructure is quite limited since it represents only 5% of the total budget of the country between 2003 and 2013.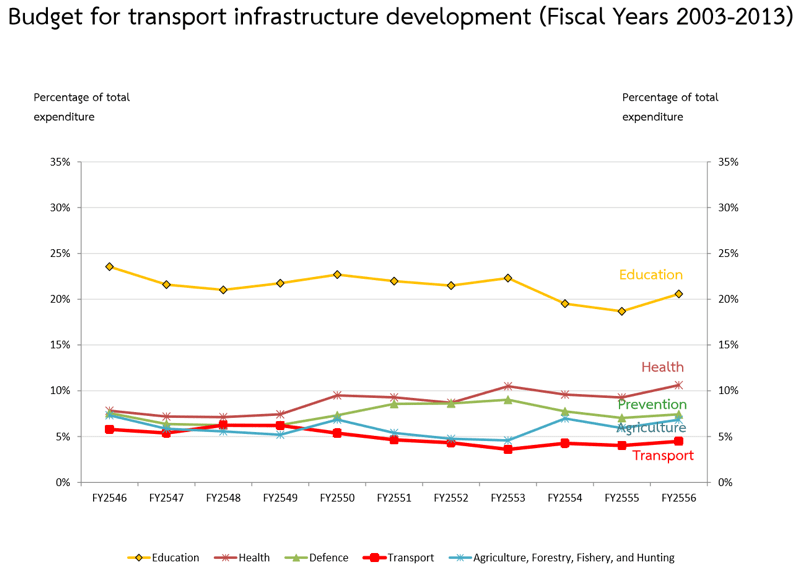 Currently, we have five different transport networks:
Primary roads: which mainly include highways
Secondary roads: rural and local roads
Sea lanes: which allow boats access to rivers, canals, and the coast.
Railways: There are two, single-track and double-track
Airports: domestic and international flights, Bangkok airways, and navy airport
Here is a table that illustrates the number of kilometres covered by these transportation networks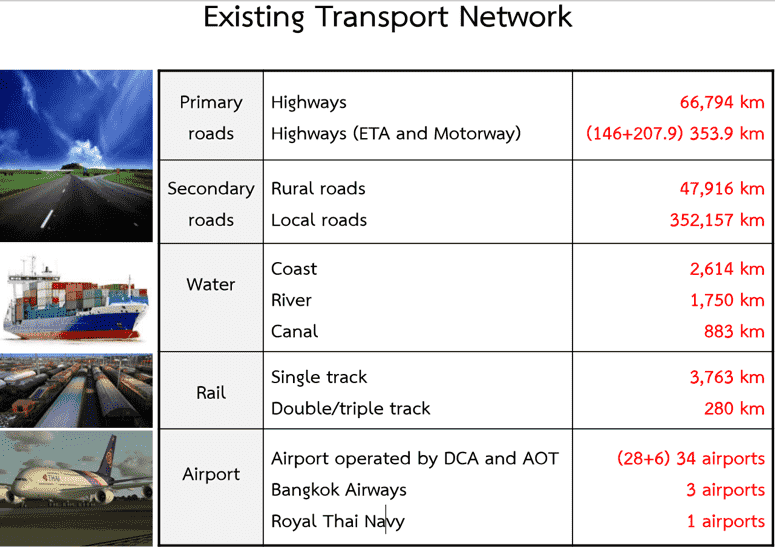 Transportation issues in Thailand
The main problems of a congested city like Bangkok are the noise, the accidents, the air pollution and the denaturalization of the landscape. Pollution is well known to cause many respiratory diseases and is the first consequence of global warming. Thus, we must promote public transport to reduce the number of drivers of private cars. This is very complicated knowing that the state gives help to buy a car and it is the cheapest means of transport for locals or tourists.
Docshipper Example : The Thai government has reacted with plans to build new infrastructure that will allow most residents to benefit from public transport to reduce the number of cars and reduce congestion.
The strategy adopted by the Thai government
The Thai government has put in place 5 plans over the 2015-2022 period to reduce cost of logistics and transportation, improve competitiveness of the economy.
Plan 1: Intercity Rail Networks Development
Thailand's railway network currently has a combined length of 4,043 km. The average speed of its passenger trains is 60km/hr as compared with 39 km/hr for its freight trains. The much slower rate for freight trains is because most of them travel on single track lines.
Docshipper Remark : Over the next seven years, these lines will be developed into double or triple track line which will enable the trains to travel at 100-10 km/hr.
The Double Track Projects of 6 routes started in 2014 and must be completed this year. The project has added 903 km of railway at a cost of 129,308 million baths. In parallel, a second project continues. It consists in creating 8 new roads, it started in 2015 and it will finish in 2020. It will allow to add 1626 km of railway. The aims of the project for 2020, is to reduce intercity travel by private car proportion from 59% to 40%.
In the table you can see the benefits of this project:
| | | |
| --- | --- | --- |
| | Present | Over the next seven years |
| Combined Length | 4,043 km | 5,097 km |
| Single Track | 3,685 km | 1,882 km |
| Double / triple Track | 358 km | 3,215 km |
| Network | 47 provinces | 53 provinces |
| Trip | 200 trips / day | 800 trips/day |
| Good transportation | 11 million ton/year | 50 million tons/year |
| Passenger transportation | 45 million passengers-trips/year | 75 million passengers-trips/year |
MLIT and Mot will cooperate on the development of the high-speed rail on Bangkok-Chiang Mai route with use of Japanese high-speed rail technologies and experiences. Today this line is the busiest since Chiang Mai is one of the favourite destinations of tourists.
Railway development on Southern Economic Corridor
The objective of the Project is to expand freight railway transportation between industrial parks along the Southern Economic Corridor and Laem Chabang Port by improving railway transportation system and by establishing the freight management system jointly with State Railway of Thailand (SRT), thereby contributing to the sustainable economic development in Thailand.
Plan 2: Improving Public Transport Networks & Services
Expansion of MRT (metro) and BTS (skytrain)
Since August 2016, the MRT has two lines, the blue and the violet. The creation of the purple line was part of the infrastructure development project for the 2015-2020 period. This has greatly facilitated the movement of residents through 16 new stations. 3 other lines are planned, the pink, yellow and orange line.
At the BTS level, the extension of the Sukhumvit line to the south started in 2016. It was inaugurated in 2017 and it added 9 new stations. The northward extension towards Rangsit University is underway.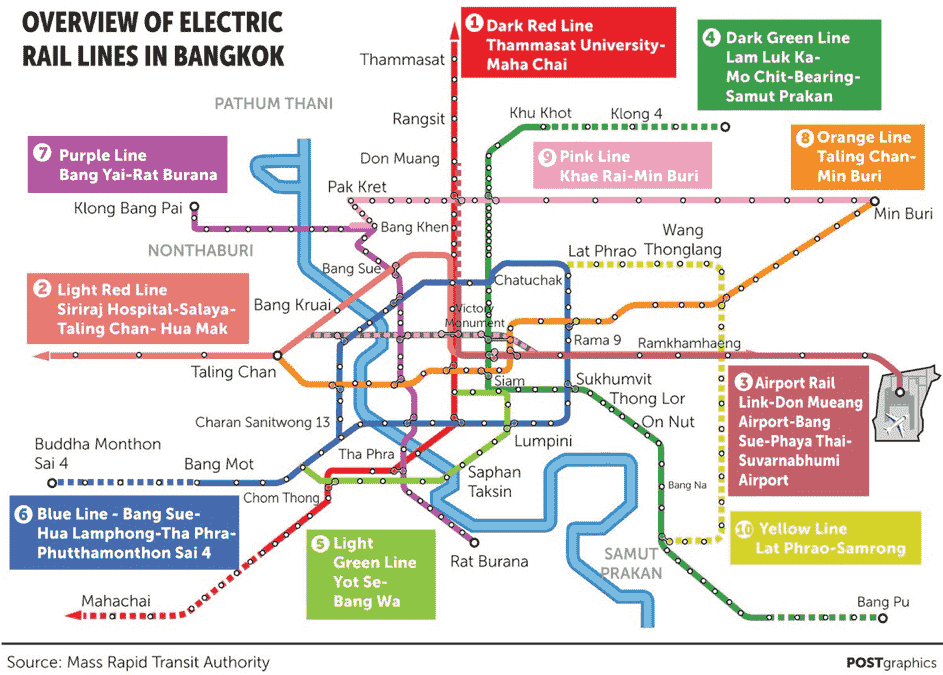 Construction of roads and bridges
This new route would provide a connection between the Western Outer Ring Road and Rama II Road. The project is being planned by the Expressway Authority of Thailand (Exat). The tender process is expected to be run in December 2017 with the winner being selected in the first three months of 2018.
Meanwhile plans are also being made for a new bridge that will span the Chao Phraya River that is intended to help cut congestion in the area. The project is being planned by the Rural Roads Department of Thailand, with the new crossing located close to Sanambin Nam Road
Procurement of NGV buses and depots
The Bangkok Mass Transit Authority (BMTA) has been working for 11 years to procure 489 natural gas-powered buses to replace its ageing fleet and is expected to complete the task in 2018.
It plans to buy 35 electric buses and 2,476 hybrid buses in the future.
Plan 3: Enhancing connectivity between key domestic production base and neighbouring countries
Dawei Special Economic Zone
The development of the Dawei Special Economic Zone (DSEZ) project is the development and implementation of projects on the designated area of ​​land from Phu Nam Ron, Kanchanaburi, and the Thai border, is accessible by road. The DSEZ project may include an offshore port, shipbuilding and maintenance facilities, an industrial complex, petrochemical complexes, an oil refinery, a steel mill, a fertilizer plant, a coal or gas plant, other public services linking Dawei District lands to Thai borders with oil and gas pipelines and linking transmission lines along roads and rail lines, the township for residential and commercial development and tourism, resorts and activities for the benefit of the people of Myanmar for the region.
Plan 4: Increasing Water Transport Networks
For the port of Laem Chabang it is phase three that will start. As a reminder, this project is divided into three phases of expansion. The goals of the phase III named "development project" is to serve the increasing throughput in the future. Thanks to its expansion phases, Laem Chabang is the world's 22nd port.
You can see the three phases in the photo: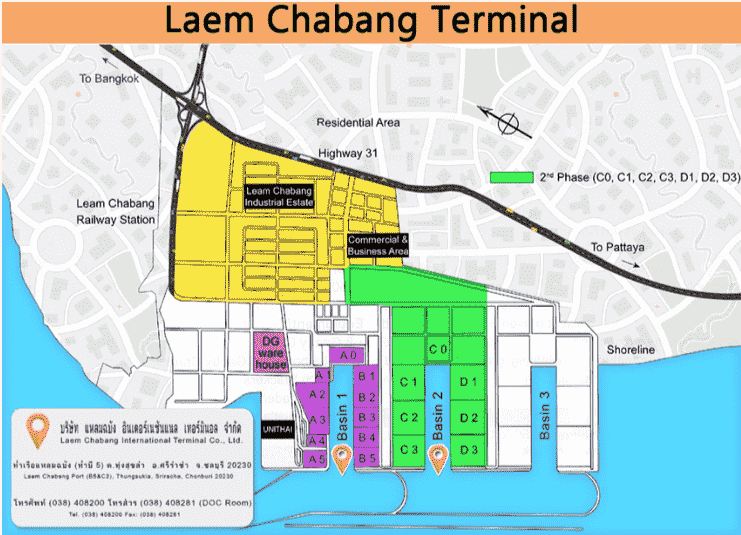 Single rail transfer operator (SRTO):
Goal:
Develop the infrastructure and necessary facilities to serve the unloading / loading containers transported by rail in the port area.
Increase the efficiency of the rail transfer and then make the operation faster and safer.
Reduce the country's logistics costs respect for government policy, Ministry of Transport and Port Authority of Thailand.
Coastal port development
Goal:
Develop the coastal terminal for the transport of containers transported from / to LCP by coastal vessel of the southern port of Thailand or by barge from the inland waterway.
Reduce the country's logistics costs in line with Government policy, Ministry of Transport and Thailand Port Authority.
Reduce traffic congestion and provide port users with a cost-effective mode of transportation.
Plan 5: Enhancing Air Transport Capability
Pushing forward the development of major airports as gateways will improve connection to other countries.
Airport capacity expansion
In March 2016, the first phase of expansion of Suvarnabhumi airport began, it includes 28 parking spaces for long-haul aircraft, tunnels and a network of utilities. The second phase that began last October includes an expansion of the east wing, the main existing passenger terminal.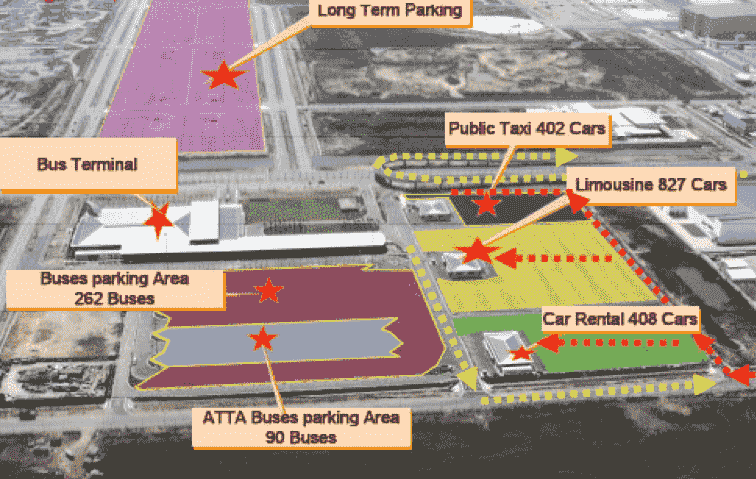 **In order to optimize our services, Siam Shipping and Siam Relocation are now part of the Docshipper group. Our customers can now benefit from total supply chain coverage. Therefore, Siam Shipping team became Docshipper team**
SIAM Shipping | Procurement - Quality control - Logistics
Alibaba, Dhgate, made-in-china... Many know of websites to get supplies in Asia, but how many have come across a scam ?! It is very risky to pay an Asian supplier halfway around the world based only on promises! DocShipper offers you complete procurement services integrating logistics needs: purchasing, quality control, customization, licensing, transport...
Communication is important, which is why we strive to discuss in the most suitable way for you!