As online shopping becomes more popular by the day, businesses are striving to offer the best shopping experience at affordable prices. And so, if you are starting, you must put in place the resources needed for an efficient e-shipping business.
To get your ship sailing, here is an outline of exactly what you need to start and grow your e-shipping business.
Siam SHIPPING can assist with your e-commerce business by providing international shipping and logistics expertise, supply chain management, customs clearance, warehousing and fulfillment services, shipment tracking, customer support, and cost optimization strategies. They can help you streamline operations, improve customer experience, and ensure efficient shipping and logistics processes for your online store.
Conduct Market Research
The mistake many people make is settling for a product first before undertaking market research. You must understand the dynamics of e-shipping business before choosing the product. Delve online and dig deep into the search trends revolving around shipping services. What are people looking for concerning e-shipping? That is the problem you need to weave your e-shipping business around. Provide a solution to a problem that people are searching online but not finding many answers to.
Next, research competitors in the industry; visit their website to find out whether their services meet the demand. Your competitors will cut across the shipping and packing companies and even retailers that provide shipping and packing services. Important to note is the value proposition.
Use your findings to start an e-shipping business that meets the market needs and fills the market gap.
Lastly, research your target audience demographic characteristics. You can get granular and even outline the psychographic characteristics of your ideal customer. This will help you tailor your e-shipping business to meet the preference of your potential customers' needs.
Understand How E-shipping Business Work
As you venture into e-shipping, you can make the process easier by planning and researching more about e-shipping. The right information will help you create a seamless business that gives your customer a great experience.
Where do you start? Here is an outline of the key areas to look into.
Packing Options
Packing is one of the crucial aspects of e-shipping. Why? The number one reason for customer complaints and returns is damaged products, usually because of poor packing.
Research safe packing options that are ideal for the type of products you are shipping. Also, put into consideration the fact that the size and weight of the parcel influence shipping cost. You'll want to keep your parcels light and small.
Interested in our services? Need personalized information?
Our experts will answer you within 24 hours
International Shipping Regulation
If you are starting an international e-shipping business, it's imperative that you understand the international shipping regulation. The regulations vary from country to country. Overall, you must declare the shipment value and whether it's a gift or commercial. It would help to have an in-depth understanding of the regulations of the particular countries you are setting up the business to avoid any delays or, worse, your customers being charged exorbitant duty and taxes.
Courier Services
Think critically of the courier service to use in your business. To have a clear overview of the options available, use a courier comparison service to have an idea of the courier services within your area and the different plans they offer.
To settle for the right courier, consider the type of services they offer, cost, reliability, and delivery speed.
Order Tracking
Most courier services offer a built-in tracking system at affordable prices. Thus, when looking for a courier service provider, ensure this is included. This way, you can give your customers peace of mind with every purchase they make.
Shipping Cost
Consider the cost of the entire shipping process, from receiving the order to ensure it's in your customer's hands. Every little change adds up to the overall cost.
Check Permits and Licenses
With the preliminary research done and a clear picture of the things you need to set up for your business, it's time to be in sync with the law. Every state has different regulations depending on the type of business. Your role is to contact the appropriate agency and find out the type of business license and permit you need for your e-shipping business. It's equally important to know the tax requirements and any other official documents you might need.
Discover more about DocShipper's services and activity through our free brochure
Our success is defined by yours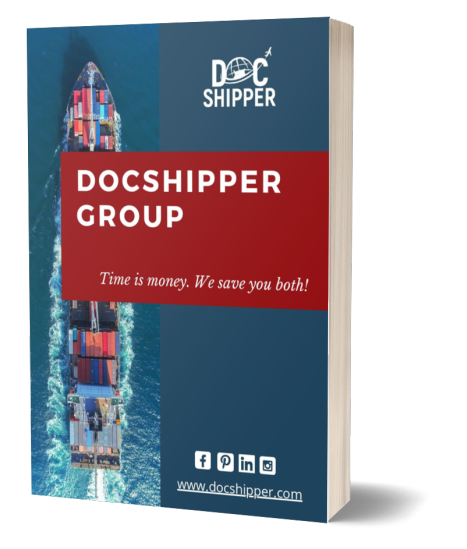 Choose a Shipping Strategy
You want to use shipping strategies that reduce cart abandonment and increase revenue. To do this, you'll consider three things:
Shipping destination: Domestic shipping can work well with flat rates or free shipping options. You can also set up your rates based on the different zones you operate in.
Product size and weight: This is the most crucial factor. If your products are relatively uniform, customer location is the best way to determine the price. Suppose the weight and size vary widely, it will be best to use rates from reputable carriers.
Shipping options: You can settle for local courier services when dealing with major cities, as they are fast and affordable. On the other hand, international courier companies are perfect international shipments.
The factors above help you settle for shipping strategies that will give your customers the lowest shipping costs but still cover all your expenses. The next step involves the method of delivery.
In-store pickup: If your e-shipping business has a brick and mortar location, in-store pickup is a method you should capitalize on.

International shipping

: International shipping offers a great opportunity to scale your business. However, you'll need an international carrier with experience who can take care of the entire shipment process, from customs duties to door-to-door delivery.
Offer overnight shipping or same-day / two-day delivery: With big companies like Amazon offering same-day or two-day delivery, customers expect the same speed for online stores. They are ready to pay extra to receive their products within this time frame. You can tap into this opportunity and offer expedited shipping to meet the customers' expectations.
DocShipper Advice : If you have any questions regarding the shipment of your products, do not hesitate to contact our experts! Our logistics department will answer all your questions and will assist you in all your steps.
Market Yourself
Potential customers will only find you if you market yourself. Tap into the power of the internet and increase your brand visibility. Create informative content that your potential customers are looking for. When you give your expert insights about your industry, you'll create trust with clients who find this information helpful. With time, they'll move up the sales funnel.
Being active on social media platforms where your customers are engaged will help increase your brand visibility. Lastly, be active in your industry forums.
These strategies can help you create organic traffic and make your business known. With time as you scale, you can get into paid advertisements.
FAQ | How To Start An E-shipping Business?
How do I start an e-shipping business?
To start an e-shipping business, you need to conduct extensive market research to identify consumers' online shipping needs. You also need to understand international shipping regulations, choose the right courier services and plan your shipping strategy.
How do I choose a courier service for my e-shipping business?
When choosing a courier service, you should consider the quality of service, cost, reliability and speed of delivery. You can also use a courier comparison service to help you evaluate the options available.
How can I minimize shipping costs for my customers?
You can minimize shipping costs for your customers by using smart shipping strategies, such as flat rates, free shipping options for domestic customers and finding discounted rates for international shipments.
Do I need to obtain permits and licenses for my e-shipping business?
Yes, it is important to obtain the proper permits and licenses for your e-shipping business. Requirements vary by state and type of business. You will also need to understand the tax requirements and other official documents you will need.
How can I minimize the risk of damaged products during shipping?
To minimize the risk of damaged products during shipping, you should choose safe and appropriate packaging options for the type of product you are shipping. You can also use courier services with a tracking system to help ensure that products arrive safely.
Author Bio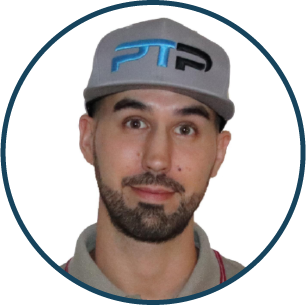 Tyler Read is the owner of Personal Trainer Pioneer which is a website dedicated to helping people get started in the personal training industry. He helps people discover, study, and pass their fitness exams.
Check out his free videos for the latest trends.
DocShipper info: Do you like our article today? For your business interest, you may like the following useful articles :
Contribute with your content to inspire thousands of logistics readers through our blog.
Publishing posts is a daily mission for us
DocShipper Advise : We help you with the entire sourcing process so don't hesitate to contact us if you have any questions!
SIAM Shipping | Procurement - Quality control - Logistics
Alibaba, Dhgate, made-in-china... Many know of websites to get supplies in Asia, but how many have come across a scam ?! It is very risky to pay an Asian supplier halfway around the world based only on promises! DocShipper offers you complete procurement services integrating logistics needs: purchasing, quality control, customization, licensing, transport...
Communication is important, which is why we strive to discuss in the most suitable way for you!