Siam Shipping, a part of the DocShipper Group, can offer you a customized, cost-effective service while assisting you in making the optimal logistical decision. Thanks to our network and bilingual staff, we can arrange the best shipping option for you for every type of freight, including road, rail, sea, and air freight.
Shipping from/to Chiang Mai? Yes, we can!
Custom Solutions
Siam Shipping's goal, through Docshipper group, remains unchanged to ensure the success of each task: to provide a customized offer to demonstrate our ability to be adaptable and proactive, while providing 24 hours a day, 7 days a week, medium support, considering the time required.
We take care of all the necessary documents for the transport of your merchandise (commercial invoices, packing lists, certificates, customs documents, Bill of lading, etc.).
Then, all the part related to loading, handling and unloading is carried out, at the airports or ports located near your place of delivery, before carrying out customs clearance on import or export.
We guarantee a freight service to all the ports and airports of the world in record time.
Finally, your goods are transported to their destination. Customs duties and taxes payable by the shipper are determined by the value of the goods shipped and freight.
We carry out all your shipments with the utmost care in terms of packaging, transport or administrative documents. For shipments weighing less than 150 kg, we also offer door-to-door service.
When the public is asked what exactly the work of freight forwarders is, most have a vague idea of ​​the role of these entities in the transport of goods from point A to point B. However, the role of freight forwarders is in general the same, whether the cargo is moved over the ocean, air or land, even though there are differences in the way ocean freight flows in relation to air cargo. Here is a general description of the work that a shipping agent such as Docshipper can provide for its customers when they have goods to transport.
What we can do for you
– When customers choose to hire a freight forwarder such as Docshipper to transport goods, they hire it to act as a representative or agent to deal with the ocean or air freight business.
– For this reason, freight forwarders act as "travel agencies" for your transport. Rest assured, we take care of the customs, import and export rules and regulations of the countries concerned by the entry and exit of your goods.
– The freight forwarders must also be in contact with the oceanic line which will manage and transship the goods by reserving the storage space, confirming the schedules and ensuring the safety of your cargo.
Our responsibilities
– Docshipper is authorized by the responsible authorities to handle international trade goods, as are other shipping agents.
– The Federal Maritime Commission issues licenses to shipping agents.
– It is very important to ensure that the agent with whom you book your products have the certifications to ensure the safety of your goods.
The shipping processes
The main role of a

freight forwarder

is to help the exporter or the shipper with the preparation of the documentation concerning your goods by reserving the storage space in the transit vehicle and ensuring that the Insurance costs, port charges, consular fees and handling charges are borne by the shipper and are covered in full.
An important service for a freight forwarder is to fully understand how to package the goods safely and efficiently.
The freight forwarder must also provide a service including the communication with local and at the destination agent, airport & port authorities.
Our Chiang Mai office and scope of services
Docshipper is an international transporter based in Thailand. Our worldwide based network of agent allows us to deliver the most efficient service in term of logistics. We adapt our self to our partner needs to build a win-win partnership. From the packing in your factory, your warehouse or your home to the arrival, we will handle every step of the transport.
Our multilingual team is well recognized for reactivity, efficiency and professionalism. Docshipper is here to advice, to handle administrative tasks and provide a proper logistic service. Your satisfaction makes every day our success
From Chiang mai to Bangkok : rail freight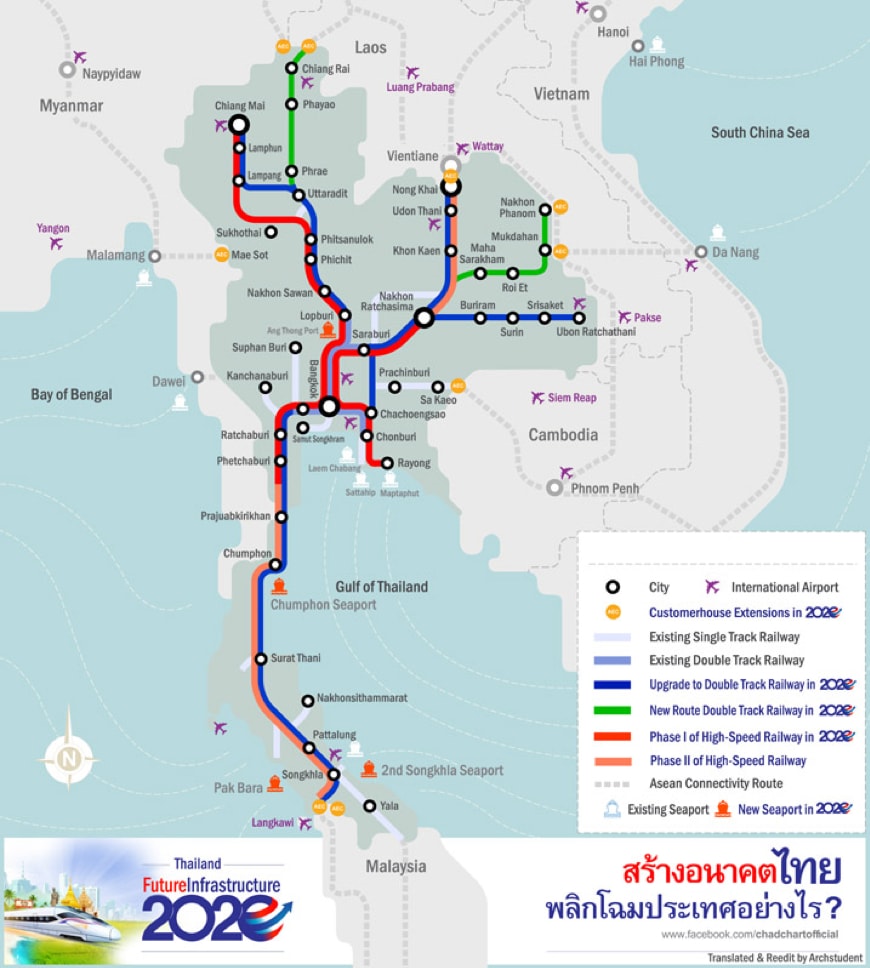 Indeed, it is possible that your goods using the railway can be at your door thanks to all our expertise. Here is the path:
Stage 1 : The railway container is delivered by a truck to the quay
Step 2 : The loaded container is picked up by the truck and transported to the nearest rail center.
Step 3 : The rail freight shipment via rail to its predetermined rail ramp
Step 4 : At the rail track, the rail container is transferred via truck to the final destination.
Rail freight transit time CM-BKK : 1 DAY !
Multimodal transport
Docshipper can use several ways to transport your goods. We will give you some advises to maximize your transportation to generate value for your company.
Multimodal transport combined with the carrier network and our expertise ensures real cost savings and timely deliveries. We advise you to use a multimodal service if it's difficult for you to find the place to your final location or when a way of transport is too expensive. Thanks to our network and our experience, for sure we will find a solution adapted to your wishes to move your goods. Multimodal transport offers reliable space so that your company can grow and operate step by step. PLS can help you find which way and route is better, whether your goods are being shipped by air, barge, rail, road or intermodal.
To reduce the cost and time of transporting goods between the shipper and the final customer, it is crucial to choose the best mode of transport. Each mode of transport has advantages and disadvantages depending on the way of freight used and for those ways of transportation, there is always a better way to choose.
Moving and relocate from/to Chiang Mai
Your personal effects deserve the best. We are an accredited international mover. From packing to unpacking through the administrative procedure, our team takes care of everything
Moving services from/to Chiang Mai
Docshipper provide worldwide moving service. Adapting our offers to customer's needs, we propose different package in order to fulfil your needs in terms of budget and services.
We are able to handle every step of your international move from & to Thailand. Indeed, we are expert and guarantee a professional service from the departure with the packing to the arrival with the unpacking. We also provide additional services such warehousing service (self-storage), customs clearance or even specific shipment such boat or vehicles (car & motorbike mainly).
We can handle every kind of move: from the small volume of personal effects to an entire business office.
** In order to optimize our services, Siam Shipping and Siam Relocation are now part of the Docshipper group. Our customers can now benefit from total supply chain coverage**
Docshipper Tips: You want to ship personal effect? Perfect ! We have our dedicated moving branch to handle it, check out our website: SIAM Relocation
** In order to optimize our services, Siam Shipping and Siam Relocation are now part of the Docshipper group **
Chiang Mai: Handicraft export paradise
Chiang Mai, capital of the province of Chiang Mai, is the largest and most culturally significant city in northern Thailand. It is located at aproximatively 700 kilometers from Bangkok, among some of the highest mountains in the country. The city is on the banks of the Ping River, the largest tributary of the Chao Phraya River.
In recent years, Chiang Mai has become an increasingly modern city, although it lacks the cosmopolitan gloss of Bangkok. It has many attractions for the thousands of foreign visitors who come each year. The historical importance of Chiang Mai derived from its strategic location on an old trade route. Long before the modern influx of foreign visitors, the city was an important center for the production of handicrafts, umbrellas, jewelry (particularly silver) and sculpture carved in wood.
While the city (nakhon thesaban) officially Chiang Mai only covers most of Mueang Chiang Mai district with a population of 150,000 people, urban sprawl now extends the city for several neighboring districts. This Chiang Mai metropolitan area has a population of almost 700,000 people, almost half of the total in the province of Chiang Mai.
Docshipper Tips: More information about Chiang Mai on official tourism website, click here : Chiang Mai Tourism
History of Chiang Mai

King Mengrai founded the city of Chiang Mai (meaning "new city") in 1296, and succeeded Chiang Rai as the capital of the Lanna kingdom. Mengrai constructed a moat and a wall around the city to protect it against raids from Burma. With the decline of the power of the Lanna kingdom, the city lost importance and was often occupied by the Burmese and Thais of the kingdom of Ayutthaya. As a result of the Burmese wars that ended with the fall of Ayutthaya in April 1767, the territory of Chiang Mai formally became part of Siam in 1774, when the Thai King Taksin snatched the Burmese, but the city was depopulated and its inhabitants abandoned between 1776 and 1791. During that period, Lampang functioned as the capital of what was left of Lanna.
Chiang Mai rose again as a cultural, commercial and production center to its present status as the unofficial capital of northern Thailand, and nationally as second largest city after Bangkok.
The people speak each other language Kham Muang (also known as Northern Thai or Lanna), but the Thai of Bangkok is used in education and communications. The old Kham Muang alphabet is studied only by scholars and Northern Thai is commonly written using the standard Thai alphabet.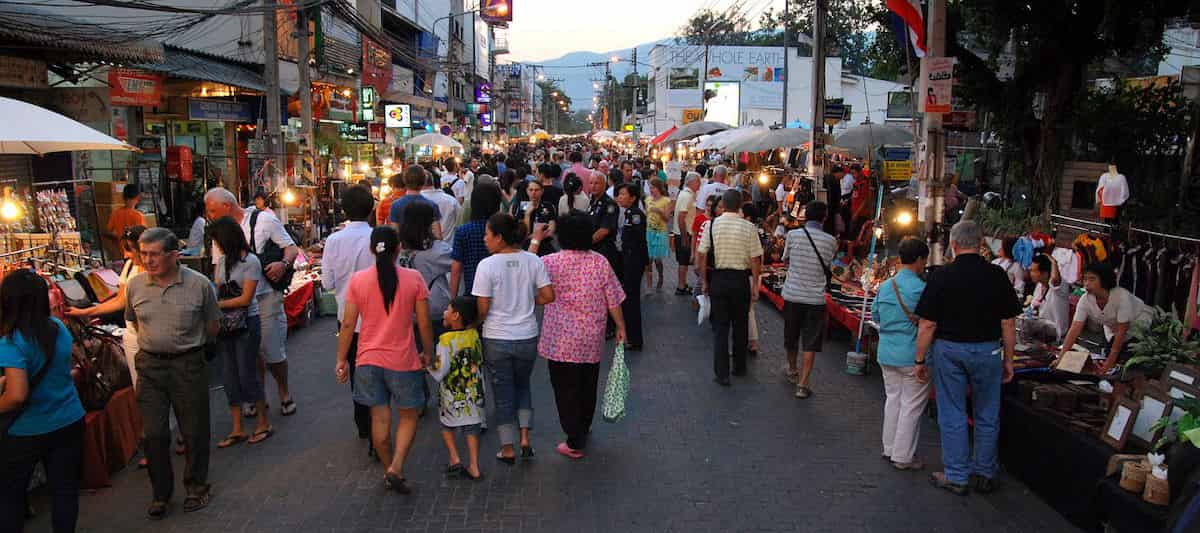 Religious sites in Chiang Mai

Chiang Mai has over 300 Buddhist temples (called wats in Thai). These include:
Chedi Doi Suthep, outside Chiang Mai.
Wat Phrathat Doi Suthep: the most famous temple in the area, built on a hill northwest of the city. This temple dates back to 1383. It is said that the builders chose the site by placing a relic of Gautama Buddha in the back of an elephant and letting the elephant roam until he came to a place where sounded the horn and circled before bedtime. This was considered as a sign of a suitable place to build the temple. The temple location allows magnificent views over the city on a clear day.
Wat Chiang Man: the oldest temple in Chiang Mai. King Mengrai lived here while overseeing the construction of the city. This temple houses two very important and venerated Buddha images – Phra Sila (a marble Buddha) and Phra Satang Man (crystal Buddha).
Wat Phra Singh: located within the city walls, dating back to 1345 and offers an example of the style of classic northern Thai architecture. It contains the Phra Singh Buddha, a highly venerated image, transferred here many years ago from Chiang Rai.
Wat Chedi Luang: temple with great stupa, founded in 1401 and dominated by a large Lanna style chedi which began building the same year, but it took many years to complete. An earthquake damaged the chedi in the sixteenth century.
Wat Ched Yot: located near the city, this temple built in 1455, hosted in 1977 the World Buddhist Council.
Wiang Kum Kam: settlement of an ancient city used by King Mengrai ten years before the founding of Chiang Mai. The site located south of the current city, has a lot of ruins of temples.
Wat U-Mong: a wat in a cave in the forest, in the hills west of the city, near Chiang Mai University. Wat U-Mong is known for its grotesque concrete statue of "Buddha fasting" and hundreds of Buddhist proverbs in English and Thai set in trees.
Wat Suan Dok: translates as "Temple field of flowers", a temple of the fourteenth century located just west of the old city wall. It was built by the King of Lanna for a revered monk who came from Sukhothai for Vassa or "retreat of the rainy season. This temple has several unique features. One is the great ubosot the temple (" ordination hall "). it is unusual not only for its size but also because it is open to the sides instead of enclosed. Secondly, there are a lot of chedis containing the ashes of the rulers of Chiang Mai. the temple is also home to the Rajavidyalaya Mahachulalongkorn Buddhist university.
Cultural life in Chiang Mai

Chiang Mai hosts many Thai festivals, including:
Loi Kratong (known locally as Yi Peng) is carried out on a full moon night in November. Thousands of people put to float on the canals boxes (krathong) decorated with flowers and candles to worship the goddess of water. Lanterns (khom fai) as hot air balloons, Lanna style, are released into the air. It is believed meant to help local people get rid of troubles and also taken to decorate houses and streets.
Songkran: It takes place in mid-April to celebrate the traditional Thai New Year. Chiang Mai has become one of the most popular sites to visit during this holiday. A variety of religious and recreational activities take place each year, along with parades and beauty contest "Miss Songkran".
Flower Festival: lasts three days during the first weekend of February each year. This event occurs during the period when the temperate and tropical flowers Chiang Mai are in full bloom. The festivities include floral floats, parades, dances and traditional beauty contest.
Chiang Mai has several universities, including the University of Chiang Mai, Chiang Mai University Rachapat, the Rajamangala University of Technology, Payap University and the University of Maejo as well as several technological and educational institutes. Chiang Mai University was the first university in the state established outside Bangkok.
Tourism in Chiang Mai
Chiang Mai is a regional center for a number of activities, including:
Ethnotourism between the tribes of mountaineers: hiking in the mountains and local forests, on foot or by elephant, to visit native tribes such as the Akha, Hmong, Karen, Lisu.
Elephant Nature Park: approximately 60 km north of the city, about an hour by car, this park is home to 30 elephants rescued.
Visit to Doi Inthanon the highest mountain in Thailand, located in the national park area.
Other outdoor activities: mountain climbing, elephant riding, water sports on typical boats.
Night Market in southern city
Shopping: Chiang Mai has every night a great and famous bazaar for handicrafts and diverse goods. There are also numerous modern shops.
Thai massage: The side streets and main avenues of Chiang Mai offers a variety of massage of the feet and caraasí as curos Thai massage.
Local museums include the Art of the City, the Cultural Center, the Museum of the mountain tribes and the National Museum of Chiang Mai.
**In order to optimize our services, Siam Shipping and Siam Relocation are now part of the Docshipper group. Our customers can now benefit from total supply chain coverage. Therefore, Siam Shipping team became Docshipper team**
FAQ | Freight forwarder in Chiang Mai
What is a freight forwarder, and what services do they offer?
A freight forwarder is a company that arranges the transportation of goods on behalf of their clients. They offer a range of services, including air and sea freight, customs clearance, warehousing, and supply chain management.
How do I choose the right freight forwarder for my business?
When choosing a freight forwarder, you should consider their experience in the industry, their range of services, their reputation, and their customer service. It's also important to compare pricing and get quotes from different companies to ensure you're getting a competitive rate.
How do I prepare my goods for shipment with a freight forwarder?
Before shipping your goods with a freight forwarder, you should ensure they are properly packaged and labeled. This may include using appropriate packaging materials, labeling the goods with the correct shipping information, and obtaining any necessary permits or certifications.
What should I do if my shipment is delayed or lost?
If your shipment is delayed or lost, you should contact your freight forwarder immediately to inquire about the status of your shipment. Your freight forwarder should be able to provide you with updates on the whereabouts of your goods and assist you in resolving any issues that may arise.
SIAM Shipping info: Do you like our article today? For your business interest, you may like the following useful articles :
SIAM Shipping Advise : We help you with the entire sourcing process so don't hesitate to contact us if you have any questions!
SIAM Shipping | Procurement - Quality control - Logistics
Alibaba, Dhgate, made-in-china... Many know of websites to get supplies in Asia, but how many have come across a scam ?! It is very risky to pay an Asian supplier halfway around the world based only on promises! DocShipper offers you complete procurement services integrating logistics needs: purchasing, quality control, customization, licensing, transport...
Communication is important, which is why we strive to discuss in the most suitable way for you!