Transportation is extremely important in people's everyday lives. At each stage of human civilization, this has become increasingly necessary. The world's scenario would be drastically different if current modes of transportation were not created. Transportation has a great contribution to the development of the overall economy. Dangerous goods transport is one of the essential parts of transportation and many businesses depends on it. So, here we have discussed everything that you must know about dangerous goods transportation.
SIAM Shipping specializes in international freight forwarding, providing seamless transportation solutions for goods across the globe. They handle the entire logistics process, from pickup to delivery, ensuring efficient and timely shipment of goods.
Navigating customs regulations can be complex, but SIAM Shipping simplifies the process by offering expert customs clearance services. They handle all necessary documentation, ensuring compliance with customs procedures and regulations, and ensuring a smooth flow of goods across borders.
DocShipper Alert : You are interested in sourcing dangerous goods, and you want to be sure of the quality and find some reliable partners ? Our expert team will assist you in your supplier research and control the quality of the goods. Don't hesitate and contact them !
What materials are classified as dangerous goods?
Transportation makes it easier to transport anything from one end to another, but it also creates a high risk for us.
Transporting dangerous goods from one place to another is a tough challenge. In some cases severe accidents also occur due to improper practice of transporting dangerous goods, as a consequence, both on land and at sea, there have been damages, losses, and deaths.

Dangerous goods

are those substances that generate a risk to the environment, safety, health and property when transported.
The materials which include asphyxiating, oxidizing, biohazardous, radioactive, flammable, explosive, corrosive, pathogenic, allergic, or toxic substances are termed as dangerous goods and that makes them hazardous in some circumstances.
These objects are very threatening to mankind, so proper steps and practice should be implemented before transporting them.
Dangerous goods transport has its own set of rules and regulations that must be adhered to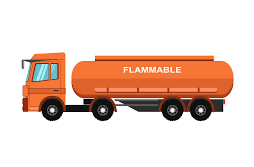 Dangerous goods transport and hazardous substance transport is governed by stringent guidelines and non-adherence to these guidelines is subject to severe fines. These dangerous goods transport regulations include:
Dangerous commodities' classification.
Requirements for packaging.
Placarding and labeling of dangerous goods.
Procedures for the transport of hazardous goods.
Documentation specifications.
In-transit segregation of hazardous goods.
Safety steps for dangerous goods transport
Transportation contributes significantly to the growth of various sectors. Each day, huge numbers of shipments are done from one place to another in different modes of transport of both normal goods and dangerous goods.
Whereas various information on transport leads to reports that include several incidents involved in dangerous goods transport. And this misshapen occurs due to certain factors, and the effect of not performing the right protocols can be the difference between death and life.
Some major safety steps to follow while transporting dangerous goods:
Taking on proper training
The most crucial factor for dangerous goods transport is misshapen is lack of proper knowledge and training. The highest priority for any organization should be to ensure that everyone participating in the shipping of hazardous and dangerous goods has received and continues to receive the appropriate training. Proper knowledge and training will help to properly execute the job without any accidents. A licensed and trained individual must supervise and guide someone handling dangerous things, goods do not have a certification.
Dangerous products types and quantities
Another precaution that should be taken is to verify the identity of dangerous products and their quantity of it. In many cases, certain amounts of goods are not permitted to be transported without any emergency assistance plan.
Labels for hazardous materials and the proper shipping name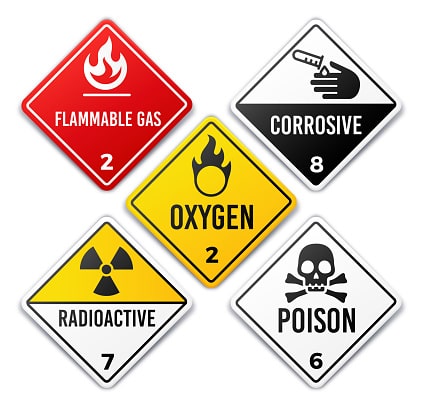 Labels on goods packaging are the easiest way to identify what's in it. Several categories of products have their respective labels, just like dangerous goods also have labels that identify the type of material for example FLAMMABLE, OXIDIZING, BIOHAZARDOUS, RADIOACTIVE.
Packaging groups are of three types: packaging group 1 for very hazardous, packaging group 2 for hazardous, and packaging group 3 for a moderately hazardous substances.
DocShipper Advice : If you are looking for the best shipping services for your dangerous goods you found the best company. We're used to dealing with dangerous goods and we will assist you from A to Z in your process ! Contact our logistics department for more information !
In what Siam SHIPPING can help you to transport dangerous goods?
Siam SHIPPING can assist in transporting dangerous goods by providing specialized services and expertise tailored to the handling and shipment of such items. Here's how Siam SHIPPING can help:
Regulatory compliance: Transporting dangerous goods requires compliance with various international and local regulations, such as those set by the International Maritime Organization (IMO), International Air Transport Association (IATA), and relevant government agencies. Siam SHIPPING can ensure that all necessary regulations and documentation requirements are met, including the preparation of safety data sheets (SDS), classification of goods, and compliance with packaging and labeling standards.
Expert guidance: Siam SHIPPING has knowledge and experience in handling hazardous materials and dangerous goods. They can provide expert guidance on the proper handling, storage, and transportation practices to ensure the safe and compliant shipment of dangerous goods. This includes advice on suitable packaging, container selection, and any additional precautions necessary for the specific type of hazardous material being transported.
Customized logistics solutions: Siam SHIPPING can develop tailored logistics solutions based on the specific requirements of transporting dangerous goods. They can assist in selecting the appropriate mode of transportation (sea, air, or road) and arrange for specialized packaging and containers suitable for the hazardous materials. Siam SHIPPING can also coordinate with carriers experienced in handling dangerous goods and ensure the necessary permits and licenses are obtained.
Documentation and paperwork: Siam SHIPPING can handle the complex documentation and paperwork involved in transporting dangerous goods. This includes preparing the required shipping documents, such as the Dangerous Goods Declaration, ensuring compliance with customs requirements, and managing any permits or licenses necessary for the shipment.
Risk management: Siam SHIPPING prioritizes the safety and security of the shipment. They can provide risk management strategies to mitigate potential hazards and ensure the safe transit of dangerous goods. This may include tracking and monitoring services, contingency planning, and coordination with emergency response teams, if needed.
Conclusion
Several incidents have happened and resulted in life losses, injuries and financial losses, thus it implements how crucial it is to regulate dangerous goods transport. Some major factors must be considered before any dangerous goods transport, which is mostly responsible for most of the miss happens. Maintaining proper guidelines and safety measures will help to reduce the risk.
FAQ | Dangerous Goods Transport Should Follow These Safety Steps
How to be sure that my goods are classified as dangerous or no ?
The Regulations place the responsibility for correct classification of dangerous goods on the shipper. The classification criteria for each class and division of dangerous goods are stipulated in DGR Section 3.
Is my electronic equipment cargo considered as dangerous goods ?
Yes ! At least if they are containing dangerous substances. For instance, if your equipments are containing lithium batteries it will be considered as dangerous goods. The only ways are to remove them and ship them separately or to check the formal declaration on how to pack them to send them correctly.
What is a dangerous good ?
Dangerous goods all the articles and substances that are presenting a significant risk to Health, Safety against the user or its environment. The Dangerous Goods Regulations document is listing them( around 700).
DocShipper info: Do you like our article today? For your business interest, you may like the following useful articles :
DocShipper Advise : We help you with the entire sourcing process so don't hesitate to contact us if you have any questions!
SIAM Shipping | Procurement - Quality control - Logistics
Alibaba, Dhgate, made-in-china... Many know of websites to get supplies in Asia, but how many have come across a scam ?! It is very risky to pay an Asian supplier halfway around the world based only on promises! DocShipper offers you complete procurement services integrating logistics needs: purchasing, quality control, customization, licensing, transport...
Communication is important, which is why we strive to discuss in the most suitable way for you!