The sourcing of textiles is a serious business in Bangkok. This magical city in Thailand has become a huge wholesale market.
If you are one of thousands of contractor walking in the streets of Bangkok in search of wholesalers, then this article is for you. We receive many requests for advice sourcing clothes. Find products is one thing, transporting them is another.
Do not think it's easy, and here are some basic tips:
The owner should be your main contact
Often, the customer speaks with the seller of the shop, but it is the best way to talk to the boss because he used to be alone and will be able to make you some discounts. Don't forget to take the business card and call the owner. Tell him exactly what you need, what you want to design. Never pay in advance, tell them that you already have a forwarder to receive the goods. Negotiate with a smile and respect.
Store your contacts in a safe place
Like many, you may have already lost business cards. After a day to meet with suppliers and collect business cards, save them on your computer. More importantly, build a long-term relationship. Often Call, and ask for news on the progress of operations, even if you order small quantities. A good way is to use the Line application, very popular in Thailand.
Check and inspect the goods
Confidence does not exclude control, so be careful. Check everything and verify that everything is 100% consistent with your expectations. The forwarder can control quantity, but quality control has to be done by yourself before and after shipment. If for some reason you cannot do it yourself before shipping, we advise you to entrust the mission to a quality control expert on Procurement Freelancers.
A short list of freight forwarders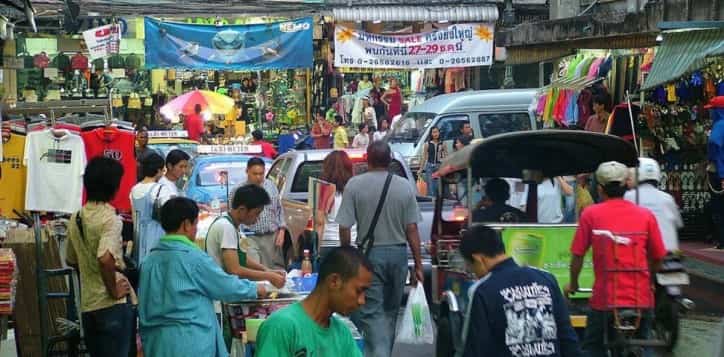 Before coming to Bangkok, make a list of potential freight forwarders companies that can transport your purchases. Compare their working methods, their rates and terms of sale. Request quotes via their website. Prefer a forwarder with your native language staff because communication is very important.
Finally, we advise you to choose a forwarder on the same point of purchase, pay attention, these carriers offer you an attractive price but are mostly crooks. You will have no recourse.
DocShipper is a freight forwarder conveniently located in Bangkok and also an excellent partner for sourcing. We offer French and English sourcing to accompany you and show you the best places for shopping.
**In order to optimize our services, Siam Shipping and Siam Relocation are now part of the DocShipper group. Our customers can now benefit from total supply chain coverage. Therefore, Siam Shipping team became DocShipper team**
FAQ | Thai silk, Fabric and textiles in Bangkok
How do I choose a freight forwarder in Bangkok?
Make a list of potential freight forwarders and compare their rates and terms of sale. Choose a forwarder with staff who can communicate in your native language, and be wary of carriers offering attractive prices but may be untrustworthy. Consider DocShipper, a freight forwarder located in Bangkok that can also assist with sourcing.
What is the textile market like in Bangkok?
Bangkok has become a major wholesale market for textiles, making it a serious business for sourcing fabrics and textiles.
Who should I contact when buying textiles in Bangkok?
It is best to talk to the owner of the shop rather than the seller, as the owner may be able to offer discounts. Always take the owner's business card and negotiate with respect.
How should I store your contacts in Bangkok?
Save the business cards of your contacts on your computer and build a long-term relationship by calling them often. Consider using the Line application, which is popular in Thailand.
Why is it important to check and inspect the goods before and after shipment?
Although you may trust your contacts, it is important to ensure that the goods meet your expectations and are of high quality. If you cannot do this yourself, consider hiring a quality control expert.
DocShipper info: Do you like our article today? For your business interest, you may like the following useful articles :
DocShipper Advise : We help you with the entire sourcing process so don't hesitate to contact us if you have any questions!
SIAM Shipping | Procurement - Quality control - Logistics
Alibaba, Dhgate, made-in-china... Many know of websites to get supplies in Asia, but how many have come across a scam ?! It is very risky to pay an Asian supplier halfway around the world based only on promises! DocShipper offers you complete procurement services integrating logistics needs: purchasing, quality control, customization, licensing, transport...
Communication is important, which is why we strive to discuss in the most suitable way for you!