Thailand's logistics industry plays a vital role in the country's economy, supporting trade and commerce both domestically and internationally. The industry's performance is critical for Thailand's continued economic growth and competitiveness in the global market. However, the sector faces several significant challenges that need to be addressed to enable it to reach its full potential.
Addressing these challenges is essential to improve the industry's performance and enable it to fully realize its potential as a key driver of economic growth in Thailand. Therefore, the government and private sector are taking significant steps to tackle these issues and implement initiatives to enhance the logistics industry's efficiency and competitiveness.
THAILAND's next challenge towards Logistics Hub of ASEAN
When talking about logistics in ASEAN, all eyes are on Thailand because it has been marked as the most highly potential country for both transport logistices hub and business center of the region. This is due to the Kingdom's central geographical position and the fact that it is connected many of its business partner countries by its land border and transport networking system including road, rail, air and sea. Thailand is also the only ASEAN country that is a party to every economic-corridor cooperation pact.

However being logistics hub of ASEAN is not such easy as pie. Thailand has to be made ready in both basic infrastructure, or the "hard side" of logistics, so as to facilitate regional transport connectivity, and know-how in logistics and supply-chain management, or the "soft side" of logistics. Moreover, both of these elements must be highly efficient, in order to create an interconnected network of production, trading and services within the region.
ASEAN set to become a 21st-century global logistics and trading hub
ASEAN is becoming increasingly important for its significant contribution to global economies. Implementation of the ASEAN Economic Community at the end of 2015 made the region a market with high potential, with a combined population of more than 640 million. Given this economic strength, the region will also become a transport hub with connections to countries elsewhere in the world.
China has embarked upon its "One Belt and One Road" strategy to expand its investments via the "Silk Road Economic Belt" and the "Maritime Silk Road" starting from ASEAN and connecting to South Asia, Central Asia, and West to Europe.
In an official visit to ASEAN countries in late 2013, Chinese President Xi Jinping said "Southeast Asia is one of the important regions for the Maritime Silk Road, and China was preparing to increase its maritime cooperation with ASEAN. The One Belt and One Road initiative is expected to lead to investments in basic infrastructure in ASEAN as high as USS1.6 trillion over the next 5–10 years. Projects will include dual-track railways, high-speed trains, ports, airports, and road projects that will improve transport connectivity and reduce logistics and transport costs by channeling goods through multimodal transport links, thus enhancing the region's logistics efficiency.
All of these factors are expected to produce a major shift in world trade and investment in the 21st century, as well as to bring hope to the business sector currently beset by the economic slowdown. Thanks to its strategic location at the center of ASEAN, Thailand will play an important role in building connectivity among countries both within and outside the region. This will lead to sustainable economic growth in Thailand. Hence, it is vital that the country make clear how to take these advantages, creating the most benefit for the country.
**In order to optimize our services, Siam Shipping and Siam Relocation are now part of the Docshipper group. Our customers can now benefit from total supply chain coverage**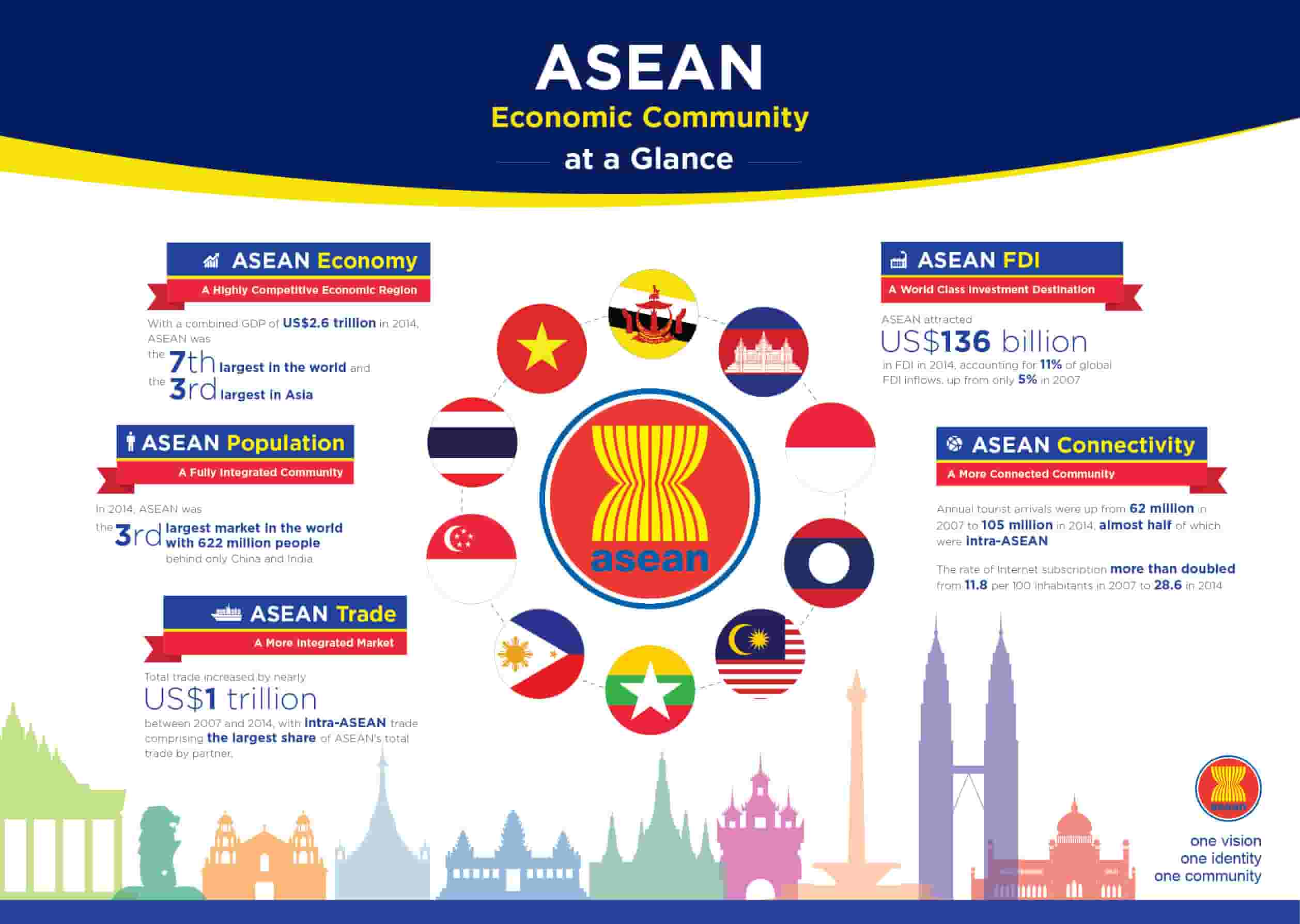 Thailand's policy toward becoming the Logistics Hub of ASEAN
Thailand has given very great importance to the development of its logistics system since it began to see logistics as a key element for the enhancement of national competitiveness and economic development. As well, it saw an opportunity to become a logistics hub for the region. The first National Logistics Development Strategy (2007-2011), set a goal of upgrading the country's logistics system to reach world standards, in a bid to establish its role as the center of trade and business in the Indochina Subregion. The Second National Logistics Development Strategy (2013­2017) expanded the country's strategic goal to become the "Trade and Services Hub" of the Greater Mekong Subregion and a Gateway to Asia. To achieve this goal, the country began strengthening the competitiveness of Thai companies as a supply chain collaboration, enhancing the efficiency of trade facilitators and developing other enabling factors. The execution of the plan is driven by the National Committee on Development of Management Systems for Freight and Services.
According to the Ministry of Transport survey, Thailand's principal mode of carrying out its international trade is the use of marine transport. Road transport comes in second and is continuously growing in importance. The collaboration and cooperation of the countries in the Great Mekong Subregion, it's leading to many economic corridors, pushing Thailand to be the road transport hub of the region. These include the R12 trade route linking Thailand to Vietnam and Southern China; the R9 route connecting the Pacific coast of Vietnam to the western side of the Indian Ocean; the R3 route linking Southern China to mainland ASEAN and further south to Malaysia and Singapore; and the R1 route stretching from Myanmar to Vietnam. All of these road links pass through Thailand, and they have significantly boosted border trade between Thailand and its neighboring countries. In particular, the commodity trade significantly benefits from this road link system. Not only connect to its neighboring countries, but it's also further to other countries like China, India, and Bangladesh within reach by rapidly highly efficient road transport connectivity.
Thailand's development and readiness to become the Logistics Hub of ASEAN
The first and second National Logistics Development Plans have steered Thailand on the right track. This is evidenced by the logistics cost reduction of the country for the past 10 years. The related agencies have pursued the national logistics plans in various dimensions, including transport infrastructure development, special economic zones, international trading gateway, logistics management efficiency in the manufacturing sector, and other logistics facilitation.
Despite all of this progress, the second logistics development plan could not fully achieve all of its goals because of many uncontrollable factors such as the global economic slowdown and political turbulence. While its neighbor like Malaysia has already invested in the electric rail industry for some time, Thailand just began to develop its basic infrastructure and enhance transport-supporting industries as well as logistics sectors.
The country's development has been hindered for several years. From now on, Thailand must gear up to be ready as the logistics hub of ASEAN. Efficient collaboration between the relevant agencies is necessary to push forward the plan to achieve the goals.
No easy road ahead in Thailand's bid to become the Logistics Hub of ASEAN
In ASEAN, Thailand's logistics system remains inferior to those in Singapore and Malaysia, which are outstanding for their good basic infrastructure, punctual delivery of goods, well planning, efficient management systems, and application of state-of-the-art technologies in logistics management. By Logistics Performance Index (LPI), World Bank measures and ranks the international competitiveness of countries in terms of their logistics system. It is based on six key dimensions:
the efficiency of the customs-clearance process;
quality of trade- and transport-related infrastructure;
ease of arranging competitively-Priced international shipments;
competence and quality of logistics services;
ability to track and trace consignments; and
timeliness of shipments in reaching their destinations within scheduled or expected delivery times.
In the 2014 rankings, Thailand was rated 35th globally and 3″ within ASEAN, following Singapore and Malaysia, which came 5. And the 25″ in the world rankings, respectively. The Kingdom scored poorer mostly in service dimensions, in both public and private sectors. It showed the country still lagged well behind Singapore and Malaysia, which were better prepared for their domestic security and had government policies that pursued their development objectives more seriously than those in Thailand. Hence, it is a challenge for Thailand to now step up to be on par with these regional leaders.
Clearly, the road to becoming an ASEAN logistics hub is not an easy one. There are still many obstacles that must be overcome before Thailand reaches the victory line. Logistics development is therefore regarded as a national agenda that must be continuously pushed forward to achieve results since it is vital to unlocking the country's full potential.
Steps needed to upgrade Thailand's logistics performance to make it the hub of ASEAN
If Thailand's full potential is to be unlocked over the next five years, the country has to speed up the development of its logistics system to enable the linking of domestic and international activities, in a bid to enhance its competitiveness and capitalize on its AEC membership. Development of basic infrastructure – the "hard side" of logistics – can facilitate regional connectivity and the efficiency of logistics and supply chain management – the "soft side" of logistics – represent the strategic path to success.
When it comes to basic infrastructure – the hard side of logistics – Thailand must speed up the development of transport and distribution networks, including road, marine, rail, and air services, as well as domestic and international distribution centers, if it is to enhance its efficiency in terms of service costs. The country should also hasten the development of special economic zones in border areas, strategic trade routes, and new economic towns for manufacturers, traders, and service providers, in an attempt to spark the growth of trade and economic activities.
Moreover, it has to find speedy solutions to problems and obstacles, including outdated laws and regulations that do not bode well for the promotion of business potential and competitiveness as well as complicated and time-consuming customs procedures. It must also facilitate the financial, banking, and insurance processes that are involved in imports, exports, and international trading.
The current government passed an important milestone when it realized the importance of logistics development. It has accelerated the disbursement of budgets, especially investments in basic infrastructure and marine and road-transport networks, such as inter-city motorway projects and the dual-track railway. It has also designated five areas for the development of five special economic zones in the first phase, and another five in the second phase. Furthermore, it's equipped with incentives for investment in that area. Moreover, the government has already approved the infrastructure development to facilitate the special economic zones.
Development of soft-side logistics must occur in parallel
Development of Thailand's logistics management system is no less important than the "hard-side of logistics if the country is to achieve sustainable development and step up to become a logistics hub of ASEAN.
People whose work is involved in logistics and supply chain activities must gain a level of understanding and knowledge that creates true efficiency, especially among middle- and high-level managers responsible for formulating logistics plans and strategies for organizations. Support must be provided for the development of "digitized" logistics and supply-chain systems through the application of state-of-the-art technologies to enhance its logistics competitiveness. Learning tool kits are also necessary for educating people continuously. Lastly, the logistics information must be organized as databases for the logistics development of the country.
Dreams, perseverance, and achievement
Becoming the ASEAN logistics hub is not a distant dream for Thailand if the public and private sectors can collaborate to create a clear-cut roadmap for reaching that goal. It is admirable that many agencies have begun to produce their own plans designed to help the country reach its goal. These include the Ministry of Transport's Development Strategy for National Transport Infrastructure (2015-2022) and the Ministry of Finance's Guidelines to Drive the National Single Window System (2015-2021). The Ministry of Industry Pm to introduce a Second Master plan for the Development of Logistics Systems for the Manufacturing Sector, and next year will map out a plan to develop supporting industries to facilitate transport and infrastructure' and logistics activities, in line with the Second National Logistics Development Plan. If these plans are followed, then Thailand's target of becoming an ASEAN, logistics hub should definitely not be far from reach.
**In order to optimize our services, Siam Shipping and Siam Relocation are now part of the Docshipper group. Our customers can now benefit from total supply chain coverage. Therefore, Siam Shipping team became Docshipper team**
FAQ | THAILAND'S LOGISTICS CHALLENGE
SIAM Shipping info: Do you like our article today? For your business interest, you may like the following useful articles :
SIAM Shipping Advise : We help you with the entire sourcing process so don't hesitate to contact us if you have any questions!
SIAM Shipping | Procurement - Quality control - Logistics
Alibaba, Dhgate, made-in-china... Many know of websites to get supplies in Asia, but how many have come across a scam ?! It is very risky to pay an Asian supplier halfway around the world based only on promises! DocShipper offers you complete procurement services integrating logistics needs: purchasing, quality control, customization, licensing, transport...
Communication is important, which is why we strive to discuss in the most suitable way for you!